It has been quite a journey: on the rocks one year, rock and roll rugby royalty the next. Kyle Eastmond does not have the foggiest idea where the road may end, but the direction of travel is clearer than it was 12 months ago and if the Bath centre produces one of his command performances in the Aviva Premiership final at Twickenham, he could yet force the England hierarchy into a radical rethink over midfield selection policy ahead of the World Cup in a little over three months' time.
He has already landed a telling blow by forcing his fellow rugby league convert Sam Burgess – otherwise known as "he who can do no wrong" – out of the Bath back division and into the back row of the pack. As a consequence, the West Countrymen are playing a brand of union bordering on the heavenly, with Eastmond and the men positioned either side of him, George Ford and Jonathan Joseph, cast as the Recreation Ground's version of the holy trinity.
It is hard to establish the truth about Burgess – about the England set-up's role in bringing him to the 15-man game and their influence on the way his Bath career has unfolded; about the precise part played by Bruce Craig, the club's unusually participative hands-on owner, in the selection debate . Words spoken on the record are very different to those said in private. But this much is obvious: Eastmond's creative brilliance in the  No 12 shirt has made him undroppable.
All of which is in marked contrast to the situation this time last season, when the 25-year-old from Oldham was left out of some critical fixtures at the business end of the campaign. Things had been messy for a while: tormented by problems of a family nature, he had played an Anglo-Welsh Cup game at Sale when his "head wasn't right" and, after being substituted at half-time, hoofed it out of the stadium without speaking to a soul. Disciplined by Bath for what amounted to desertion, struggling for form, heavily linked with an early return to league… these were not happy days.
Since when, Eastmond has faced the world champion All Blacks on three occasions – a blinder in Auckland, a nightmare in Hamilton and a fair-to-middling effort at Twickenham left him pretty much where he had started – and while his run in the England side ended prematurely following a smack on the head against South Africa, there was enough in the way of solid evidence to establish him as a genuine contender at No 12. The story at club level has been more convincing still. Down there on the banks of the River Avon, he has more credit in the bank than Bruce Almighty himself.
"This is an unbelievable way to play rugby," he says, reflecting both on Bath's season in general and on their most recent display in particular – the 47-point, seven-try demolition of Leicester in last weekend's Premiership semi-final. Yes, we're talking about the Leicester, opponents so profoundly parsimonious that they would not give a groat to a beggar if they could possibly avoid it.
"There again, it doesn't surprise me that much," he continues. "This is what we practise, what we do to each other on the training field all week every week. When we get it right, it's hard to defend against us. We don't speak about tearing other teams apart – we'd never do that because we have massive respect for our opponents. But we've all bought into the style of rugby we're playing, we have the personnel to deliver it and, if I'm being honest, I think we're only just scratching the surface."
Eastmond calls it "decision-making rugby", and in doing so he puts himself squarely in what might be called the grand Bath tradition. During the club's golden decade, between the mid-1980s and the dawning of professionalism after the 1995 World Cup, they were blessed with some of the brightest on-field thinkers ever to play the game in England: the likes of the flanker John Hall, the centres John Palmer and Jeremy Guscott and, most influential of all, the outside-half Stuart Barnes.
What was more, they had Brian Ashton on their coaching staff – a league  aficianado who argued, with a rare passion, that union was a game of infinite possibility, provided there were players who had the intellect to assess and evaluate quickly in dynamic situations and were blessed with the skills to execute moves under pressure. When one of Eastmond's back-line colleagues, the wing Matt Banahan, said after the Leicester game that there was "no risk in playing from 100 metres out if you do it properly", he went to the heart of Ashton's philosophy. Nothing infuriated the coach more than being accused of subscribing to a "high-risk" philosophy of rugby.
How Ashton would have loved working with Eastmond, whose acute sense of timing and mastery of running angles – not to mention the range of his distribution and the trickery of his footwork – make him a unique force in the English game. What is more, the long-standing objections to his red-rose candidacy are beginning to fall away. Defensively, he has manned up. Technically, he is as cute at the tackle area as any back on the Bath roster.
Whether this is enough to persuade Stuart Lancaster and the rest of the England back room of Eastmond's World Cup credentials is a moot point. The last time Lancaster had something to say on this matter, he suggested that when push came to shove this autumn he would opt for "one ball-carrying centre and one footballing centre". Given that Joseph is a footballer and a half, it seems likely that the No 12 shirt will be worn by a big, bruising, ton-of-bricks midfield basher. As Eastmond, 5ft 7in and 13st, ticks precisely none of those boxes, he has a problem.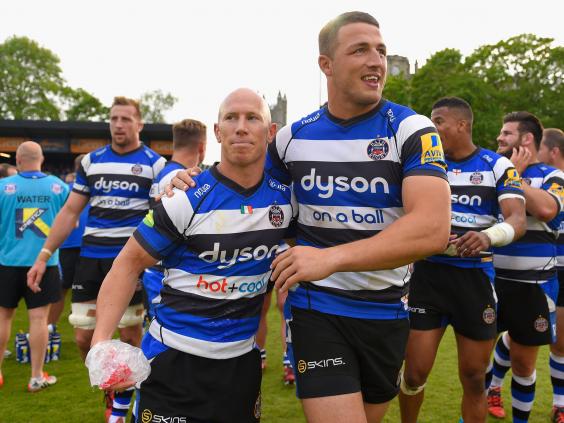 Yet if things go well against Saracens in this afternoon's showpiece contest, there could also be the beginnings of a solution. His opposite number will be Brad Barritt, probably the most reliable defensive centre in the country and a player held in the highest esteem by Lancaster and his fellow strategists. As Barritt misses tackles about as often as Dylan Hartley misses a round of disciplinary hearings, Eastmond will never have a better opportunity to make a point.
Characteristically, he prefers not to engage with rugby's version of personality politics: ask him to talk about Barritt, and he talks about Saracens instead. Still, his take on the challenge ahead is interesting enough.
"Sarries work as hard as any team in the league and they're undoubtedly a great defensive side," he says  cagily. "They're proud of what they've achieved in that area of their game and fair play to them. But while we've spent some time talking about that, there comes a point when you have to start thinking about yourselves and the things you want to do.
"Is this an opportunity for me? Yes, I suppose. Playing in a final at Twickenham is always the aim, isn't it? But while this is a massive game – and please don't get me wrong, because I'm absolutely aware of the importance of this match – I'm really not interested in putting added pressure on myself by thinking about all these different aspects. What I want to do first and foremost is enjoy myself."
It is hard to think of a style of rugby more enjoyable – to play, as well as to watch – than the one currently being developed by the Bath midfield. As befits a holy trinity, they have been on the side of the angels all season and while Saracens are perfectly capable of reminding us that the devil has all the best tunes, there will not be a neutral in the 82,000 crowd who does not hope to sing the praises of Eastmond and company at some point during the match.
Reuse content