If Leicester had lost this game, as they might easily have done, serious questions would have been asked of their capacity to make the knockout stage of a deeply debilitating Premiership campaign. Thanks to their two props –Marcos Ayerza of Argentina, the world's finest loose-head specialist, and the medium-sized Samoan atoll known to South Seas geographers as Logovi'i Mulipola – they just about made it across the finish line, only to find those questions being asked anyway.
To be fair to the Midlanders, it is not their fault. Not completely, at any rate. Richard Cockerill, their rugby director, has spent the last six months grappling with an injury list so long he must have been tempted to publish his team lists in The Lancet rather than the match-day programme, and he suffered more hassle yesterday when Freddie Burns, the occasional England outside-half, took a smack on the head towards the end of the first half, failed a concussion test during the interval and spent the second period sitting on the bench, wrapped in a padded jacket. Much more of this will put Cockerill in a padded cell.
"It comes to something when one of your most reliable players on the fitness front is Mathew Tait," he groaned, referring to the orthopaedically challenged full-back he once described as "the slowest healer in history". Cockerill then admitted he did not expect to pick from a full squad at any stage this season. Such are the trials and tribulations of life at the Tigers, where the level of expectation from the board is every bit as high as the body count.
Leicester will be better than this when Manu Tuilagi and Anthony Allen, the senior centres, find their way out of the medical room and onto the pitch; when Ben Youngs returns from Six Nations duty to run the show at scrum-half; when they can field a pack boasting Dan Cole, Geoff Parling, Brad Thorn and Julian Salvi, with some support from the Italy internationals Leonardo Ghiraldini and Robert Barbieri. But how much better? Are their problems purely fitness-linked, or do they run wider and deeper?
Not once did they threaten the London Irish line yesterday: neither Vereniki Goneva nor Miles Benjamin turned a trick in open field, while Tait reined in his natural attacking instincts and settled for a high-ball game instead.
True, the weather was far from ideal; true, the Exiles put themselves about in belligerent fashion, with the gnarled old hooker David Paice and the skipper George Skivington working overtime to compensate for a malfunctioning scrum. But even so, there was something spirit-deadening about the visitors' lack of ambition.
Only at the set-piece did they show the best of themselves. Mulipola won two early decisions off Tom Court, one of which Burns maximised with a fine left-sided penalty, and after the playmaker had added a drop goal, it was Ayerza's turn to attack at close quarters. Geoff Cross, the London Irish tight-head, was popped clean out of a scrum as the Puma piled on the pressure – the effect was like the squeezing of a giant pimple – and before the first half was out, the victim was in the cooler, paying his debt to rugby society for repeated failures to hold his ground.
That he did not emerge from the sin-bin when his time was up merely added to his embarrassment, and it was impossible not to feel his pain. Six years ago, when the World Cup-winning England prop Phil Vickery suffered a similar humiliation during a Lions Test match against the Springboks in Durban, he reflected on it by saying: "You know you've had a shit game when your wife and your mother both send texts saying they still love you."  We can only hope and pray that Cross has a similarly supportive family.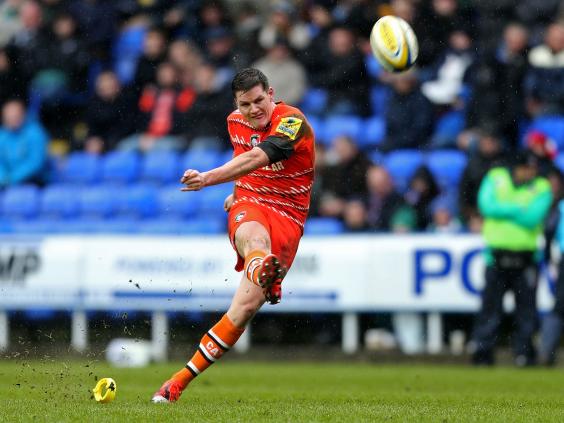 Mind you, Ayerza really is some player these days. So too, on this evidence, is the Leicester hooker Tom Youngs, happily restored to the England mix following fitness issues pre-Christmas.
It was Youngs who won a second-half penalty off Tom Guest at the breakdown to give Burns' replacement, the French half-back David Mélé, the opportunity to take Leicester's tally into double figures; and it was he who tore into the Exiles with gung-ho enthusiasm as they launched a dangerous attack early in the final quarter. He also contributed handsomely to his side's decisive scrummaging effort and is in just the sort of mood to make his presence felt when Six Nations business resumes in Dublin this weekend.
Being an old front-rower himself, Cockerill took a degree of satisfaction in the nature of this victory, for all its pug-ugliness. "It's about substance over style at this stage of proceedings," he argued. "This is the second week  running that we've won without scoring a try, but the important thing is to win.
" When you've been without your first-choice midfield for as long as we have, it's reassuring that we can still find a way to do that. So here we are, still holding onto the shirt-tails of the really good teams…"
This last comment was accompanied by a wolfish grin – the kind Cockerill always summons when he believes Leicester are being written off prematurely. It is not beyond the realms of possibility that they will reach the semi-finals for the umpteenth year in  succession, but the odds must be against them this time.
London Irish: Penalties Geraghty 2. Leicester: Penalties Burns 2, Mele; Drop goal Burns.
London Irish A Fenby; T Ojo (E Griffin, 23), T Fowlie, E Sheridan, A Lewington; S Geraghty, S Steele (D Allinson, 59); T Court, D Paice (J Stevens, 79), G Cross (L Halavatau, 36), G Skivington (capt), J Sinclair (N Rouse, 51), O Treviranus, C Gilsenan, T Guest (L Narraway, 18).
Leicester M Tait; V Goneva (N Morris, 75), G Catchpole, J Roberts (S Bai, 49), M Benjamin; F Burns (D Mélé, h-t), S Harrison; M Ayerza (M Rizzo, 73), T Youngs (N Briggs, 69), L Mulipola (F Balmain, 66), S De Chaves, G Kitchener (J Whetton, 58), T Croft, J Gibson (L Pearce, 61), J Crane (capt).
Referee W Barnes (London).
Reuse content