It is almost 30 years since Rowland Phillips, an international-class flanker in the union game, found himself turning out for Workington Town in the "other code", at the dawning of the Super League era.
He did not have an easy time of it: if playing 15-man rugby for Neath when they were just about the best side in Europe was the sporting equivalent of falling off a log, this was like being hit over the head with one.
"I think we won one game that season, against Paris Saint-Germain – a team that didn't last long," Phillips recalled this week as he embarked on the unenviable task of preparing London Welsh, who have lost all 27 of their matches this term across three competitions, for tomorrow's meeting with Bath, who rather fancy themselves as the hottest club in Christendom. "So, strictly speaking, this is not a new experience for me. And anyway, I think there's yin and yang in life. Maybe this is payback for all that success at Neath, when we were winning and winning and winning."
Phillips moved to Old Deer Park as defence coach shortly before Christmas, following back-room stints in Italy and back home in Wales. He was appointed head coach after the sacking of his fellow countryman Justin Burnell earlier this month. As Phillips was recovering from a road accident at the time, you might say he has gone from car crash to car crash.
The Exiles are piping hot favourites to become the first side to draw a blank in Premiership rugby since Rotherham in 2003-04. Over 17 rounds of league matches, they have passed 20 points just once: only three times have they kept the opposition under 30. They have had their vaguely competitive moments against Gloucester and Harlequins – last time out, they even hit the front against Exeter, albeit briefly – but their average losing margin is a gruesome 47-9. Compare this with their courageous top-flight campaign two seasons ago, when they might have stayed up but for the peculiar eligibility row surrounding the scrum-half Tyson Keats. Compare…  and weep.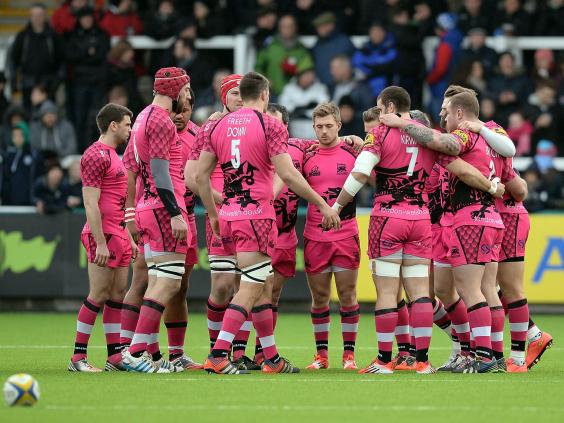 If there were some in the higher echelons of the Premiership movement, several of them operating at boardroom level, who didn't want London Welsh in the top flight in 2012, those people sure as hell didn't want to see them again this time, being far more interested in the likes of Bristol and Worcester, well-financed clubs situated in areas of meaningful rugby population. Unfortunately for the many rugby folk who consider promotion and relegation to be a principle worth defending, the poverty of the Exiles' current performance has put ring-fencing back at the top of the agenda.
There has always been a sound business case for the big teams pulling up the drawbridge, but that doesn't make it right: if money is the be-all and end-all, there is an equally persuasive case to be made for aggressive tax avoidance.
London Welsh might have made a much better fist of this campaign but for the laughably unfair central funding arrangements affecting clubs who win promotion unexpectedly and have no Premiership shareholding in their commercial portfolios.
Phillips was keen this week to give the politics a wide berth: for one thing, he had enough on his plate preparing an overmatched playing squad for a meeting with one of the top flight's swankiest, biggest-spending teams; for another, he knew the off-field arguments were better left to the lawyers associated with the Exiles, who pack a heavier punch than anyone to be found in the front row of the scrum. He did, however, insist that far from being an ambition-free zone, London Welsh were still a serious concern.
"When I first came here in November, with the club already facing a very difficult set of circumstances, I found the level of morale to be outstanding," said the man from St David's. "It continues to be outstanding.
"Yes, the games on a weekend are tough for us, but come Monday morning there isn't a soul in the squad who isn't ready and willing to front up in training. In a situation like the one we find ourselves in, there's always the potential for people to think, 'I wish this was over'. I haven't seen or heard anything to that effect.
"There's still some energy in the group, still a sense of ambition. There's still – how can I put it? – some fire here. It's my job to keep the training sessions interesting and give everyone a focus: it's our job collectively to set ourselves some targets and make it our business to achieve them.
"It's bloody hard graft, but the players are up for the fight. The most positive thing about this place is their positivity.
"People talk about the way funds are distributed amongst the Premiership teams, and while that's not my department, it clearly makes a difference to a club like this one. And some of the other circumstances weren't great either: when you don't know until so late in the day that you've actually been promoted, there's a very small window of opportunity in terms of pulling together a competitive squad of players. Justin did an incredible job in getting the team up, but he was playing catch-up from that moment on. It's no easy matter, dealing with this sort of stuff."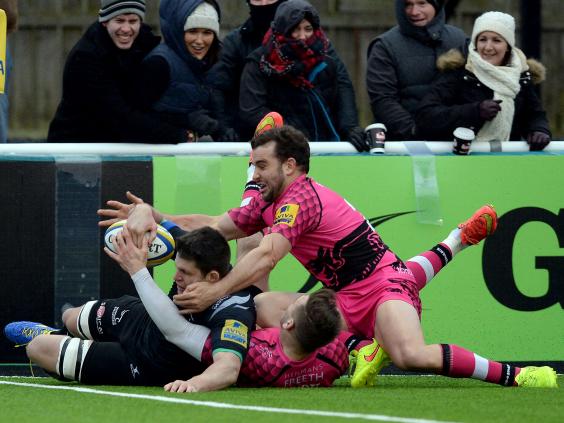 Things are unlikely to grow easier between now and the end of the season. After tomorrow's game, London Welsh have a home game with Wasps, who accumulated 70-odd points the last time they met. They must then travel to Leicester and Northampton before hosting Saracens, who rarely give suckers an even break and will not be in a mood to muck around on the last day of the regular campaign, given the intensity of the scrap at the top of the table.
Yet Phillips seemed at one with the world: not upbeat, exactly, but not suicidal either. "I think in life you learn a little about people when things are going well and a lot more when they aren't," he said. "It's at times like this when a coach gets the clearest idea of a player's character, and finds out about himself too.
"If we approach these last five games in the right way, we can end on an optimistic note. That's important, because I've seen enough to convince me that this can be a big club, that those running it are still keen to take it to a position where potential can be fulfilled. The continuing commitment to playing our games at the Kassam Stadium and building interest in the sport in the Oxfordshire area shows that.
"So it's down to us to get our heads down and look for those percentage-point improvements that will help us perform better over what's left of the season. One of our big troubles is the mindset of our opponents. Think back to the Engand-France game last weekend and the kind of rugby that was played at Twickenham. We're finding that everyone is trying to play like that against us. Opposing teams don't kick their penalties, for instance: they look for tries straight from the kick-off.
"Which is where I have to look at myself. I believe our attacking game has improved, and I think we're competitive at the set piece. Defence is an issue and I have to be big enough to admit it, because it's my area of expertise."
On current evidence, London Welsh could employ the construction firm responsible for the Great Wall of China and still leak 30 points by half-time. But Phillips, who does not have the foggiest idea of what the future holds in terms of his own employment, believes he can coax a balanced performance out of his players: to find some yang to go with all that yin.
Reuse content