How fitting that this Premiership semi-final should come to a shuddering end for reigning champions Northampton with a penalty to Saracens at a breakdown. The home team fought a losing battle all match to find space on the wide outside, until they were sucked for the umpteenth time into a Saracens whirlpool, victims of Jamie George and Juan Figallo jackalling over the ball.
It could have been any one from the titanic Saracens pack: Jacques Burger, the Vunipola brothers Mako and Billy, the astonishingly athletic Maro Itoje, the replacement lock Jim Hamilton… it would be unfair not to mention every man-jack of them. They tackled hard and often and with intelligence, punishing the frailty in a Northampton team that had finished top of the regular league table for the first time but came to this play-off with too few options in possession, options that were narrowed further still when their England prop Alex Corbisiero went off injured and full-backs dropped like flies.
"It's no secret Northampton had the better of us recently," said Burger, referring to last year's meeting in the final at Twickenham, and the two league matches this season, all won by the Saints, "but we stepped up physically and in every collision we were there." Alex Sanderson, the assistant coach, said Saracens defended "like madmen". Having won the title in 2011, they will go for a second against Bath next Saturday.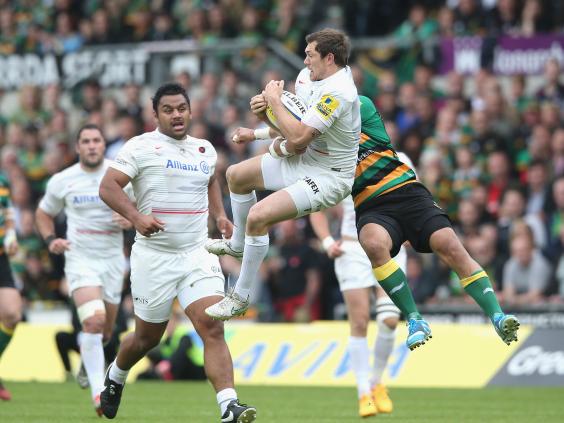 Saracens were ahead in the third minute with a typical try born of hacking and harrying. Their Scotland centre Duncan Taylor was a brave pick after playing 25 minutes in four months due to injury – and a flu bug had affected 10 of his colleagues during the week – but he showed his class with a through-the-legs pass to enable Dave Strettle to thump the ball down the touchline.
Taylor overhauled Saints scrum-half Lee Dickson on the chase before grabbing the ball with a headlong dive, topped off by a pass off the floor to the supporting Strettle, who scored. Owen Farrell converted.
With Ben Foden already a long-term absentee, Saints could have done without Ahsee Tuala going off early after Billy Vunpola landed on him, and Tuala's replacement James Wilson injured a wrist. Ken Pisi switched to full-back, with Tom Stephenson, normally a centre, on the wing where the home fans would have preferred to see the absent victim of concussion, George North.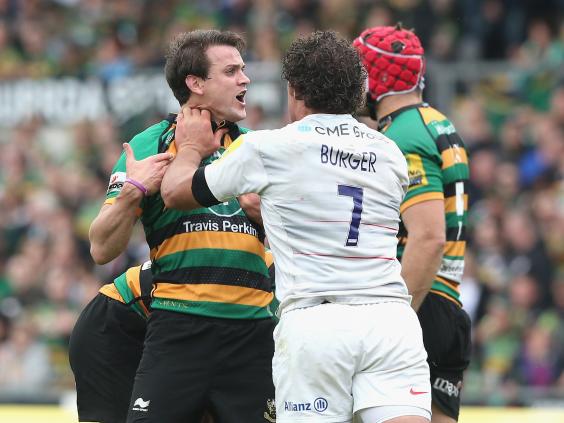 Northampton built pressure at a series of line-outs and penalty awards in the Saracens 22 to level at 7-7 when Mako Vunipola went to the sin bin and Farrell was lucky not to follow him for diving into a maul, with the upshot of a penalty try converted by Myler. But the line-out was unpredictable, lurching from a trauma room of stolen throws to a source of scores for both teams.
The first-half nip and tuck continued with a penalty apiece by Farrell and Myler, then a miss by Farrell after Itoje forced a breakdown offence. Farrell hit the target after 32 minutes for a 13-10 lead and it seemed Northampton would pay for failing to exploit an overlap when Burger hammered Ken Pisi with a brilliant tackle, only for the Namibian workhorse to be pinged for not moving away. Some apparent sledging from Dickson sparked an all-in push-and-shove before Myler made it 13-13.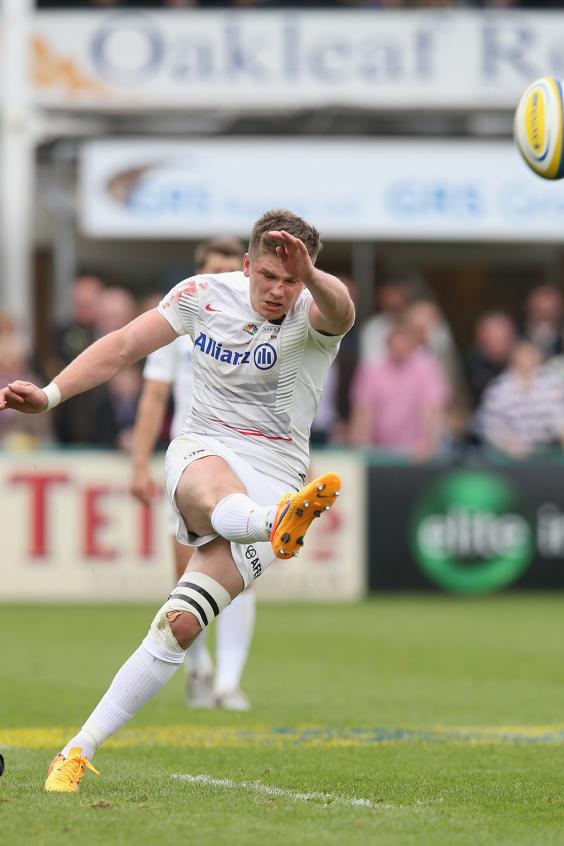 Otherwise the spirit was commendable, though in the background there is a persistent stink created by clubs moaning privately about Saracens breaching the salary cap. In the absence of published evidence, for now, we can judge them only on the pitch. And as Saints' shattered director of rugby Jim Mallinder put it: "Saracens did what we expected and did it very well. When the Vunipolas get over the ball, their stomachs are almost touching the ground already and they are difficult to shift."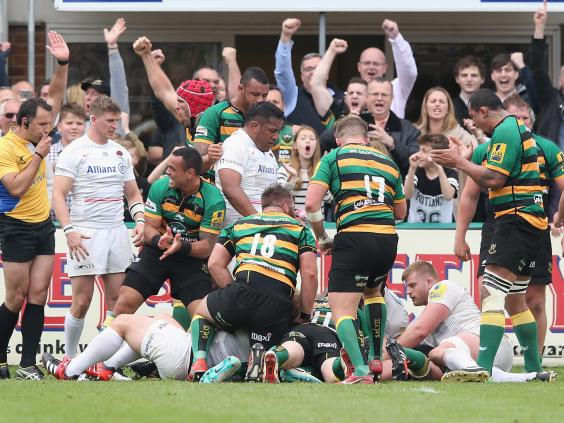 Myler's penalty for another maul pulled down at the start of second half was the only time Northampton led. It lasted four minutes before, with surprising ease, Saracens threw to George Kruis, set up a maul around Billy Vunipola, and George peeled round to finish, with Farrell converting for 20-16. Next there was lazy running by Stephenson as a soft way for Farrell to collect his third penalty, on 53 minutes, before Northampton responded with a catch-and-drive try for Tom Wood.
The final quarter began with a Farrell penalty for 26-21, before the line-out wobbles returned woefully for Northampton as Mike Haywood's throw was skilfully diverted by Kruis. It led at length to a breakdown penalty wrought by Billy Vunipola near the Northampton 10-metre line. Farrell drew a deep breath and booted Saracens two scores clear and in sight of the final. Myler got a penalty back but Saracens' self-styled wolf pack did the rest.
Teams:
Northampton: A Tuala (J Wilson, 4, T Stephenson, 41); K Pisi, G Pisi, L Burrell, J Elliott; S Myler, L Dickson (K Fotuali'i, 51); A Corbisiero (A Waller, 33), D Hartley (capt, M Haywood, 68), S Ma'afu (G Denman, 54), C Lawes, C Day (J Fisher, 69), T Wood, C Clark (S Dickinson, 75), S Manoa.
Saracens: A Goode; C Wyles, D Taylor, B Barritt, D Strettle (C Ashton, 60); O Farrell, R Wigglesworth; M Vunipola, J George, P Du Plessis (J Figallo, 60), G Kruis, A Hargreaves (capt, J Hamilton, 63), M Itoje (R Barrington, 16-24, J Wray, 65), J Burger, B Vunipola.
Referee: G Garner (Warwickshire).
Reuse content