Racing Métro, infinitely less glamorous than their great Parisian rivals Stade Français but significantly richer and more ambitious, are building themselves a new 32,000-seater stadium in La Defense, the skyscraper-strewn business district in the north-western reaches of the French capital. On the evidence of Sunday's European Champions Cup quarter-final, what they really need is another kind of defence entirely. A defence like the one Saracens brought to town.
Quite how they failed to break the Londoners in a narrowly-focused but compelling knockout drama is a mystery that passeth all understanding. Saracens? They understand themselves well enough to back their iron will in the face of the most grisly adversity – and on Sunday, they also understood enough to give Marcelo Bosch, their Argentine Test centre, one last 45-metre penalty shot into the wind, trusting in his ability to kick a rugby ball the length of South American pampas. Their joy when Bosch duly obliged was unconfined.
"I believe the last time I won a game with the last kick of a match was when I was 21, playing club rugby in Buenos Aires," said the 31-year-old midfielder, who seemed just a little bemused by what had just befallen him, despite his cool exterior. "That was a great memory for me, but it was a long time ago. This time? I was tired – the game had been very tough – but I practise such kicks during the week and said: 'Why not?' You are either the hero or the bad guy. I'm happy it went my way."
The home side, hoping to build on Clermont Auvergne's wrecking-ball demolition of Northampton less than 24 hours earlier and often looking capable of it, should not have been in this position, good as Bosch's strike from the tee may have been. Two points up at the last knockings, they should have played territory by putting the ball behind their opponents and forcing them to attack from deep – something the Premiership club had not given the remotest impression of being able to do over the preceding 78 minutes or so. Instead, they opted to run down the clock with a series of single-carrier drives off the edges of rucks.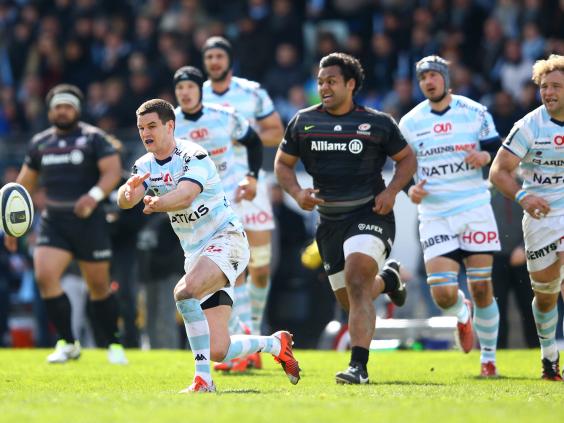 It did not take the union wisdom of Carwyn James to work out that this choice created a high risk of one of their number going off his feet and conceding a shot at goal just when it would hurt the most. As it turned out, it was the chronicle of a match-losing crime foretold, with Fabrice Metz the protagonist.
Metz, a very substantial citizen indeed, had been on the field less than five minutes, having replaced the South African lock François van der Merwe, when he was penalised at the final breakdown, set by the No 8 Antonie Claassen. Immediately, Bosch's eyes lit up with the sight of the prize in clear view. It was a daunting kick in several respects – the distance, the blustery conditions and the pressure were just some of the difficulties piled against him – but in truth, he never looked like missing. Such was the power and timing of the kick, the ball may still be up there somewhere.
All this was brutally hard on the better performers in the Racing Métro side: the wild-haired flanker Camille Gérondeau, who out-burgered the Saracens folk hero Jacques Burger during his 56-minute stay on the field; the Wales and Lions centre Jamie Roberts, whose route-one approach in the eye of the storm made his substitution midway through the third quarter completely inexplicable; and, most of all, the scrum-half Maxime Machenaud, who was outstanding in every way.
But as Mark McCall, the Saracens rugby director, said afterwards: "Having been given first use of a very strong wind in the first half and failed to capitalise on it, I thought our performance in the second half was as courageous and hard-working as anything I've seen from these players. We knew they would come at us strongly, but we went hunting for them, scrapped for everything and put them under severe pressure. In the end, it told."
McCall was surprised that Bosch should have been the man to line up that last kick. "I was on my way down to the touchline when the penalty was given," he said. "I knew Charlie Hodgson wouldn't be taking it because he was carrying an injury, but I thought it was in range for Alex Goode [the occasional England full-back, who was, once again, the most creative figure in the Saracens side]. Then, when I reached pitchside, I registered the strength of the wind and realised what was needed to kick the goal. Marcelo had the nerve, the balls, to say he wanted it. That was half the battle, I think."
Bosch left his mark in other areas. Twice during one withering Racing Métro attack on 52 minutes, he saved his side's skin with try-saving tackles: the first a desperate effort on his countryman Juan Imhoff; the second, a few seconds later, an all-encompassing hit on the wing Teddy Thomas. As McCall indicated, these contributions were right up there with his decisive intervention with the boot.
This brand of defensive heroism characterised the Saracens performance: against a weaker, less intensely committed band of brothers – for this is how the Londoners see themselves – Racing Métro would have scored three or four tries rather than the single close-range strike from Machenaud just shy of the half-hour. Had Jonathan Sexton, the Lions outside-half, not struck a post with the conversion, the result may have been different. There again, the game might have unfolded in another way entirely.
Saracens must now meet Clermont for a place in the final and McCall knows better than anyone that they will have to bring a better all-round game to the party in a little under fortnight. But they know what it is to get under the skins of the men from the Massif Central, having beaten them by 40 points at the same stage in last year's tournament. This much is certain: with Bosch on the field in a tight game, there is not a side in the world who can afford to play fast and loose at a ruck in the last minute.
Scorers: Racing Métro – Try Machenaud. Penalties Machenaud 2. Saracens – Penalties Hodgson 2, Goode, Bosch.
Racing Métro B Dulin; J Imhoff (J Goosen, 52), H Chavancy, J Roberts (A Dumoulin, 51), T Thomas; J Sexton (M Phillips, 76), M Marchenaud; E Ben Arous (J Brignaut, 52), D Szarzewski (capt, V Lacombe, 52), L Ducalcon (B Mujati, 52), L Charteris, F Van der Merwe (F Metz, 76), W Lauret, C Gérondeau (T Dubarry, 56), A Claassen.
Saracens A Goode; C Ashton, M Bosch, C Wyles, D Strettle; C Hodgson, R Wigglesworth (capt, N De Kock, 65); M Vunipola (R Gill, 54), J George (S Brits, 54), P Du Plessis (J Johnston, 52), G Kruis, J Hamilton (M Itoje, 57), J Wray (K Brown, 52), J Burger, B Vunipola.
Referee N Owens (Wales).
Reuse content