Northampton have spent the last seven and a half months constructing an open-and-shut case for themselves as play-off contenders, hence their 10-point lead at the top of the table with four games to play.
Even if the defending champions roll over and die for a second week running – their performance last time out against Clermont Auvergne could hardly have been more funereal – it is barely possible to imagine them messing it up from here.
All the same, tomorrow's difficult match against a vibrant Exeter at Sandy Park will reveal much about the Saints' chances of retaining the title. The Midlanders are not quite as tough in what the All Blacks call the "top four inches" as they like to think – the towelling they received on the far side of the water seven days ago was not the first in recent memory – and under such circumstances, the New Zealanders themselves might struggle for an immediate response.
It may well be that Northampton will need their safety net, which also includes a home game against the relegated irrelevances of London Welsh, in order to secure a home semi-final, because their other games, against Saracens and Leicester, have hassle written all over them. Victory tomorrow will go a long way towards calming some nerves and clearing a few minds.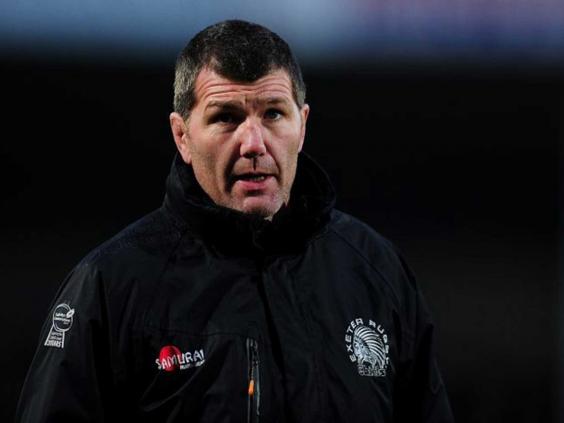 They have lost only three league games this term, one of them to Exeter on home soil. But that was in mid-November, when half the team were either injured or entangled in the autumn internationals. Tomorrow, they will look more like themselves with Alex Corbisiero, Dylan Hartley, Tom Wood and the Pisi brothers, Ken and George, in the starting line-up. The question is whether they will be in the right mental state to play like themselves.
It may have occurred to Rob Baxter, the Exeter rugby director who has put his side in the thick of the play-off dogfight, that this might be the perfect time to play Northampton. If so, he is too shrewd to admit to it in public.
"They are consistent top-end performers and that kind of tells you that one loss doesn't damage them too much," he said. "They're used to getting through things. We played at Clermont ourselves and there were plenty of times when we thought we were going well, only to have a try banged in against us all of a sudden. I'd imagine that, given the quality of players Northampton have, they know how to get back  on track."
The problem for the Midlanders is that there was never a moment at Clermont when they thought things were anything other than nightmarish. Unless Hartley, Wood and Corbisiero show real strength of character in this game, they could find themselves on  the pointy end of the spike once again.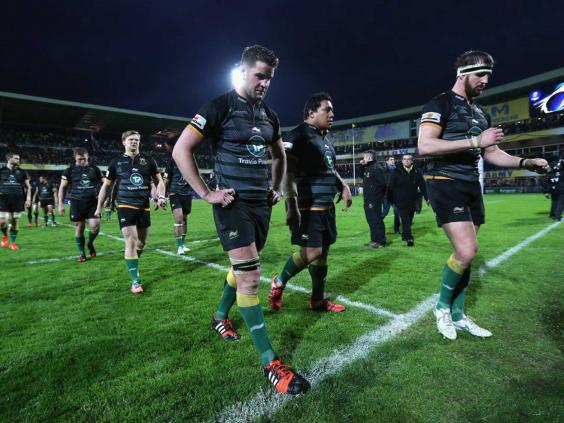 In the other big fixture of the weekend – a highly significant meeting of minds and muscle between Saracens and Leicester in north London this afternoon – the England centre Brad Barritt returns to active duty for the home side after missing the Six Nations through injury. Barritt's performance against the much-travelled Fiji international Seremaia Bai will be of considerable interest to the national selectors, who are no nearer settling on their optimum midfield combination now than they were in 2012.
As Manu Tuilagi is still crocked – the human bowling ball must be getting rounder by the day, thanks to a chronic lack of activity – the back-line confrontation will not be as ferocious as it might have been. But there will be no shortage of fun and games up front, with Mako Vunipola and Dan Cole going head  to head in search of scrum superiority.
Reuse content