Saracens rested four England internationals alongside the injured Brad Barritt, so their squad strength was evident in a clear-cut victory amid horrible weather for handling.
"We don't have to worry about not getting the bonus point," said Billy Vunipola, the No 8, who coped better than most with a greasy ball and a whippy breeze. "As long as we win all our games, we'll be alright."
But in this day and age such natural chin-out phlegmatism comes with an alarming qualification. For what may have been the first time in rugby union, some of Saracens' players wore a tiny monitor taped behind their ears to measure the impact they were taking in tackles and the like. The technology has been used in American football, prompted by concerns over concussion.
As for London Irish, well done to them. No, really. With a dozen players including four hookers injured and London Welsh adrift beneath them at the foot of the table, their motivation was as difficult to spot as a dry seat in Allianz Park.
Yet despite being squeezed hard by a Saracens team who always revel in playing without the ball, whether it's raining or not, Irish stuck to their task and their hosts never looked like bagging a bonus point. They had to make do in the end with four penalties by Owen Farrell, at fly-half, and two scores for David Strettle, playing on the right wing rather than the left for a change, but taking his total of tries on this ground to 14 in 15 appearances.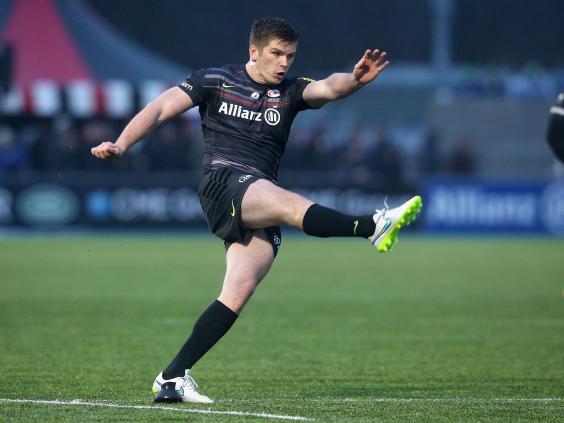 "Saracens never came through the heart of us, they just did us on the left edge twice," said Brian Smith, Irish's director of rugby, who was obliged to field Harry Allen, a former England Under-18 and Harlequins hooker who is with the club on a week-to-week trial after completing a year's ban for a recreational drugs offence, for the full 80 minutes. The cover for Allen on the bench was an academy prop who had been busy practising his throwing; after that, Irish may have been giving the bus driver a nod.
Irish could also have done with Tom Homer's penalty attempt from halfway not sliding wide in the 19th minute. Within a further 10 minutes Saracens were 6-0 up. From the restart after Homer's unlucky miss, Sarries' Chris Wyles hoofed clear to Shane Geraghty, the London Irish fly-half, who misjudged the following wind and the plastic pitch bounce as he kicked the ball dead. This  allowed Saracens a scrum from which a penalty moved them into the 22. The line-out thrown to Jackson Wray set up side-to-side attacks, which ended with an penalty by  Farrell, although the crowd would have preferred the points to have gone to a tasty dropped goal by the captain and second-row Ally Hargreaves that flew over just after the whistle went.
Geraghty was determined to show his artistry with ball in hand, but to his despair he repeated his previous kicking error on 27 minutes, Saracens won another penalty at another scrum and Farrell kicked the goal from 25 metres.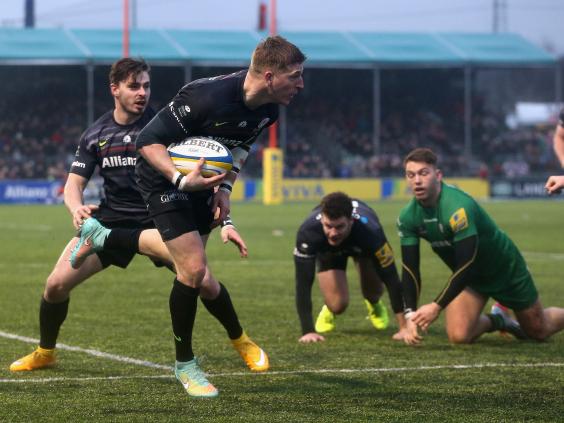 It was high time Saracens exerted some pressure more obviously of their own making and they did so in a bold counter-attack led by full-back Ben Ransom . His run and Wyles' hack forced Alex Lewington to kick dead behind his own line. From the five-metre scrum, Billy Vunipola charged off the base, his brother Mako made a link, and the ball went out via Farrell and Nick Tompkins to Strettle for the finish.
Homer chipped two goals adroitly into the wind after the break, and, briefly, Saracens' bid to close the gap on Northampton and Bath above them at the top of the Premiership looked wobbly. Then Ransom made another burst, and Farrell's penalty from a wide angle made it 14-6.
When Farrell found touch deep in the Irish half soon afterwards, Allen's line-out delivery went awry, Saracens earned a penalty at the scrum and Farrell converted it. In the 62nd minute, Strettle pirouetted over the line to round off a left-to-right move started by a Hargreaves line-out take and Wyles' dart off Neil de Kock's shoulder.
That was that, scoring-wise, to the frustration of Saracens' director of rugby Mark McCall. But the incidents and accidents were unceasing. Irish turned over a scrum against the head, only for Geraghty to fumble; Wray, who had done well for Sarries in line-outs, made a skilful pass through his legs, before a knock-on out wide. All in all, a strange day, in so many ways.
Line-ups:
Saracens: B Ransom (N Mordt 77); D Strettle, N Tompkins (T Strseather 69), D Taylor, C Wyles; O Farrell, N de Kock (B Spencer 66); M Vunipola (R Barrington 66), J George (B Sharman 66), P du Plessis (J Johnston 66), G Kruis, A Hargreaves (capt, M Itoje 63), J Wray, J Burger (K Brown 55), B Vunipola.
London Irish: T Homer; T Ojo (A Fenby 79), F Mulchrone, E Sheridan, A Lewington; S Geraghty, S Steele (T O'Leary 60); T Court (L Halavatau 63), H Allen, G Cross (H Aulika 50), G Skivington (capt), N Rouse (S Cox 73), K Low (T Guest 63), C Gilsenan, O Treviranus.
Referee: T Wigglesworth (Yorkshire).
Reuse content