Rugby union's governing class may have been too apoplectic to notice at the time, but there was a literary dimension to events at Kingsholm the last time Gloucester hosted Bath in a Premiership derby: things fell apart and mere anarchy was loosed upon the world, just as the great poet WB Yeats foretold.
In other words, there was an almighty punch-up – one of the biggest and best in years. And when the dust settled, it was the home side who were left broken almost beyond repair.
Gloucester are still in the process of piecing themselves back together and the task is unlikely to be completed for a good while yet. But when the Cherry & Whites finally  re-establish themselves as one of English union's mighty powers – as they surely must, for the game in this country would be horribly diminished without them – they will look very different from the team who had spent the entire  2013-14 campaign being beaten up, as well as beaten.
So much has already been achieved by way of reconstruction. Off the field, Gloucester have just announced the strongest financial results in their long history: turnover of £12m, an increase of 3.7 per cent on the previous year, and a pre-tax profit of £512,000, up 68 per cent. They are also preparing to host four 2015 World Cup matches – a fact that puts them in a category all of their own. No other club has been asked to stage one match, let alone four, and the fact that each was sold out in a heartbeat explains why Gloucester will see more games than any other city, leaving aside London and Cardiff.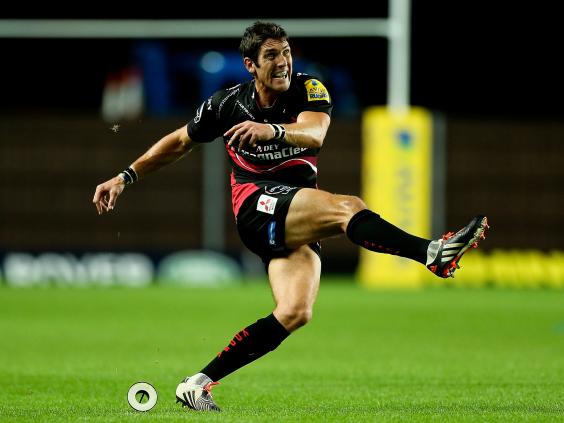 Yet most of the heavy lifting has been done on the field: there is a new rugby management and coaching staff of the all-star variety; the tight forward unit has been reinforced by Test-class acquisitions; half-backs as accomplished as James Hook and Greig Laidlaw have been drafted in to give the team a sense of direction. According to the man largely responsible for these labours, the chief executive Stephen Vaughan, there was no choice but to take drastic measures.
"By the end of last season, I was in a dark, difficult place, both professionally and personally," he acknowledged, reflecting on a ninth-place finish in the Premiership, miles outside European qualification. "I'm the kind of person who, if things aren't going the way I think they should be going, finds it hard to sleep at night. We were in an unacceptable position from the playing perspective. One thing our supporters always expect, and have a right to expect, is the 'Gloucester dog' – absolute, unadulterated, 100 per cent, give-it-everything commitment. And they weren't getting it.
"The low point was Saracens at home. They were excellent in every facet of their game, fair play to them, but where they really steamrollered us was in aggression and intensity. It couldn't go on. I was having opposition coaches telling me, 'Steve, we've come here today and won, and we're delighted with the result. But we don't have a bloody nose, we're not saying, 'Christ, that was a nightmare.' It was too nice out there.'
"That hurt me, and I knew it was hurting our supporters. These things are obvious when you work at a place like Kingsholm, because the CEO's job here isn't like the CEO's job at Sale or Wasps. Yes, there's a big commercial element to our work that we all have in common, but at Gloucester you can be shopping in Tesco and have people tapping you on the shoulder, giving you both barrels about what's happening on the pitch. You quickly find yourself on first-name terms with people who really care about the club, so you're absolutely in it, up to your neck.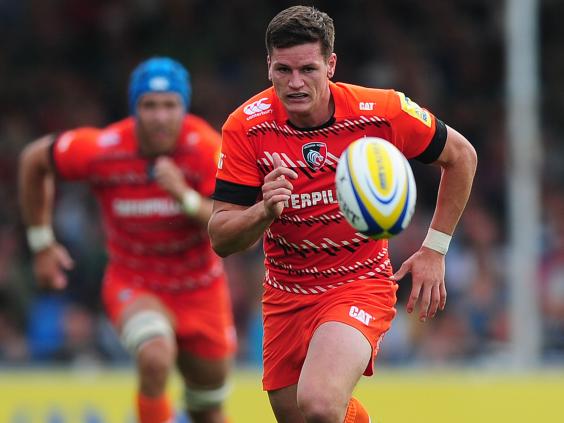 "It was my feeling, based on a number of conversations with people who knew what they were talking about, that we had to change what we were doing, because we couldn't continue having everything in place except a winning team on the pitch.
"It wouldn't be long before the numbers stopped adding up: when we lose a home game, we know exactly how much we also lose at the bars, in shirt sales, in future corporate bookings. And we were losing a lot of home games. We had to go in search of the virtuous circle: success on the pitch, which drives success commercially, which secures more investment, which feeds back into the team and makes it more successful still."
This was when what Vaughan calls "the difficult conversations" kicked in: discussions with the rugby director Nigel Davies, the coaches Paul Moriarty and Tony Windo, the player-coach Mike Tindall. Within weeks of that Bath game in April, all had disappeared through the door marked "exit". And in came David Humphreys, a qualified lawyer who had won 70-odd caps for Ireland as a true thinking man's outside-half and, on retirement, had stayed with his beloved Ulster as director of rugby operations, playing a central role in driving the province back towards the top of the European game.
"There were obvious things we needed: a quality outside-half, for a start, because Freddie Burns was leaving. It was why we decided that on pain of death we wouldn't allow James Hook to go to anyone else in England," said Vaughan. "But it was even more obvious that we needed a DoR who could effectively be a board member rather than a clipboard coach. And we felt we needed to break the habit of simply looking to see who was on the market and then going to talk to them. We decided we should be more proactive. If ever I needed reminding of just how big a club Gloucester is in the rugby world, the number of CVs I received from people interested in the job did the trick. There were so many, from all over the world, that we couldn't get back to some of those who applied. One man who didn't apply was David Humphreys, but across many conversations I had with chairmen and CEOs and DoRs, his was the name that kept cropping up. So I arranged to meet him in Belfast.
"I don't think he had the slightest intention of leaving Ulster. He was very polite and showed exquisite manners, as you'd expect, but he wasn't thinking of a move. But after a long chat and a very careful presentation of our direction of travel, he showed some interest. Never once during that discussion did he mention money. What concerned him was the fabric of the club, the long-term planning, the scale of the vision. I came away thinking: 'That's my man.'"
Humphreys has been in place for almost half a season, overseeing a coaching team – Laurie Fisher, Nick Walshe, John Muggleton, Trevor Woodman – fully equipped to work wonders. But there tends to be a problem with successful back-room recruitment drives: namely, that the paying public assume it will automatically translate into success on the field. As things stand, Gloucester are still a little off the pace set by two of their West Country neighbours, Bath and Exeter, and are very aware that Bristol, financed by the wealthiest backer yet seen in English rugby, may soon be back in the Premiership, spending money like water.
Vaughan has been through all this with the Gloucester board. "I've presented them with a five-year strategic plan, the first point of which emphasised that things wouldn't happen overnight," he said. "We now have eight Premiership teams who expect to finish in the top four, so it's incredibly competitive out there.
"Do I see us as a top-four side at the moment? No, if I'm honest. I'd put us in the 'aspirational top-six' category. Is that good enough? Clearly not. But we're not close to finishing what we're doing.
"We must be boring people silly telling them we're a work in progress and that it will be better next year, but we have a rugby-intelligent audience who get it. I think they understand that we've taken some important initial steps and that we're moving forward.
"It's like going to Alcoholics Anonymous: until you admit that you have a bottle of gin in the airing cupboard, you'll never kick the habit. I think it's fair to say that we're past that stage, at least."
Reuse content