Toulon are the most successful club in northern-hemisphere rugby union, by a distance: back-to-back Heineken Cup winners and reigning French title holders, they are favourites to win the inaugural European Champions trophy at Twickenham in early May and the pundits' choice to retain their domestic crown in Paris a few weeks later.
They are the wealthiest club, too. Juan Fernandez Lobbe, Matt Giteau, Mamuka Gorgodze, Frédéric Michalak and James O'Connor, five of the union game's stellar performers, were among the many big-money signings who did not start last weekend's unnervingly convincing win over Leicester.
One other thing: they are fast becoming the most conceited, high-handed and self-admiring team in Christendom. If they were made of chocolate, they would eat themselves for breakfast, lunch and dinner.
They may have grown their business by 500 per cent in the years since their president, the publishing squillionaire Mourad Boudjellal, started pumping cash into the club midway through the last  decade, but that does not begin to keep pace with their ever-widening streak of  narcissism.
When Boudjellal reacted to the 12-week ban imposed on his full-back Delon Armitage by a tribunal sitting in London on Wednesday night – the exiled England Test player had been found guilty of a disrepute charge following an argument with Leicester supporters after a game at Welford Road this month, during which he used abusive language – there were no half-measures. The president called the verdict "incomprehensible" and "extraordinary", openly questioned the complainants' objectivity, accused them of making false testimonies and threatened to see them in court.
From any other significant figure in world rugby – even the Leicester director of rugby, Richard Cockerill, who has been known to let rip with the verbals every now and then – this would have been a surprising reaction, perhaps bordering on the "incomprehensible" and "extraordinary". Coming from Boudjellal, it was the least-surprising development in an argument that has been rumbling on for the best part of a fortnight and has every chance of continuing well into 2015.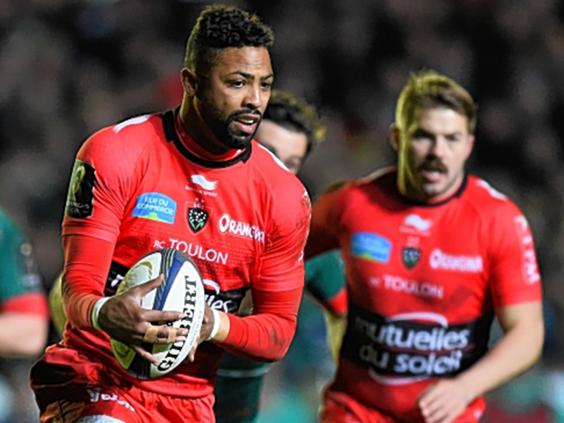 Lest we forget, this is the man who picked up a 130-day touchline ban – yes, he likes to be seen by his adoring public, does Mourad – for saying that he felt "sodomised" by the performance of an international-class referee in 2012, adding that the game would have to be reviewed on YouPorn rather than YouTube. If he has yet to tell us how the Armitage decision left him feeling in the physical sense, we can thank heaven for small mercies.
He has described the game in France as racist ("No one can give me lessons in morality, education or politeness, especially in the rugby environment," he was quoted as saying) and explored the possibility of suing the International Rugby Board over financial arrangements covering player release for Test matches. As recently as October, he could be heard calling the England hierarchy "stupid" for sticking to their policy of not selecting foreign-based players for  red-rose duty.
All things considered, then, nothing short of chronic laryngitis is likely to prevent Boudjellal screaming from the rooftops of the Riviera every time something fails to go his way or fall neatly into the grand design he has concocted for himself and the players on whom he lavishes riches beyond the dreams of rugby avarice. It is one of the most familiar of all sporting syndromes: the inability of the successful man to hear anything but his own applause.
Toulon have been quite something over the last two or three seasons: they have not exactly charmed the birds from the trees with the beauty of their rugby, but with a World Cup year about to dawn on us there is barely an international team on Earth who would not happily copy their ultra-physical, risk-free, coercive brand of pressure rugby if they could find the right personnel to deliver it.
But they do themselves a profound disservice when they squeal and howl in the face of their occasional setbacks. Boudjellal, their financial saviour, is in this regard their greatest encumbrance. He might do well to bear in mind a remark attributed to Denis Thatcher, of all people: "It is better to keep your mouth shut and be thought a fool than to open it and remove all doubt."
Reuse content