Flesh and blood, more than bricks and mortar, is what moves James Haskell, and as Wasps' captain and England flanker contemplated his club's last match at Adams Park in High Wycombe today before the intriguing and controversial relocation to Coventry, he called to mind his totemic predecessor as skipper.
"Lawrence Dallaglio had 18 years at the club," said Haskell, "and that included three home grounds and six training grounds. He said Wasps was never about the ground, it was about the people."
We met at Wasps' training ground in west London – geographically, the club's heartland, but soon to be consigned to history as they move home matches to the Ricoh Arena. The buzz was about a possible 24,000 crowd for next Sunday's first match of the new venture, against London Irish. F
rankly, Haskell's priority was a win today over Castres to keep the European Champions Cup pot boiling. Any result other than a five-pointer would be a shock after beating them 32-17 last weekend.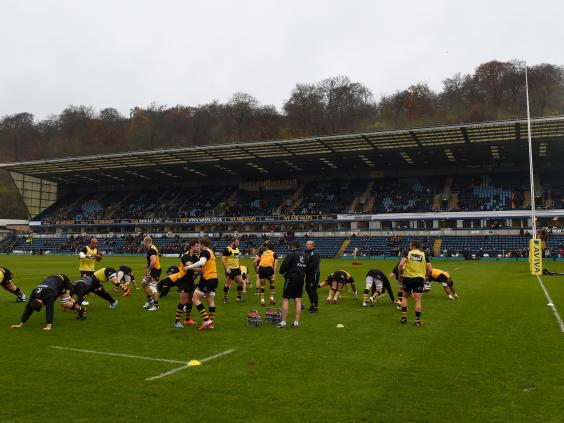 But when it was put to Haskell that the club's management under the relatively new ownership of Irish businessman Derek Richardson since April 2013, have been desperate to high-tail it out of High Wycombe, he frowned. The leaving of Adams Park – to some, an unprepossessing patch of grass at the wrong end of an industrial estate – is no throwaway matter.
Least of all for Haskell, who played twice for England last month to reach 53 caps, and made his home debut for Wasps as a 17-year-old in the club's first match as tenants of Wycombe Wanderers FC, in August 2002.
He has spent nine years among the Adams family, in two spells and said: "OK, from a financial point of view, Adams Park made no sense. But I've got loads of happy memories. My debut was in a back row with Lawrence Dallaglio and Paul Volley – that was a special moment. I've played big games there: a European quarter-final with Leinster, I remember; Clermont in the Heineken; Gloucester when we were behind [in the Anglo-Welsh Cup] and I came on and got two tries, and we won."
There was also a quality pitch. "So it's massively sad to be going," said Haskell, "and the only disappointment I've got is the short-sighted narrow-mindedness of the  Wycombe council – for them to not see that if you put in place a Ricoh-style, retail and sports facility it would have attracted more people, and we would have stayed."
The Ricoh, he adds, "will be fantastic. I cannot wait to get out there. All the boys will love it". And today? "Definitely an opportunity to say goodbye. I'll ask the team for a big performance."
--
Five great matches at Adams Park
Wasps 34 Gloucester 3
Heineken Cup quarter-final,
11 April 2004
Lawrence Dallaglio is among four try-scorers as Wasps romp into their first Heineken Cup semi-final.
Wasps 31 Leicester 37
Heineken Cup pool match,  5 December 2004
Fist-fights and tries galore in the first leg of a gripping double-header. Tigers edged both but Wasps won the Premiership final.
Wasps 35 Leinster 13
Heineken Cup quarter-final,  31 March 2007
The pride of Dublin, lacking the injured Brian O'Driscoll, proved no match for Wasps' blitz defence.Wasps  25 Clermont 24 Heineken Cup pool match, 15 December 2007
The flowering of fly-half Danny Cipriani as the French are quelled before storming back in a thriller.
Wasps 20 Saints  16 Premiership
14 September 2014
Titanic tackling and two tries in three minutes by AshleyJohnson and Tom Varndell set up a shock win over the reigning champions.
--
Buzzing around - where Wasps played
Grounds at Finchley Road, Lillie Bridge, Loughborough Park, Hyde Farm, Scrubs Lane, Old Oak Lane, Wood Lane, Horn Lane, Boston Manor, until the move to Repton Avenue in Sudbury in 1923.
Sudbury 1923-1996; won League 1989-90. 
Loftus Road 1996-2002; won League/Premiership 1996-97, English Cup 1998/99, 1999/2000.
Adams Park 2002 to date; won Heineken Cup 2003-04, 2006-07, European Challenge Cup 2002-03, Premiership 2002-03, 2003-04, 2004-05, 2007-08.
Reuse content