It was terribly trendy and bang up to date: flags on every seat; the odd Mexican wave; all-too-frequent bursts of modern beat music, pumped out at decibel levels that might have had Led Zeppelin wondering if the sound technicians might be overdoing it with the volume switch. But in the final analysis, Wasps were propelled into their brave new world by one of rugby's age-old virtues: namely, the veteran outside-half Andy Goode.
On the day the Londoners became Midlanders, the former England midfielder helped himself to 33 points, an individual record for a Premiership match, in front of 28,245 spectators – the largest audience ever to watch a league game at a club's home ground. (The occasional extravaganzas staged at Twickenham and Wembley do not count, according to the folk who decide these things). Most striking of all was the fact that the two-time European champions' dramatic move north in search of financial stability depended so heavily on the one member of their squad who had deeper links with the new place in Coventry than he did with the old one in High Wycombe.
Goode was born in Coventry the best part of 35 years ago and began his rugby career at the local club Barkers Butts. You might say he dumped London Irish on their "Barkers" yesterday, thereby doing everything in his power to help Wasps retain at least a half-decent proportion of their new audience for longer than a week or two. He even scored a try of the deceptive, twinkle-toed variety, albeit from the kind of range traditionally associated to players of his seniority, and it would not be stretching a point to describe him as outstanding.
So he had to be, for his opposite number, Shane Geraghty, performed with sufficient imagination and ingenuity in a tight first half to threaten a torrential downpour on Wasps' parade. Yet with Goode in prime form on the marksmanship front and sufficiently accurate with his distribution to free the fast men – Christian Wade, Sailosi Tagicakibau, Elliot Daly, Joe Simpson – in a square metre of space, the second period was processional in the extreme, ending 30-0 in the home side's favour.
As Brian Smith, the London Irish rugby director, was quick to assert afterwards, most teams find it difficult to survive, let alone prevail, when they find themselves on the spiky end of a four-to-one penalty count, and by close of play, the Exiles were seriously at odds with the young referee Tom Foley. None more so than George Skivington, the visiting captain. "There are too many penalties," Foley warned him at one point. "You could say that," Skivington replied, rapier-like in his irony.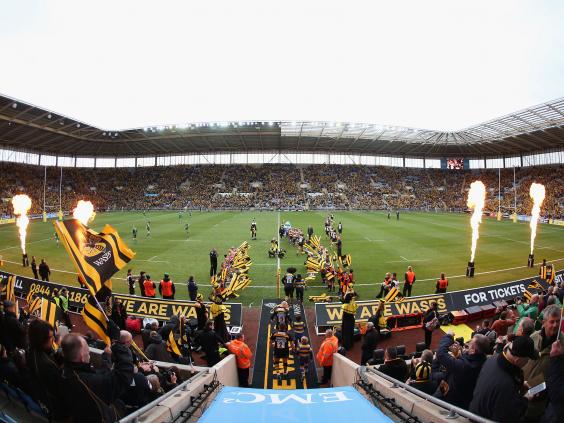 But if Smith and his charges felt hard done by – according to him, the result would have stayed in the balance a whole lot longer but for the yellow card shown to the hooker David Paice just shy of the hour – it might equally be argued that it was open to them to identify Mr Foley's principal dislikes and adapt accordingly. Players who break the same laws time and time again and expect the punishment to be different deserve everything they get.
What London Irish got yesterday was Goode in his pomp. "I've been to the Ricoh a few times with friends to watch Coventry City play football, but to run out with Wasps at a world-class facility like this and know it's ours ... that was unbelievable," he said. "Yes, there was a good deal of nervousness flying around. I could sense during the warm-up that people were doing things they don't usually do, so I said in the dressing room that if we stuck to our principles and did the things that make us a good side rather than go off as individuals, we'd be fine." Had he ever expected to set a new scoring record? "No," he replied. "But then, I never expected to be sitting here at the Ricoh with a bottle of beer in my hand, either."
Not for the first time this season, Wasps were able to trade profitably off the backs of their excellent loose combination of Ashley Johnson, James Haskell and Nathan Hughes. Even so, it was the Exiles who notched the first try of the Ricoh's rugby era, the eye-poppingly hirsute Scotland prop Geoff Cross rumbling over from Blair Cowan's scoring pass following some bright sacking work at the base of a ruck from the scrum-half Scott Steele.
That Wasps made it to the interval a couple of points in front was entirely due to the reliability of Goode's goal-kicking, but they were a different side after the sweet tea and oranges: more direct, more driven, more up-tempo. Simpson extended their lead with a wonderful try within three minutes of the restart – Tagicakibau and Johnson were among the more significant contributors – and when Goode crossed in celebratory style early in the final quarter, the victory was secure.
Two further tries followed: the first from Daly, who regathered his own semi-intercepted pass to ground the ball under a pile of bodies; the second, just 25 seconds from time, from the full-back Andrea Masi, who cut inside off the touchline to bag the bonus point following a powerful carry from the ever-willing Haskell and some smooth passing going left. It was, as the Wasps rugby director, David Young, happily acknowledged, a highly satisfactory outcome.
"It's been a six-to-eight-week job, putting this game on, but we wouldn't have attracted that sort of crowd if the interest wasn't here in the first place," he said. "It's a little unrealistic to think we'll keep drawing 28,000 to the stadium, but if we can back this up – if we can keep doing the job on the field – we'll help the people working off the field to build a following. The thing is, we're at our own ground. When I think of the trouble the club was in two seasons ago, I can't help feeling just a little emotional."
Wasps: Tries Simpson, Goode, Daly, Masi; Conversions Goode 2; Penalties Goode 8. London Irish: Try Cross; Conversion Homer; Penalties Homer 3.
Wasps A Masi; C Wade, E Daly, C Bell (R Miller, 12), S Tagicakibau; A Goode (A Lozowksi, 72), J Simpson (C Davies 72); M Mullan (S McIntyre, 67), E Shervington (T Lindsay, 70), J Cooper-Woolley (L Cittadini, 50), B Davies, J Gaskell (K Myall, 63), A Johnson, J Haskell (capt), N Hughes (S Jones, 63).
London Irish T Homer; T Ojo, E Griffin,  E Sheridan, A Fenby; S Geraghty, S Steele  (D Allinson, 50); T Court (L Halavatau, 72),  D Paice (H Allen, 62), G Cross (H Aulika, 50),  G Skivington (capt), S Cox (D Leo, 50), J Sinclair, B Cowan (C Gilsenan, 25-30 and 72), L Narraway.
Referee T Foley (Somerset).
Reuse content