The sight and sound remained arresting, even when you knew they were coming. There were almost 50,000 French men, women and children in the steepling, ultra-modern Grand Stade in Lille on Friday night, and who were they cheering? An Englishman.
"Monsieur Jonny Wilkinson," as the public address announcer felt obliged to introduce him, amid the streamers, fireworks and a lady carrying a golden oval ball on a white horse dressed up as Pegasus that presaged the kick-off of the semi-final of the French league championship, is not just the darling of Toulon, the World Cup-winning fly-half's club for the past five years. Wilkinson stands undeniably and not a little improbably as one of rugby union's few transcending icons: a face (and an instantly recognisable goal-kicking stance) to set alongside France's bearded wonder Sébastien Chabal and maybe Ireland's square-jawed centre Brian O'Driscoll. All three are packing in playing this month. The end of the season is also the end of an era.
Toulon beat Racing Métro 16-6, and are now set for two finals in the next fortnight – the Heineken Cup against Saracens in Cardiff on Saturday followed by Castres for the French title at Paris's Stade de France. They give Wilkinson, who has not exactly been weighed down with winners' medals during his 17-year career, a chance to depart with a double whammy. In Lille, he more than did his usual bit: running the show, shouting and cajoling, landing kicks from difficult angles and dropping a goal off his right foot to stir memories yet again of his signal night in an England jersey, the World Cup final in Sydney in November 2003.
That achievement pitched Wilkinson and the captain, Martin Johnson, into rugby's rarefied company of being recognisable to the man or woman in the English street. Think Jonah Lomu and his pizza adverts, Bill Beaumont, the avuncular Question of Sport TV quiz captain, and Will Carling with his connections to Princess Diana.
Rugby is a minority sport, and one inherently weighted against any cult of the individual. Wilkinson, post-match in Lille, would speak as always only about doing what he needed to do for the team to fulfil their potential. And yet there he was, bestriding an occasion symptomatic of what club rugby is seeking to be, with top players from across the planet lured by cash from big sponsors and broadcast deals. The Friday-night lights in northern France shone down on South Africa's Bakkies Botha and Bryan Habana; Argentina's Juan Fernandez Lobbe; and the British and Irish Lions Jamie Roberts and Johnny Sexton, to name just a few. Wilkinson will be replaced at Toulon next season by Wales's Lions full-back Leigh Halfpenny, arguably the world's second most reliable goal-kicker.
So how has this polite, fiercely determined lad from a nice family and a nice school and a nice junior club – Farnham – in the Home Counties commanded such affection abroad? Ask any other player and the answer is dedication and deportment. As Matt Giteau, the Australia international and second conductor in Toulon's back-line, put it last week: "Jonny is the ultimate professional, and not just in rugby. He trains very hard and he's a genuine nice guy who's happy to help anyone out. He's fantastic for the group, these great players just want to show him the talent they've got."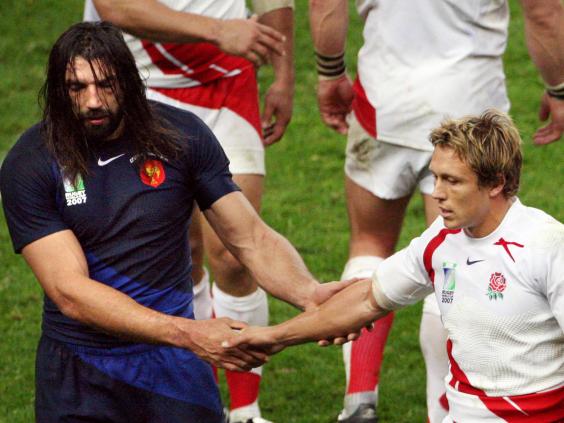 Giteau added it was "incredibly important" to give Wilkinson the right finish now. "For selfish reasons I'd love to win a title," he said. "But for a player like Jonny, who's done so much for the game yet always remained incredibly humble, it would mean a lot to the region, the team, if we could send him off on the right note."
The words "I am retiring" have yet to escape Wilkinson's lips. However, a piece confirming the fact appeared a few weeks ago in The Times, with whom he has had a long association. But his going will be done on his terms. "Jonny is Jonny," said Toulon's owner, Mourad Boudjellal. "I know what he is doing and so do the coaches, but it is up to him to say it." Wilkinson carries himself in a carefully dignified fashion, having come through tortuous episodes of self-doubt and even self-harming. Not for him the escapades that have dogged talented rivals of his era such as Gavin Henson and Danny Cipriani.
Wilkinson played for a lesser club, Newcastle, before Toulon, so he was defined by the international game. Though he might have been a poster boy for The Lancet, such was the range and regularity of his injuries and illnesses, he managed to appear for England in four World Cups (1999, 2003, 2007, 2011) and toured twice with the Lions. When it was put to him in the early 2000s that he ought to join a bigger club, he shied from it like a country bumpkin asked to squire a duchess in Mayfair.
In any case, by 2005 he was said to be making £7 million a year from product endorsements, and his wages at Toulon at the start of this season were reported as £48,000 a month, making him the world's highest-paid player (Toulon have four of the top 10). So Mrs Wilkinson – he married Shelley Jenkins last autumn in a private ceremony in Bandol, the town where the couple live overlooking the Med – and any future little Wilkos should be well provided for. As for his post-retirement plans, there have been hints that he might become a specialist kicking coach, giving to others what his mentor, Steve Black, and kicking advisor, Dave Alred, gave to him. Who will wear the mantle of fame next? It is a fair guess that Chris Robshaw and Owen Farrell, the current England captain and fly-half respectively, could stroll an English street unimpeded. That might change if their team win next year's World Cup, to be played at home.
On which subject, when will Jonny come home? To watch him a few months ago coaching starstruck kids at a junior club in south-west London in his role as a 2015 World Cup ambassador was to understand his aura as a power for good, and one which his time in France has sadly denied English youngsters.
At Farnham RFC, hundreds of them walk each Sunday morning down Wilkinson Way to reach the multimillion-pound facilities built to cater for the surge in mini rugby. That familiar face may be creased now by time and the sun, but the Jonny legacy will live on.
Crouch time adds up for king of the kicks
He crouches for what seems like an eternity, but for exactly how long is that? At the end of his career it seems right to tot up how long Wilkinson has been in one of sport's most familiar positions.
Starting face on to the ball, he steps sideways twice to set a shallow angle of approach. Into the crouch – knees bent in a semi-squat, hands clasped in front of him to centre the soul, eyes tracing a line from the ball to the posts, behind which he imagines a target to reach. A quick poke of the left toe behind him, one step back to get going, a skipping three steps forward to generate pace and – thwack! – another one sails through the posts.
With the successful kicks alone, Wilkinson has been in his crouch 1,683 times for 1,080 penalty goals and 603 conversions. At around 40 seconds' duration for a kick, that is 18.7 hours. Given his success rate is 70 per cent, the figure goes up to 26.7 hours if you include the missed kicks. Add in training and the days become months.
Hugh Godwin
Reuse content