Bristol and Worcester are solidly ensconced as the top two teams in the Championship, England's second division, and odds-on favourites to meet in the play-off final in May for a place in the Aviva Premiership. But though each is aiming for the same goal, they disagree on the best method of reaching it.
Dean Ryan, the Worcester director of rugby, suggests that Bristol are making a mistake in signing too many older players. "If I looked at the Bristol model I'd want to ask 'where is it in four or five years?'" says Ryan. "It won't involve the likes of Dwayne Peel [the 33-year-old Wales scrum-half signed by Bristol from Sale last summer]. They are buying here-and-now experience but I think Bristol will end up in the Premiership with a small squad of overpaid players and that won't work."
Ryan's approach is to rebuild on a strong base of young players who will stick with the club for several years (they have suffered in the past from nurturing England forwards Dylan Hartley, Tom Wood and Matt Kvesic among others, only to see them leave too soon).
Ryan does, though, understand why Bristol's billionaire owner Steve Lansdown might seek a quick fix. The Championship has a uniquely punishing system of promotion. The 12 teams slog through eight months of home and away fixtures before the prize is decided in knockout semi-finals between the top four and a two-legged final. Anything can go wrong and it often has. Bristol finished first in the Championship's regular season in 2010, 2012 and 2014 and lost in the play-offs each time.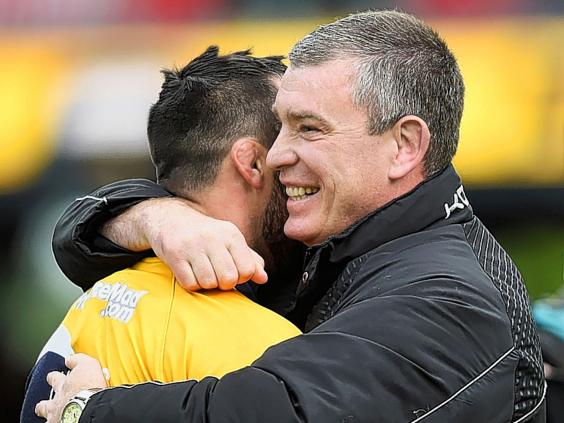 There is also the much greater central funding that goes to Premiership clubs, making the Championship feel like a semi-professional hinterland – somewhere you do not want hang around.
"For me, the Premiership is the only place to be," says Sean Holley, the Bristol first-team coach, who won the Celtic League with the Ospreys via play-offs. Baffled though he is by the Championship's version of an end-of-season decider, Holley and his boss, director of rugby Andy Robinson, cannot afford to have much truck with luck. They will strengthen Bristol's front row and back three with three or four signings this month, including Perpignan's Italy centre/wing Tommaso Benvenuti, with more internationals to follow next season.
They have booked warm-weather training in Portugal in March. Former Ospreys conditioning coach Mark Bennett is monitoring each player's fitness. "We don't have a sports psychologist – we're all psychologists, playing mind games with the players one on one and in units every day," says Holley. "They need the confidence to know they're good enough, and be confident in themselves and in each other. They need to know the game plan and the opposition inside out and to know they're 100 per cent prepared. Those are the important things – and having all the best players fit. That is the recipe."
Whereas London Welsh, with meagre resources, have crashed spectacularly in this season's Premiership after promotion, Lansdown's Bristol Sport model, also including Bristol City FC, basketball, women's football and a GP3 motor-racing driver, is exciting, though far from fully formed.
Holley was thrilled to see a 10,700 crowd at Ashton Gate (the team's new home this season) for the nine-try win over Plymouth on New Year's Day, with Ryan Jones, Bristol's former Wales captain, back at No 8 after injury. The stadium is being renovated and capacity will eventually reach an all-seated 27,000.
Worcester's crowds have dipped since relegation last May and their parachute payment will disappear after one year. Still Ryan, who has also coached Bristol and Gloucester in the Premiership, is preaching patience. "Worcester got it wrong for eight or nine years by overpaying average Premiership players," he says. "They were top heavy with a huge wage bill and stuck in the bottom two or three of the table. They lost everything that was a rugby club.
"They had people there that didn't care. Now we've got some experience in GJ van Velze and Jonathan Thomas and Chris Pennell, but we're following a model similar to Exeter's whereby we will evolve in the Premiership, so we don't have a group who, when they get there, are not that bothered."
Reuse content