"You always look at key individuals and the captain is one of those guys. He's very good over the ball, of course, but I also believe his link play – getting the ball out of contact and keeping it alive – is a big factor in his game. He's one of the heartbeats of the side, the person who gets things going."
The speaker might have been any member of the England squad, extolling the virtues of the red-rose captain, Chris Robshaw. But it wasn't. Robshaw was the man doing the talking, and he was discussing his opposite number and rival skipper Michael Hooper, with whom he comes face to face and goes eyeball to eyeball on Saturday, when the Wallabies attempt to ransack Twickenham for the second time in three years and condemn their hosts to weeks, perhaps months, of painful self-analysis.
There are good reasons why the Harlequins flanker sees Hooper as a serious threat, both in the individual sense and in the wider context of England and their chances of taking this one last chance to claim a major southern hemisphere scalp before next year's home World Cup: a tournament in which they will find themselves sharing a nasty looking pool with Australia, the two-time champions.
Most of those reasons were blazingly apparent when the man from the northern  suburbs of Sydney first announced himself to the Twickenham crowd in the autumn of 2012 – he was nothing short of brilliant that day – but as he has added significantly to his repertoire over the last couple of seasons, he is now indisputably an open-side specialist of the highest quality.
Which is not a description that sits comfortably with Robshaw, according to his many critics. Only a blind man or a fool would dispute that the England captain has been worth his weight in gold to the national cause since being asked to shoulder the burden by Stuart Lancaster ahead of the 2012 Six Nations, when Hooper was nothing more than a breathlessly energetic buzz-bomb of a Brumbies breakaway still awaiting his first cap. Yet the idea persists that Robshaw is a "six and a half" rather than a true No 7 – that the pilfering and pickpocketing skills perfected by his red-rose predecessor Neil Back in the years leading up to the World Cup triumph in 2003 remain outside his repertoire.
Lancaster has spent much of his tenure as head coach disputing this assertion and if anyone questions Robshaw's mastery of the role within earshot of Conor O'Shea, the Quins director of rugby, they can expect a very sharp response.
But there is no arguing with the fact that it is Hooper, rather than Richie McCaw of New Zealand or Schalk Burger of South Africa or Sam Warburton of Wales, who has come closest to making the Englishman look second-rate. He played in different areas of the field to Robshaw in that 2012 fixture, hence the subsequent joke that no member of the home team recognised him at the after-match banquet because all they had seen during the match was the back of his head.
Hooper is the latest in a long line of wondrous Wallaby open-side operators stretching back a quarter of a century or more. Simon Poidevin and David Wilson were both World Cup winners; Phil Waugh and George Smith went within a Jonny Wilkinson drop goal of emulating them; David Pocock was out-performing the maestro McCaw until injuries brought the high-flying turnover specialist crashing to earth.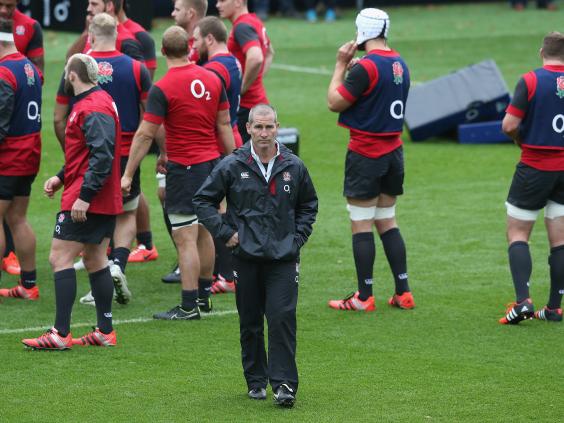 "They've produced some pretty good No 7s, the Wallabies," Robshaw conceded. "I remember Laurie Fisher [the former Brumbies coach, now working in the Premiership with Gloucester] coming to Quins a few years ago. He talked about Smith and Pocock, about the way the Aussies looked at things in that position, and he had some interesting things to say.
"Hooper is their man now and we have to be extremely efficient at shutting him down. But it's a team thing, a team responsibility. When we're opposite one another, yes... it's a job for me. But it's a job for all of us to handle their key players."
Robshaw does not believe England are on the skids following the disappointments of this autumn series, but he does not think there is too much mileage in attempting to insult the intelligence either.
"I wouldn't say we've gone backwards, but we haven't moved forwards at the pace we were moving during the last autumn series and this year's Six Nations," he confessed.
"We have some great things in place, but those of us in game-leading roles haven't quite exerted the required control. There's a lot riding on this game. A lot depends on us winning, and the manner in which we do it. If we lose, we'd have to view this as a poor campaign."
Hence the increased scrutiny on a group of coaches and players suddenly finding themselves on the painful end of some heavy criticism. "Guys can get fed up with it," the captain said, "but do I see it affecting a lot of people inside the camp? No, I don't. What I see is guys distancing themselves from the negativity coming their way.
"We've noticed during this series that all the outside stuff has built up more than usual, but as Stuart said last week, we're hosting a World Cup next year, so we need to get used to it."
--
Chris Robshaw - Michael Hooper
4 June 1986,
Redhill
Born
29 Oct 1991,
 Collaroy
28
Age
23
6ft 2in
Height
6ft 0in
17st 3lb
Weight
15st 9lb
Harlequins
Club
Waratahs
vs Argentina,
June 2009
Debut
vs Scotland,
June 2012
| | | |
| --- | --- | --- |
| 31 | Caps | 41 |
| 10 | Points | 35 |
| 2 | Tries | 7 |
| 54.83 | Win % | 53.65 |
| 30 | Caps as captain | 12 |
| 56.66 | Win% as captain | 45.83 |
Reuse content