Israel Dagg has been an All Black for four and a half years and has played 45 matches. He has lost three. "It hurts," he says. "It always hurts. I hate losing."
These are the sort of numbers more commonly associated with era-defining heavyweights boxers, not team sportsmen in a fiercely contested global game. They are the statistics that mean England will line up at Twickenham on Saturday and look into the wide haka-ing eyes of what is, in pure win/loss terms, the most successful sports team in history.
They are the side that has every right, as they walk out of the tunnel, to look around and imagine themselves doing the same, in just under a year's time, at the World Cup final.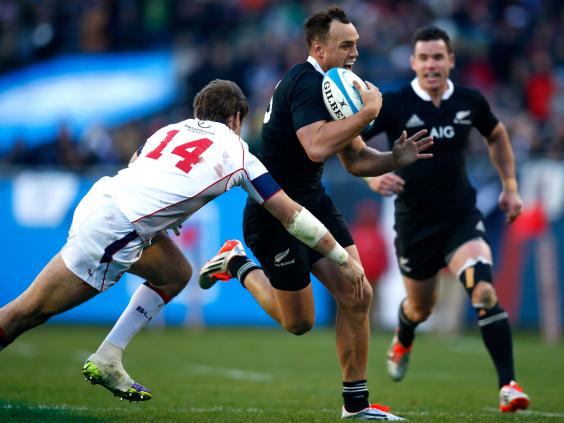 "We're building for next year," Dagg admits, sitting in the team hotel in Kensington,  west London, wearing the new All Blacks kit ("the blackest black jersey yet" its makers claim, below). "We will be trying to assimilate that experience.
"I've never experienced losing in a World Cup, only winning, but I've spoken to a few of the guys and they say it's pretty heartbreaking. You go two years without losing and then you have a little hiccup and you're out. We can't afford to do that."
Dagg, 26, emerging as the world's greatest full-back at a time when, arguably, there have never been more great ones around, says he is "a bit of a character in the squad, for those who like a bit of humour", but he is not in any doubt about where his main contribution comes.
"The guys enjoy a bit of humour, but we know when it's serious and it's time to go out there and perform. The way I lead is when I'm out there on the field. I connect well with my outsides, and I lead by my performance and actions."
There is a video of him on YouTube, rapping along with some of his Canterbury Crusaders team-mates to raise money for a children's cancer charity. "I got a lot of stick for that," he says. He will also need to speak to the police when he returns home after tweeting on election day in support of the National Party Prime Minister, John Key, which is an electoral offence once polls have opened. "I didn't know what the rules were," he says. "I don't know very much about politics. I'll have to wait till I get to New Zealand and see what happens."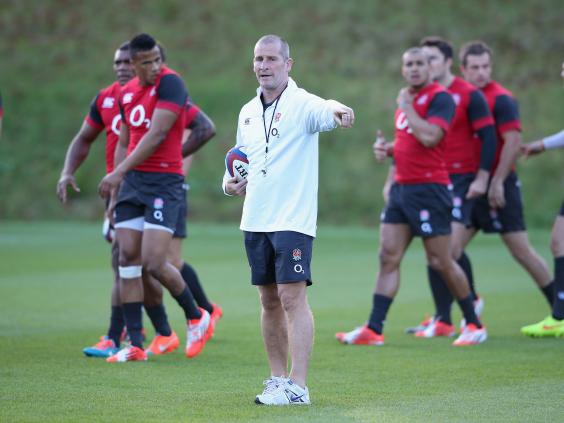 As England's cricketers have not been the first to find out, to stay at the top of a sport, to dominate it, is a different prospect to merely getting there. At the heart of the All Blacks' success is what has been termed by outsiders a "no dickhead policy." Though that term did not originate within the squad, Dagg and the others all know precisely what it means.
"We've got a rule. We're All Blacks 24-7, 24 hours a day, seven days a week. We just try and lead with our actions. We try not to be idiots. Everyone's equal in this team. It doesn't matter if you've played 140 Tests or one Test, everyone has their role. In the old days, you'd have the old guys telling the young guys what to do. In this team, everyone pulls their weight. If you're last out the changing room, it doesn't matter who you are, you help out cleaning it up. There's no boss. We don't just have Richie [McCaw, the captain] just sitting on his throne. He's just one of the leaders, and one who helps out a lot."
England's appalling injury list makes New Zealand even clearer favourites on Saturday than they otherwise might have been. The All Blacks could scarcely have been run closer in two out of the three Tests of England's New Zealand summer tour.
"They're right up there [with the best]. They are a quality side," Dagg says. "Twickenham is definitely a fortress. The crowd's pretty vocal. They love chanting that 'Sweet Low, Sweet... whatever it is, Chariot'," he says laughing. "Sorry, I can't really remember the name.
"Oh they're up there. They're a quality side. I've played them three or four times now and there's only ever been four or five points in it."
The All Blacks might be the best, but they have been thinking long and hard about how to beat England. "We analyse each team each week and we show them the respect that they deserve. We have a game plan and if we can stick to that game plan I reckon we'll be hard to beat, but just like when you go to war, right from the start the game plan doesn't usually work, and then it becomes about who can adapt and adjust the quickest. And the team that does that will be the one that gets the win, in the end."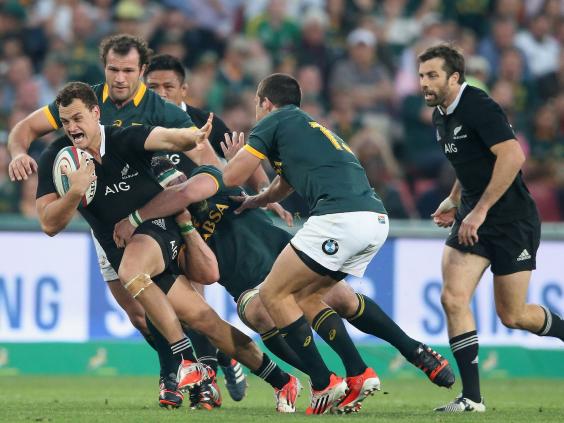 The game plan against England is clear enough. "[They will be strong] up front. We will have to be physical. Get our line speed right, stop them getting over the advantage line. When England play well is when they get a roll on, making breaks, getting over the advantage line, that's when they're hard to stop. It'll be all about our defence pushing up and chopping them."
The conventional narrative on New Zealand is that they are the leading team in the world for long periods between the World Cups, but are never quite at their searing, unstoppable best when the big show starts, and narrowly lose out. Certainly, it is a travesty that they went 24 years from winning the first World Cup in 1987 to lifting it again at home in 2011. More recently, they have shown a tendency to narrowly win, not narrowly lose their tense matches, not least in recent terrific contests against  Ireland and Australia.
"[Now], when we're not playing well, we don't give up, we come together, we don't just sulk" Dagg says. "We've got great leaders in this team, who show us that belief that we should have. With the  Ireland game we dug deep and got the win. And we ground out a win against Australia when we were down by  two tries.
"We get together [on the pitch], the leaders lead away, and us young fellas get hyped up and get stuck into it."
Dagg insists the squad is "not talking about the World Cup at all." Instead he is "just focusing on another opportunity to wear the jersey and represent our country".
He will have many more such opportunities. England can only hope to make his and his team-mates' Twickenham "assimilation" on Saturday as uncomfortable as possible.
--
Blackest of the blacks about all the new kit
You can be forgiven for thinking you are in fact watching a Two Ronnies sketch when an adidas pseudo-scientist in a corporate video tells you in all seriousness that "We wanted to make the blackest black kit ever."
In their defence, the All Black kit brief must be a particularly strangulating one. Sartorial inflexibility is its very name. So there was an understandably curious hush when Richie Macaw, Dan Carter, Israel Dagg and a smattering of the rest wandered on stage at the team's Kensington team hotel wearing what its makers have energetically billed "the blackest jersey ever." Yes, as promised, it is indeed, all black.
That the crest and the logos are gunmetal silver and not the usual white are what backs up such a claim, and appear to the untrained eye to be the key innovations of an eighteen month testing process.
The fabric, we are told "bends in two directions", which can only make one wonder how we never noticed that Rugby Union had until now been played by men wearing Rolf Harris style wobble boards.
One innovation is that forwards and backs will wear different style jerseys. The forwards will have wider seams to make binding at the scrum rather more easy, but which will, presumably make it rather easier for the opposition to bind on too.
The socks, too are "compression socks" which according to adidas's man responsible, Simon Cartwright, "Are the type you might wear on the long flight over from Auckland to stop you getting deep vein thrombosis" - a risk evidently taken on many occasions as whole hordes of people oscillated between New Zealand and adidas's Bavarian lair in the quest to forge "the blackest jersey ever."
Its two-way bending, and other innovations, will not we are told, be provided to the rest of the adidas family - including France - for the next 12 months. So when this time next year Thierry Dusautoir breaks the tackle and is bearing down on the posts, back bent straight like a Parisian finishing school princess with books a stack of Flauberts balanced on his head, we will at least know why.
Israel Dagg is wearing the new adidas All Blacks kit for 2014/15 – featuring the blackest All Blacks jersey ever. Visit adidasrugby.com and join the conversation @adidasrugby and @adidasUK
Reuse content