Stuart Lancaster sees this autumn international series against the cream of the southern hemisphere in the starkest possible terms. "By the end of it," he said this week, "I'll have a very good idea of who can deliver at the highest level under the greatest pressure, and who can't."
But with his lavishly resourced team currently providing a second-class service at a first-class price, the head coach is one defeat away from seeking not just delivery, but deliverance.
The heat is very definitely on, and the temperature is rising by the game. After four straight losses to the All Blacks, a capitulation to South Africa at Twickenham this afternoon – a pumped-up, highly abrasive, massively physical South Africa who have not lost to the red rose since 2006 – will reduce some of the back-room staff's key assumptions to confetti. Hardly an ideal situation 10 months shy of a home World Cup.
You have to go back to the dog days of Andy Robinson's reign as national coach in 2006 to find a five-match losing streak in the Test arena, and it was the Springboks who dealt the fatal blow to the West Countryman by winning a nerve-ridden, horribly neurotic contest in London with the help of four drop goals from the outside-half André Pretorius. If Robinson was in "dead man walking" territory ahead of kick-off, Lancaster has a six-year contract in his back pocket and is infinitely more secure. Even so, he feels he needs a victory.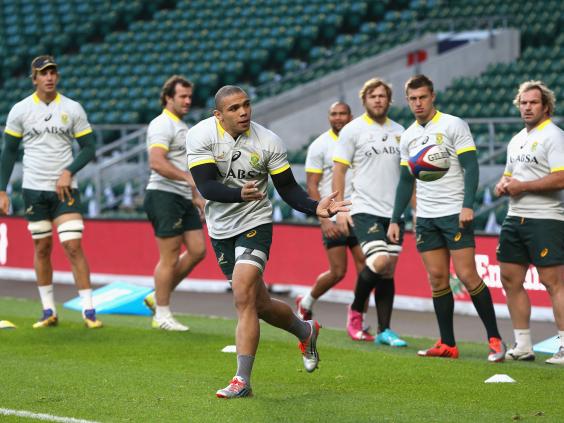 That much was clear on Friday when one of his principal lieutenants, the forwards coach Graham Rowntree, set a backs-against-the-wall, do-or-die tone ahead of this highly significant match. "It's a huge challenge for us, but it's a challenge we need," said the Leicester front-rower of old. "We're aware that we absolutely must start winning these games, especially when we're at Twickenham, and we're not hiding from it. We've had some very frank discussions about last week's performance and we've talked about a reaction. A ferocious reaction."
He was not overstating things. South Africa are the one elite side Lancaster has yet to beat: since the Cumbrian succeeded Martin Johnson in late 2011, the two countries have met on four occasions, with England managing only a draw. It is also a fact that the Boks are the only side to have beaten the All Blacks since England did a job on the reigning world champions two years ago, and as a consequence of that dramatic recent victory in Johannesburg, the threat they pose to red-rose well-being this afternoon should not be underestimated.
Events in Dublin last weekend did not make England's task any easier. By losing to Ireland in the way they did – their performance was error-strewn, tactically naive and undisciplined at key moments – the tourists let themselves down. Their default position in such circumstances is well known throughout the rugby world: they come out fighting, and then fight some more.
By making five changes to his starting line-up, the visiting coach, Heyneke Meyer, has sent a very clear message to his hosts – particularly with his choice of the long-serving flanker Schalk Burger in the back row. Burger is one of rugby's implacable spirits, a player well versed in the dark arts and a symbol of Springbok machismo in its most extreme form. Together with Duane Vermeulen, one of the form No 8s in world rugby and a player who tends to give more than he receives when it comes to the power game, the man from Port Elizabeth will be the first test of England's desire.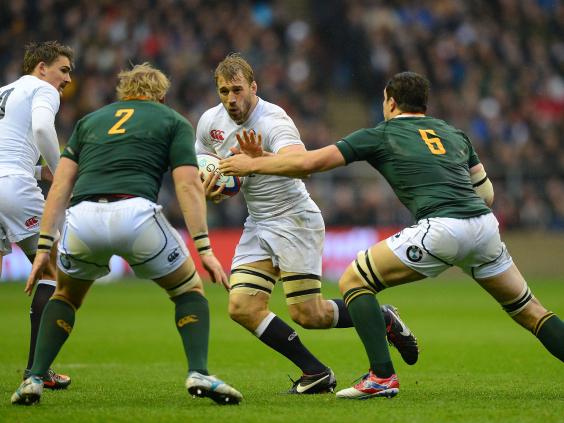 Rowntree's assertion that "our forwards will know they've played the South Africans because they'll be sore for days" was spot on: the conflict at scrum, maul and breakdown is rarely anything less than eye-wateringly intense when these two packs meet up. But judging by the evidence of recent matches, England can expect periods of parity up front, especially if Courtney Lawes and the in-form Dave Attwood match Eben Etzebeth and the veteran line-out specialist Victor Matfield in the engine room.
There again, the red-rose heavy mob will have to play a lot smarter this week than they did last if they are not to be smithereened by green-shirted ogres constructed on an unusually large scale. Too often against the All Blacks, the England forwards sought contact instead of space, preferring to take the tackle rather than risk the kind of short, wrong-footing passes that characterised the contributions of Sam Whitelock, Jerome Kaino and Kieran Read. A repeat of that blockheaded approach today could leave them in a world of pain.
But the real questions will be asked outside the scrum and it is down to Danny Care, Owen Farrell, Kyle Eastmond, Brad Barritt and Mike Brown to find some answers. None of these players look secure, suddenly – not even Farrell, who does not threaten the opposition as a running outside-half and looks vulnerable when his kicking from hand is off-key. A midfield misfire will certainly leave Lancaster in a quandary and could open the door for the Gloucester captain, Billy Twelvetrees, marginalised for no good reason, to return at inside centre.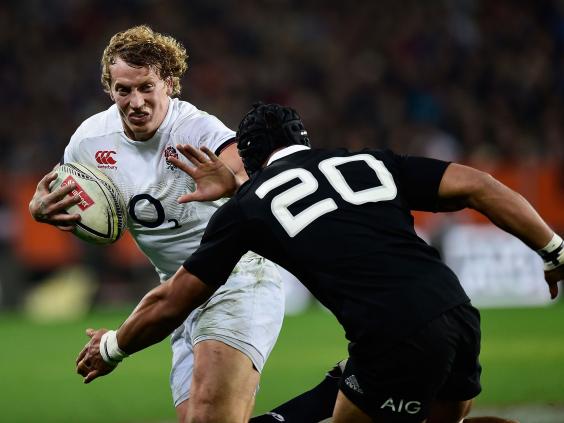 Back in 2002, when England were building towards their World Cup-winning campaign, the then unknighted Clive Woodward made a virtue of the fact that his side started every Twickenham Test as clear favourites. A dozen years on, it is patently no longer the case. Rowntree acknowledged this, saying: "I'd love to win games with the consistency of that side, and in the same manner. But then, they were just a bit more settled than we are today."
It was a fair point, but it is alarming to think that almost three years into Lancaster's rebuilding project, England are still in search of some back-line foundations. This latest unit, with Anthony Watson of Bath making his first start on the right wing, will have to cement itself into place extremely quickly if it is to survive against Jean de Villiers, Bryan Habana, J P Pietersen and Willie le Roux. The clock is ticking.
--
Lancaster v Springboks - Played four, won none
South Africa 22 England 17 Durban, June 2012
England were callow in the ways of Springbok rugby, yet they gave as good as they got for large stretches and were excellent value for Ben Foden's late try.
South Africa 36 England 27 Johannesburg, June 2012
Drawing deeply on the passion of the Ellis Park crowd, the Boks battered the tourists from the start. For England, who fought back bravely, it was a rite of passage.
South Africa 14 England 14 Port Elizabeth, June 2012
A good England performance, but not quite good enough. While Danny Care's first-half try gave the tourists belief, a response from J P Pietersen prevented them closing the deal.
England 15 South Africa 16 Twickenham, November 2012
Another tight one, the Boks scoring the only try through the giant flanker Willem Alberts early in the second half. Chris Robshaw was caught in two minds over  a late penalty shot and  was heavily criticised.
Reuse content