There may still be a few old-timers out there who recall Prince Obolensky, a Russian royal whose family skedaddled to these shores to avoid the Bolsheviks, showing the All Blacks a clean pair of unusually well-heeled heels at Twickenham in 1936.
But among those rugby followers yet to reach pensionable age, there has been little argument over the finest try scored by an England wing in the modern era: Jason Robinson's blinder for the British & Irish Lions against the Wallabies in  Brisbane a little over 13 years ago.
Little argument until now. A week ago, when Jonny May left sundry New Zealanders clutching filthy great handfuls of thin London air in a glory run to the line, you could almost hear the memory cogs turning as astonished onlookers tried to work out whether the Gloucester back had just out-Jason'd Jason. Many reached the conclusion that on balance, he had done  precisely that.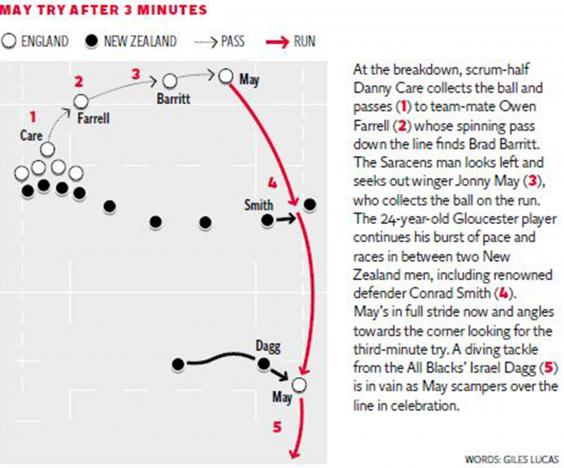 There was an obvious difference between the scores: accurate as Brad Barritt's long pass to May might have been, it had nowhere near as high a tariff of difficulty as Matt Perry's courageous, split-second-perfect delivery out of contact in the build-up to Robinson's try. But the similarities were far more striking. For one thing, the two touchdowns were scored at almost exactly the same early points in the contests; for another, they left world-class Antipodean full-backs – Chris Latham in '01 and Israel Dagg last week – wondering what the hell had happened. Most coincidentally of all, both wings proved it was possible to tiptoe at high speed down a touchline channel barely wide enough for a stick insect. If, in the final analysis, May wins the contest, it is because he beat more men, from further out, than his illustrious predecessor in the No 11 shirt.
"I think my overriding feeling was one of relief," he said this week, reflecting on his first international five-pointer and hoping he might perform an equally spectacular feat against the Springboks this afternoon. "I was just really pleased to get on the board after seven internationals without managing it.
"Did I know it was on straight away? When Brad hit me with that pass, I thought, 'Right, there's a two-on-two here, so if Ben Smith steps in off his wing, great, we'll have the extra man.' As it turned out, I went through the gap and saw Dagg coming in for the covering hit. Part of me thought I could beat him; part of me thought he'd get in a half-tackle at least. In the end, he gave me the outside and I took it. I think it was as much about timing as anything else. It all came together at just the right moment."
Timing is not necessarily May's strong point: if it was, he would not have missed the great American athlete Michael Johnson's visit to the England camp in Surrey earlier this week. "The guys tell me that he thinks I should relax my face muscles when I'm running, but I didn't hear it myself," May confessed. "It's a shame. I'd have enjoyed talking to him." Especially as May has a track-and-field background, having been a nationally ranked age-group pole vaulter back in the day.
Not that Johnson would have found his fellow sprinter easy company at that stage of England's preparations for today's game. "Monday to Thursday is my stress time," said the 24-year-old from Swindon, who signed for Gloucester in 2007 after returning from a spell in Australia with the Brumbies academy in Canberra. "The training is so hard – we try to replicate Test-match pressure levels in our sessions – and there is so much information to take on board. But by close of play on Thursday evening, when everything's done...I'm at my most relaxed from there on in. When we were being driven to Twickenham for the game last weekend, I fell asleep on the bus!"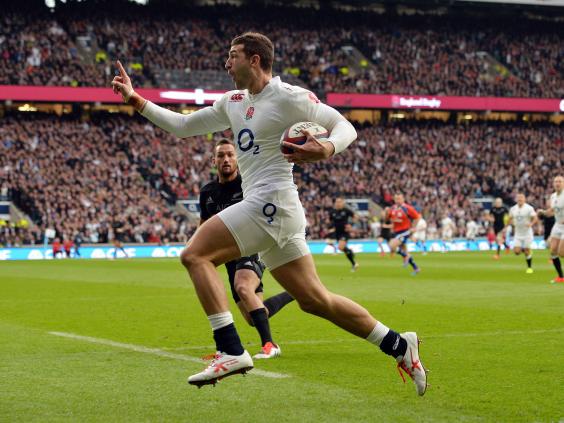 Was there a team talk going on at the time? Are Stuart Lancaster and Chris Robshaw really that boring? "It was nothing like that," May replied. "I had my headphones on. The last thing I remember, I was listening to Taylor Swift and Ed Sheeran and the music from the Disney movie Frozen. There's an embarrassing admission for you."
If May was beginning to feel equally abashed at failing to break his duck on the England try-scoring front, he need not have worried. Rory Underwood, that most prolific of left wings, won 22 caps for his country before finding his way over the line in a Twickenham international; once he had started, he could hardly stop. That score against Ireland in 1988, four years after his debut, was followed by another in the same game and seven more in quick succession, several of them in Tests against a Wallaby side boasting a certain David Campese in the back division.
"I'd like to think there'll be more to come now I'm under way," May said, "but you never go into a match saying to yourself, 'I'm definitely going to score a try this week'. There are more things in the game than simply getting your name on the scoresheet; your defensive work is just as important. But I can take confidence from what happened last week. When I look back to the  Ireland game in this year's Six Nations, when I had the ball knocked out of my hands as I was going over the line, I'm in a better place now."
Like many of his colleagues in the red-rose squad, he has spent time with a variety of sports psychologists. "Talking to people is always good, isn't it? Especially when you're down about things and you need to start feeling positive about yourself," he said. Yet the key to his eye-catching form this season – to the naked eye he looks even quicker than he was a year ago, and his running lines seem far more direct – is to be found at Kingsholm, where Gloucester are rebuilding under a new backroom staff headed by the former Ireland outside-half David Humphreys.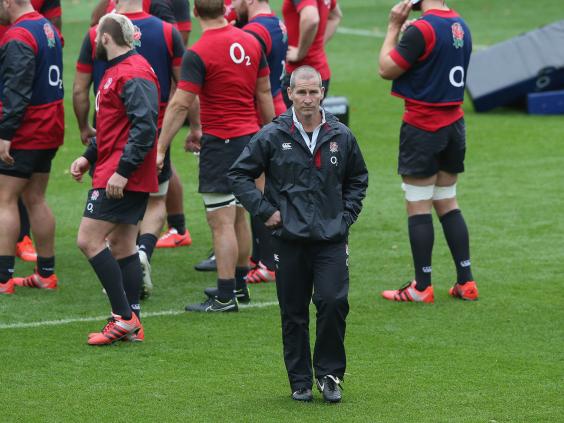 May says he had a productive relationship with Humphreys' predecessor, Nigel Davies, who lost his job at the end of last term after the West Countrymen had finished short of European qualification. But he also believes change was necessary.
"Nigel was such a great bloke and we got on really well," he said, "but I think we'd run our course with him. Gloucester is very different now. It feels really good to be around the place, we've made some big signings, and speaking as a wing, I'm seeing a lot more front-foot ball, which always makes life easier.
"If I'm being honest, I felt I deserved to be picked for the New Zealand game on the strength of my club performances so far this season. Getting from there [being dropped after the first Test against the All Blacks in Auckland last June] to here involved a lot of hard work.
"What I want now is what everyone in the Test squad wants – to take on the best teams in the world and show what we can do. Not just in dribs and drabs like last week, but for the full 80 minutes."
--
Jonny May in numbers
8 - England caps, making his debut v Argentina in Buenos Aires in June last year
67 - Ran 67 metres with ball v NZ, second most  behind NZ's Israel Dagg (73)
65 - Has played 65 games for Gloucester, posting 160 points
Reuse content