The last time Ben Foden played for England, The Saturdays, his pop star wife Una's band, had just released their last studio album Living for the Weekend.
The title is an apt one for Foden, who has done just that relentlessly for the past 11  seasons, but the ultimate weekends, the internationals, have eluded him of late.
He last played for England in the November 2013 defeat to New Zealand at Twickenham, while the last time he started at full-back, a position that for two years had been his in the red-rose jersey, dates back to the 2012 tour of South Africa.
Much as Foden would like to help Northampton in their LV= Cup quest against Wasps on the opening weekend of next month, his heart is set upon a recall to Stuart Lancaster's squad for the  Six Nations opener against Wales. But he knows it is a tough ask. The incumbent at No 15, Mike Brown, looks immovable, while Alex Goode, who stood in when Foden was first injured ahead of the autumn internationals in 2012, is also arguably ahead of him in the pecking order.
Yet a player with 34 international caps and a Premiership title to his name, with the prospect of another this season, is still chipping away at the England management, giving constant reminders of his ability. His great chance to shine in the post-Christmas duel at Twickenham against Brown was nullified by Harlequins' tactic of starving Saints' back three of possession but, at times, he has been back to his swashbuckling best this season, most notably with his performances against Bath and Newcastle.
Of his England chances, he talks more in fervent hope than expectation: "I speak to Faz [Andy Farrell] at least once a month, while Catty [Mike Catt] is in contact about things to work on. My focus is just on playing well and putting the pressure on in that way," he says. "I'm lucky enough to be playing well at the moment and the first goal is the Six Nations, with obviously the World Cup just around the corner."
Were it not for injury, Foden might still have been the man in demand for England at 15. An ankle problem led to him losing his place at the end of 2012 to Goode, who in turn got injured – only for Brown to step in. The status quo has remained ever since.
"If you get injured, you open the door to someone else," says Foden, 29, ruing the ailments that have curtailed his play in recent seasons, including a posterior cruciate ligament injury in his knee at the end of 2013.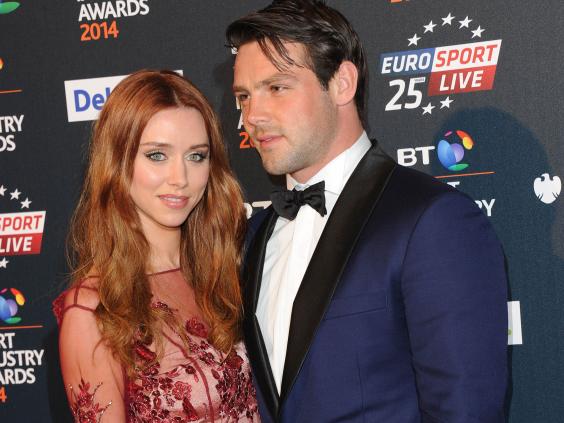 "I now have to work harder than ever before," he admits, aware that the games where he can prove himself to Lancaster are fast running out. "Also, I think realistically that this is my last World Cup chance. Four years is a long time in professional sport, particularly with how the competition for places is in the back three."
That quest for reselection was not helped by being dropped to the bench for Northampton's pre-Christmas league game against Leicester. But as he says himself: "You can either sit and sulk or try to make an impact." Prior to the game, he spoke to Farrell on the subject and duly played a role in winning the game for 14-man Saints after their captain, Dylan Hartley, took an early bath following his sending-off.
Should Lancaster give him a call-up in the ensuing days, what would it mean? "It would be awesome," Foden replies, but at the same time he is a realist. "It's over a year since I played for England. Fingers crossed I get the call and I'm part of the training squad."
It would make for a doubly joyful February, when Una is due to give birth to a son and brother for the couple's first child, daughter Aoife, who was born in the week of the 2012 Six Nations finale against Ireland.  Foden was there for the birth but returned to the England camp in time to play a starring role in a 30-9 win at Twickenham. Recalling that, he says: "I think I was just playing on adrenalin." How he would dearly love to get the chance of a repeat when child No 2 arrives next month.
Parenthood aside, the World Cup would be the ultimate for Foden, who talks of having unfinished business with the tournament following the manner in which England limply bowed out in New Zealand four years ago. A new-look set-up both in terms of players and coaching staff has the Saints full-back believing his countrymen can win this autumn's tournament.
Foden has in the past been harshly maligned for not putting his rugby first. There was the tale of the Pop Idol audition that meant he was late back for pre-season training with former club  Sale and, more recently, there was a guest starring role in Hollyoaks.
But in truth, the latter was just a few hours out of his own free time, set up by his wife's agent, who is friends with the script writer of the soap opera. Asked if an acting career beckons, he says: "Well, the fact most of my scenes got cut out wasn't a good sign! But it was just a bit of fun."
Foden is well aware of critics, perhaps most ably highlighted in a tongue-in-cheek advert for a DIY company. In it, he is filmed looking at images of himself at the internet, acting out tries to the chants of "Foden, Foden, Foden" as well as singing in the mirror while checking out his muscular physique.
"People say I'm not focused on my rugby but 2015 is all about rugby now," he says. "Rugby's all consuming but there's time off and you're often done by 3pm, so it's good to do things to get away from rugby in your free time."
Foden would love nothing more than that free time to be at a minimum and to once more be a part of the England set-up for the Six Nations and, ultimately, the World Cup.
Reuse content