England have made life unnecessarily hard for themselves in lots of different ways since winning the World Cup almost 11 years ago: they were far too complacent in allowing Sir Clive Woodward to turn his back on Twickenham in 2004, sacked the wrong coach at the wrong moment by ridding themselves of Brian Ashton in 2008 and then descended to depths that would have left a submarine suffering from a bad case of the bends with their tawdry shenanigans at the last global gathering in All Black country.
And now, a dozen matches shy of their own World Cup tournament next autumn, they have inexperienced players coming out of their cauliflower ears in a 40-odd man squad about to square up to the highest-ranked southern hemisphere teams in the sport. Three of them – New Zealand, South Africa and Australia – occupy positions in the top four, with the other, Samoa, holding steady in ninth, one ahead of Argentina, five places clear of the Six Nations regulars Italy and within touching distance of Scotland.
Yet if the newcomers to the red-rose elite seize whatever opportunities come their way over the next month, most of them could make the 31-man cut for the really serious business a little under a year from now. Semesa Rokoduguni and Anthony Watson, the outside backs from Bath, are obvious contenders, as is the young Exeter midfielder Henry Slade – a player good enough to have none other than Will Greenwood wondering if there might finally be a solution to the conundrum set by the retirement of … Will Greenwood. The Northampton loose-head prop Alex Waller and another Exeter man, the flanker Dave Ewers, have probably left themselves too much to do, but Graham Rowntree, the England forwards coach, reckons the Saracens lock George Kruis is the bee's knees and expects him to make a decent case for inclusion.
In some ways, the last of the undecorated septet is the most interesting of all. If England have made a habit of tripping over their own feet in recent years, Calum Clark of Northampton is a master of the pratfall.
He has been in Stuart Lancaster's thoughts since the current red-rose head coach succeeded Martin Johnson at the end of 2011 – the two go back a long way, to shared days at Leeds – but the deeply combative back-rower twice missed out on a shot at an England debut by getting himself injured at deeply inconvenient moments. And once, he put himself out of contention for eight long months with a grisly assault on the hooker Rob Hawkins during an Anglo-Welsh Cup final.
That notorious incident – Clark broke Hawkins' arm as he lay helpless at a ruck by deliberately hyperextending the limb, leaving his victim in need of surgery and placing both careers at risk – was transformative. During his suspension, Clark set about the painful task of reassessing his entire approach to the game. He had always been ferociously, almost stupidly, committed: he seemed to take defeat harder than everyone else, frequently sinking to his knees in despair at the final blast of the whistle. How could he retain the essence of his competitiveness while cleaning up his act?
"I do hate losing," he acknowledged this week. "No one likes to lose. But I think I'm dealing with it better now. As a kid I really struggled with it, but I've matured a little bit and I spend more time now focusing purely on performance. I've worked really hard on the mental side of the game: it's something I want as a strength instead of a weakness."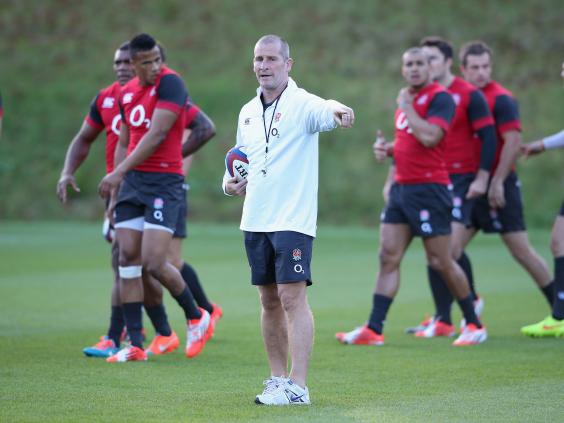 To that end, he consulted the country's highest-profile sports psychiatrist, Steve Peters, who, as well as helping such contrasting high achievers as Ronnie O'Sullivan and Sir Chris Hoy find their way into the right state of mind, spent time with one of Clark's clubmates, Dylan Hartley – hardly a complete stranger to lapses of judgement in the heat of battle.
In addition, Clark found a role model in his fellow Northampton back-rower Tom Wood, alongside whom he is now training at England level.
"The one-on-one sessions I had with Steve were really useful," he said, admitting that the aggressive side of his nature, combined with an unwillingness to listen and learn, lay at the heart of his issues. "I've had to take a look in the mirror, be honest with myself and take things on board."
And Wood? "You look at all the good players and leaders in rugby – Tom, Chris Robshaw, Richie McCaw – and they seem to be emotionless on the field. It doesn't mean they play any less hard, but that is what I failed to understand when I was young: the difference between playing hard and being emotional. Watching and being around people like Tom has helped me separate the two – to be just as aggressive, competitive and effective, while taking the emotion out of it."
Clark has time on his side at 25– but not that much time. When the 2019 World Cup in Japan comes around, there will be a fresh batch of candidates for places in the England back row, probably led by the brilliant Saracens prospect Maro Itoje, who captained the Under-20s to a second successive global title in New Zealand a little over four months ago. All things considered, this is the moment for the Northampton man to make his mark, especially with Tom Croft, the Lions Test forward from Leicester, on the injury list once again.
"This is personal," Clark said. "I want to do the best I can: the reason I work as hard as I do is for me. But there's a long way to go. While there is a World Cup at the end of this, at the moment I'm just someone who has never been selected – a player without any international caps. But I'm grateful for the opportunity to be in this environment and I absolutely want to make the most of it while I'm here. Whatever comes it will be great."
Reuse content