It's raining cats and dogs. Out on a muddy rugby field in a drenched suburban corner of London, Mike Brown is surrounded by a gaggle of loose-limbed teenagers. He is hard to spot as they crowd around him, enthusiasm undampened by the deluge, which makes it just about the first time this season that the England full-back has not stood out on a rugby pitch.
Brown is here to coach Graveney School, a state school with no rugby tradition, let alone a pitch of its own. It has successfully mixed it with the private sector and will tomorrow play in a cup final at Twickenham. It is an uplifting story, and an improbable one. Brown's rise to his current pinnacle, chosen as the best player in the Six Nations with even Israel Dagg, New Zealand's effervescent No 15, doffing his cap to a "world-class player", has at times seemed equally improbable, even to the man himself, and it has taken a while longer.
Once the last autograph is signed and last selfie posed for, Brown, dried off and warmed up, settles in the bar. Who did he want to be when he was a young rugby player? He ums and ahhs, talks of the 1991 England side that reached the World Cup final and then adds two names that more accurately reveal the type of player he has always wanted to be. "[Waisale] Serevi," he says, "Serge Blanco."
There have been moments over the last couple of months when comparing Brown to Blanco, the great French full-back, would not have been in the least bit fanciful. Joe Schmidt, Ireland's coach, picked out Brown's broken-field running as the difference between the teams in the game of the tournament at Twickenham.
"With those games under my belt at No 15, I'm really starting to show people what I can do," says Brown, "I feel comfortable and want to express myself."
The talk across Stuart Lancaster's squad is of "respecting the jersey", acknowledging its history and the "journey" it has been on. Brown, as with all the current squad, readily trots out the mantra and it clearly means something to him, especially given his early experiences under previous England regimes. He talks glowingly of the "culture" Lancaster has instigated, an ethos far removed from the muddle and confusion of his first taste of international rugby.
Brown's journey to becoming one of the world's best full-backs has been an arduous and lengthy one. He first played for England in 2007, won  a third cap in New Zealand a year later during a disastrous tour on which he was fined for off-field behaviour, and then nothing for four years. Doubt set in.
"It was a tough four years. There are tough times where you don't have belief in yourself, and you think, 'Is it ever going to happen?' It doesn't happen and you start thinking, 'Am I good enough for this level?'"
It was a question that began to haunt him. "Oh yes, definitely. 'Are you good enough?'"
Four years ago he decided he had to leave Harlequins, make a new start. Then Conor O'Shea arrived and sat down with Brown. Stay, said O'Shea, and you will play for England again, I'll make sure of that.
"It was a massive turning point in my career," says Brown. "He promised me I would get back in the England squad if I stayed. He said, 'Stick with me.' I remember that and I remember the people who have helped me."
Lancaster is likely to occupy a similar place once Brown's career is done. It was the England coach who provided the next two pivotal moments in the Brown revival. First he picked him on the wing – a position which Brown had to learn "on the job" – and then last summer, as Brown brooded over failing to make the Lions squad, Lancaster, assembling his England squad for Argentina, called.
"He said, 'Are you keen for the tour – you would be our first-choice 15. Are you up for it?' Of course I was, this was a great opportunity for me – I want to play 15.
"Stuart is great in that he will give you the opportunity if you deserve it. That's what he has done for me. He gives you belief by giving you a chance. He's stern but fair. He can seem quite distant but once you talk to him one-on-one he's a brilliant bloke."
Since Brown took the 15 shirt England have averaged close to 30 points a match through the tour to Argentina, the autumn internationals and the Six Nations. In last year's Six Nations it was less than 20. Brown was man of the series in the autumn internationals and even better in the Six Nations, scoring four of England's 14 tries, the most they have managed since 2009.
"Even from the autumn we've moved on with our attack," says Brown. "Defence is still at a world-class level but our attack has come on leaps and bounds and has still got room to get better."
He is a thoroughly modern full-back in an era graced by a clutch of game-changing 15s. "Just about every country has a great 15 at the moment. I think 15s are a lot more involved all over the field than they have ever been. The days where a 15 stays out wide waiting for the ball are gone. I think it was probably [Australia's Chris] Latham who started that, running off the No 9 and hitting lines around rucks as well as getting the ball out wide. That's one thing I love about playing full-back, I get to roam around. Against Ireland I was picking up from the base of a ruck and having a dart, the next thing I was first receiver or out wide, that's what England and Quins allow me to do and I love playing that way."
After a couple of weeks off, including a dash to Dubai for some sunshine, he will be back in action for Harlequins tomorrow against London Irish, a match Quins have to win if they are to make the play-offs. They have to win every game between now and the end of the season, says Brown. It is big game after big game. And then off to New Zealand for the toughest tour as the long build-up to a home World Cup intensifies. He recalls the desperate battle against "wave after wave of black jerseys" in his last trip down there but this is a  different England and a different Brown.
He is a marked man now. The best player in the Six Nations is a target to be shot at, to be plotted against. It means, he insists, he has to live in the here and now, and not allow himself to wallow in the memories of his season of seasons. That is for the end of the journey.
"I don't think you can afford to if you want to be successful," says Brown. "If I start looking back and patting myself on the back for winning an award [Six Nations player of the tournament] then I will go into London Irish and they will make me look like an idiot. And that's no good, is it?"
Mike Brown was speaking at Graveney School, 2014 NatWest Schools Cup Vase finalists, who will battle it out for the prestigious trophy at the home of England rugby, Twickenham, tomorrow. Admission to Finals Day is free. For more information visit  rfu.com/natwestschoolscup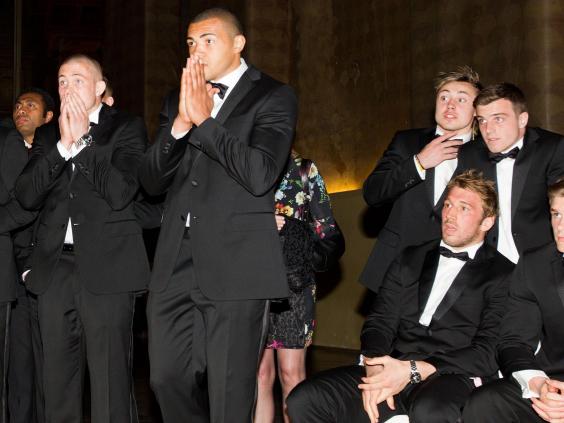 'It's horrible watching things you can't control'
After England had hammered Italy, with Mike Brown scoring two tries, in their final game of the Six Nations, the team dressed in their bow ties and suits for the post-match dinner and sat down to watch France chase a victory against Ireland that would have given England the title.
"Horrible!" says Brown  of the experience in Rome. "It's always horrible  watching things that you can't have control over. And it's obviously hard calling  for the French – you don't want to be calling for the French! But that was our fault."