Eddie Jones wasted little time in dissecting England's hard-fought and ill-tempered 27-14 victory over Argentina as he immediately started the war of words with Australia, with the Wallabies all that stand in the way of him winning every match in 2016.
Jones was keen not to spend too much time discussing Elliot Daly's fifth-minute red card for a dangerous tackle that took Argentina No 8 Leonardo Senatore out of the game, and instead focused his attentions on his concerns in the Australian scrum that he will seek to discuss in a meeting with the Wallabies's coaching staff and the match referee.
"Obviously we're a bit disappointed that Elliot was sent-off but these things happen in a game of rugby, and you've got to get on with it," Jones said after recording his 12th win as England head coach.
"We're looking forward to Australia next week now which is going to be a bit of fun. The Australian media last June was very disrespectful to us so I'm sure they're going to be at that again so we'll be prepared for that, and I'm very keen to have a chat to the referee about the Australian scrummaging. They've got some issues the way they scrummage, so we'll have a meeting with the referee and we'll invite the Australian coaching staff to come along to set the agenda and make sure that everything's above board. So it should be fun this week, we're looking forward to it.
"They were penalised four times in a row against France, so they've got some technical issues. I'm not going to sort it out for them, and Neil's not going to sort it out for them."
But Daly's dismissal, which brought boos from the partisan crowd despite Senatore flipping 180 degrees and landing on his head and neck, was clearly an incident that Jones was keen not to spend too much time discussing.
"Look, he made a judgement error, we all do that, we've all done that," Jones said. "These things happen, you just get on with it."
England vs Argentina player ratings
England vs Argentina player ratings
1/15 15. Mike Brown - 6

Not the best of starts. Lost his first in-flight challenge and squandered an opportunity to set up a potentially try-scoring opportunity with a wasteful inside pass. But warmed up as the game proceeded, finding and exploiting space well and came within inches of scoring after bursting through a pocket in the centre of the park.

Getty Images

2/15 14. Jonny May - 8

One of England's stand-out players. Started brightly with his pace and mazy runs getting the better of the Puma defence. Good in the air and made some important last-ditch tackles. Rewarded for his performance with a well-taken try.

Getty Images

3/15 13. Jonathan Joseph - 7

His passing was on point and he looked very comfortable with the ball in hands, even when penned deep inside his own 22. His tackling was excellent, especially in the first half as he helped keep the Pumas out despite their overlap.

Getty Images

4/15 12. Owen Farrell - 6

Not his best kicking performances in an England shirt - missed far too many of his attempts . Linked up well with Jonathan Joseph.

Getty Images

5/15 11. Elliot Daly - 2

Dismissed in the opening five minutes for a miss-timed and dangerous high tackle on Leonardo Senatore, leaving his team a man down for the remaining 75 minutes.

Getty Images

6/15 10. George Ford - 6

Pulled the strings with his distribution but was let down by a weak pass here and there. Good in his one-on-one tackles.

Getty Images

7/15 9. Ben Youngs - 6

Not his best of games. Quiet at times and couldn't quite inject the same urgency into the match as he did against South Africa.

Getty Images,

8/15 8. Billy Vunipola - 6

Hit the Argentines hard with his bullocking runs. An injury before the break cut his game short but up until then he had been a lethal battering ram for the English.

Getty Images

9/15 7. Tom Wood - 7

Reliable, responsible and robust. May not have the dynamism of England's first-choice backrowers, but he filled the number seven role well. Put in some big tackles and helped win a number of penalties for the side.

Getty Images

10/15 6. Chris Robshaw - 8

Tireless in his running and showed his resolve with England missing a man for 75 minutes of the match. Constantly chasing and labouring away. A trademark Robshaw performance.

Getty Images

11/15 5. George Kruis - 7

Brought great energy to the forwards. Put in a notable charge-down on Tomas Cubelli's box-kick in the first half and was efficient in his tackling throughout.

Getty Images

12/15 4. Courtney Lawes - 7

Industrious as ever, both on and off the ball. May be disappointed by some of England's lost balls in the line out.

Getty Images

13/15 3. Dan Cole - 5

Came under criticism from the referee for repeatedly bringing down the scrum before half-time. Was eventually shown yellow. Not as solid as he'd like.

Getty Images

14/15 2. Dylan Hartley - 6

A rounded performance from the captain. Carried well and won a notable penalty for England on the deck. Nonetheless, missed one too many tackles.

Getty Images

15/15 1. Mako Vunipola - 6

Put in a series of penetrative runs, making some big hand-offs. Like Cole, he struggled in the first half in the scrum.

Getty Images,
Quizzes further on whether Daly had the type of character to look beyond receiving England's fifth red card in their Test history and recover from the mental trauma of his red card, Jones snapped: "Well he has to, he's got no choice. What's he going to do, sit in the corner and feel sorry for himself? Never play rugby again?
"He's just got to get on with it, he's made a bad judgement, he's just got to get on with it. No one holds any recriminations against him. I don't understand the questioning on this. He has to, if you want to be a good rugby player, you have to.
"I probably had five words with him, which is enough. Just get on with it, there's nothing else to say."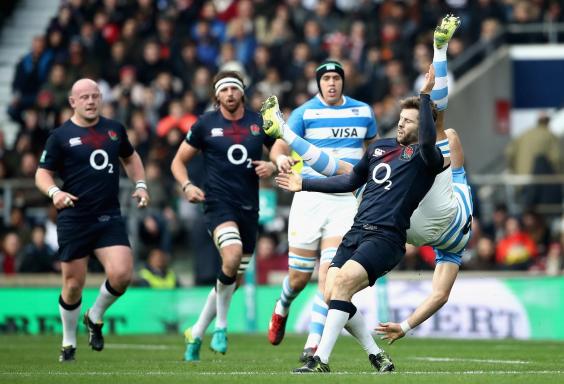 England will get on with it, but most likely will do so without their player of the year in Billy Vunipola. The No 8 was carted off the field in the 39th minute with a right knee injury, and with Nathan Hughes already missing the match England suddenly find themselves short on back-row options – not for the first time in this autumn series.
Northampton's Teimana Harrison replaced Vunipola at No 8 and could the flanker could deputise again against Australia if neither Vunipola or Hughes are available, but Jones said that he will wait on news of Vunipola's condition before making any decisions.
"Yeah he's in a bit of pain," Jones said, "but we'll just wait and see the medical examinations."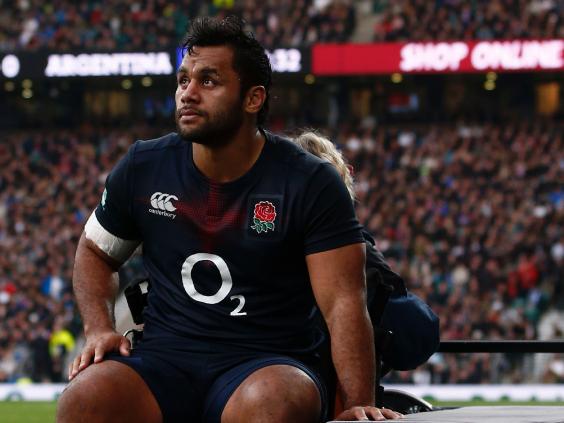 While one of his back-row options was taken from the field of play, another was proving why he has grown into one of Jones's first names on the team sheet despite being stripped of the captaincy this time last year. Chris Robshaw is flourishing in his role on the blindside, and a man-of-the-match display also caught the eye of his head coach to earn the accolade of an "outstanding" performance from Jones.
"He just works," praised the Australian. "A game like that when you're down to 14 men, it's all the work you do off the ball, it's not necessarily the work you do with the ball, and his work off the ball was incredible.
"The other guy was Courtney Lawes. You watch Courtney, he packed down on the edge of our 22 for a scrum and they make a line break, he makes the tackle to cover up that line break. That's what wins test matches, that sort of work."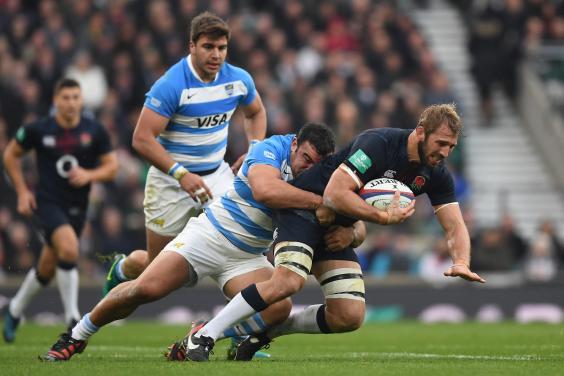 With Jones already eyeing Australia, he'll have to turn his attentions on Sunday back to his own side, given he could be without star man Vunipola for the final Test of the year as well as Daly. Both Dan Cole and Joe Marler – the victim of a disgraceful stamp to the face from replacement prop Enrique Pieretto – both received yellow cards, and while their participation is not in doubt from a disciplinary point of view, Jones will have a few key decisions to make.
Reuse content