Since time immemorial, England-France games have started in the front row – and on occasions too numerous to mention, they have also ended there, in cocktails of blood, sweat and tears. You do not have to go all the way back to Gareth Chilcott's bare-knuckled battles with the gruesome twosome of Pascal Ondarts and Jean-Pierre Garuet in the 1980s, which now seem like something out of the Horrible Histories series. As recently as five years ago, Dylan Hartley was subjected to trial by Les Bleus.
"That," he says, "was a big learning curve. Growing up as a kid in New Zealand, I knew nothing about this Anglo-French rivalry thing. I know plenty about it now. I've had my good days against France since the game in 2010 and scrummaging has changed a lot, especially over the last couple of years, but I did find out a lot about international rugby that night in Paris."
So too did Dan Cole, the tight-head prop from Leicester who partnered Hartley then, just as he will when the powerful French forwards come lumbering towards Twickenham on Saturday evening. The two of them were substituted at half-time – a serious blow to their rugby manhood – and the man primarily responsible for their humiliation was Nicolas Mas, a Catalan prop of iron strength who single-handedly bent the red-rose scrum out of shape. Suffice to say that Mas, inexplicably ignored by the Tricolore hierarchy during the early rounds of this Six Nations, is present and correct for this one.
If life at the sharp end is primarily about physics – the best units have an instinctive grasp of force, torque and angular momentum, even if they are blissfully unaware of their own expertise in the field of classical mechanics – those members of the front-row union with a philosophical streak argue that it is also about metaphysics. In other words, scrummaging is a state of mind.
Hartley's state of mind has generated a good deal of discussion just lately. The Northampton captain, the finest hooker in Europe on his day, has always been a vigorous competitor, as unsparing of himself as he is of his rivals: coincidentally enough, he might have fitted rather well into the French side of the late 1950s, who won a Test series in South Africa with the aid of a front-rower by the name of Aldo Quaglio, described by the writer Denis Lalanne in his wonderful account of the tour as "an expert at hand-to-hand fighting". But there are plenty of Hartley supporters who fear he has gone just a little quiet on them.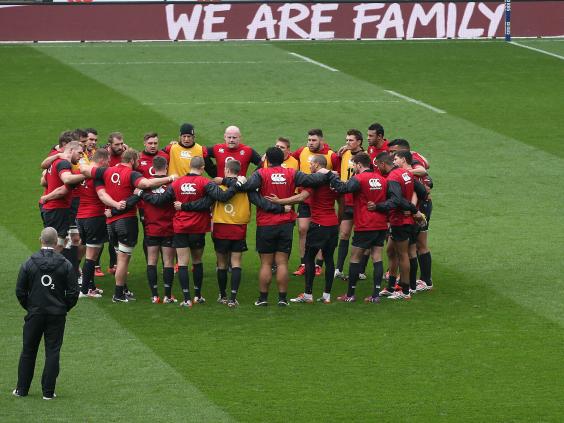 England's coach, Stuart Lancaster, who has kept faith with the man from Rotorua for Saturday's game despite the strong case presented by the Leicester forward Tom Youngs, said this week that he did not believe Hartley's sorry disciplinary reputation had cramped his style over the course of this tournament. Indeed, he argued that the hooker's work at both scrum and line-out had been more than satisfactory, and that this was what he and his fellow selectors had been most keen to see.
On this subject at least, the occasionally outspoken Hartley is very much on-message. "The feedback I've been getting is that the coaches are pleased with what I'm doing at the set pieces, and that's the important thing as far as I'm concerned," he comments. But he also confesses that since the start of the Six Nations, he has made it his business to "stay under the radar" – to concentrate on doing his job in a precise way that gives the referees no reason to glance in his direction.
Which is all very laudable: the last thing England need on Saturday evening, or at any point during this World Cup year, is their senior forward to go missing for 10 minutes or more as a result of some daft indiscretion or other. Lancaster had his fill of Hartley's troublesome side during the autumn internationals – the coach was spectacularly unimpressed when his hooker stamped on the Springbok No 8 Duane Vermeulen and ended up in the cooler as a consequence – and if there has been no final warning in the formal sense, it has been issued by implication.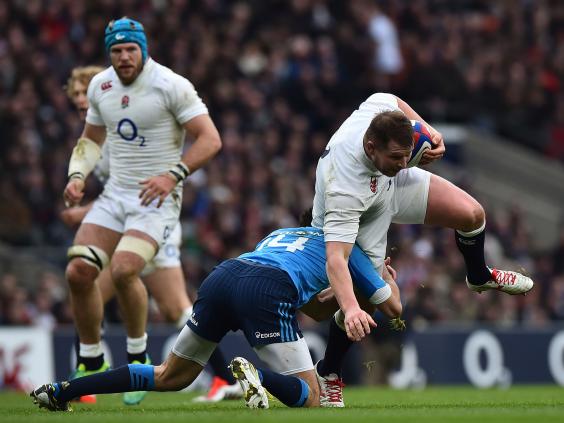 But what effect has this had on a man who, when he first broke into the Northampton side and started closing in on a first England cap, played his rugby with such joie de vivre? According to Hartley, this is stuff and nonsense. "I'm not sure I ever played with a sense of joy," he remarks. "When people tell me I should smile more on the field, I say: 'Have you ever played a game of rugby? It's not enjoyable!'"
Yet the irrepressibility of old has not deserted him entirely: he was at his funniest and most irreverent when lifting the veil on the scene in the England dressing room before a big match. "People don't go round banging their heads against the wall any more," he says, "although James Haskell [the Wasps flanker who has never been under the radar in his life] does a bit of shadow boxing in the corner. I once saw him crush a paper cup."
Determined to show the best of himself in the World Cup arena after a couple of misfires – he missed the 2007 tournament in France because of suspension; the 2011 competition in his native New Zealand was far from a happy experience – Hartley has taken his game back to first principles. He was as responsible as anyone for England's outstanding scrummaging performances before Christmas, when they forced the All Blacks to concede a penalty try, and the 100 per cent returns at the line-out were down to the accuracy of his throwing. If England have slipped off their level just a little during the Six Nations, they are still pretty damned good in these crucial areas.
"We've been losing two line-outs a game," Hartley acknowledges, "but then, the standards we set for ourselves during the autumn internationals were so high. If anyone is really accusing us of having problems in this area, maybe they're looking too hard.
"As for the scrum, we may not have the old hit-and-chase engagement any more, but it's still a mix of technique and mindset. Getting the scrum right is huge for us because if we can achieve dominance there, it's so demoralising for the other team. The French are always strong at the set piece and, even though they're coming to us without Eddy Ben Arous [the injured loose-head prop from Racing Métro], who'll be a big loss to them, we know this is our biggest challenge of the tournament. But while we respect them, we don't fear them. The challenge we've given ourselves is to win this contest."
England vs Scotland player ratings
England vs Scotland player ratings
1/30 ENGLAND: 15-Mike Brown

Busy game, his best for a while, not least for his left-footed kicking option. Equalled Matt Perry's record as most-capped England full-back (36). 7/10

Getty Images

2/30 14-Anthony-Watson

Frustrating day at the office. Did little wrong but not as involved as he should be. Still learning the Chris Ashton-style tracking skills. 6

Getty Images

3/30 13-Jonathan Joseph

Wonderful early try when he came short off Ford and jinked past Hogg for his fourth try of the tournament. Looked a class act once again. 7

Getty Images

4/30 12-Luther Burrell

Failed to trust his left-hand pass in first minute, butchering a try. Not hitting the heights of last year but offers a physical threat.

AP

5/30 11-Jack Nowell

Relished the open spaces with ball in hand but blew a try and got sucked in too easily defensively. Still a work in progress at this level. 7

Getty Images

6/30 10-George Ford

Threatened Scotland throughout with his delayed passes on the gain-line. Ghosted through for valuable try soon after the break. 8

Getty Images

7/30 9-Ben-Youngs

Improvement from Dublin. Took more responsibility and varied his game well around fringes. Holding off Wigglesworth's challenge. 8

Getty Images

8/30 1-Joe Marler

Penalised more than once at the scrum but, after 10 successive starts, has plenty of credit in the bank. 6

Getty Images

9/30 2-Dylan Hartley

His lineout arrows were slightly off. He remains under fierce pressure for the No 2 shirt from Tom Youngs. 5

Getty Images

10/30 3-Dan Cole

Lucky to avoid yellow card for his goal-line lunge at the ruck. His discipline was a bit loose but put in good shift at the scrum. 6

Getty Images

11/30 4 -Dave Atwood

The Bath man is always a force in the maul and scrum but still needs to do bit more around the park. 6

Getty Images

12/30 5-Courtney Lawes

Big impact on his first appearance since the autumn. Prominent in lineout and put constant pressure on the Scots, as Russell can testify. 8

Getty Images

13/30 6-James Haskell

Questionable whether he is doing enough to fend off Wood's challenge for the No 6 shirt. His forward pass denied Brown a second-half try. 6

Getty Images

14/30 7-Chris Robshaw

As consistent as ever. Stuart Lancaster's fear must be whether the skipper can keep going at full throttle until the World Cup is done. 7

Getty Images

15/30 8-Billy Vunipola

Scotland kept him under wraps pretty well. Like Robshaw, no doubting his engine. His power from standing start is wondrous at times. 7

Getty Images

16/30 SCOTLAND: 15-Stuart Hogg

Saved Scotland three times with his last-ditch tackles on Burrell and Brown during the early English siege. 8

Getty Images

17/30 14-Dougie Fife

Will be pleased with his efforts after coming in for Sean Lamont. Did not look out of place and made crucial try-saving tackle on Nowell. 7

Getty Images

18/30 13-Mark Bennett

Looks set for a long spell in the No 13 shirt. The Glasgow centre took his try well and shows terrific composure for a 22-year-old. 8

Getty Images

19/30 12-Matt Scott

Flew out the line to provide Joseph with his fifth-minute try. First Test start for a year and looked like it. 6

Getty Images

20/30 11-Tommy Seymour

Forced to switch from right to left wing and coped efficiently. Honours even with his battle with Watson. 7

Getty Images

21/30 10-Finn Russell

Good touches though did not enjoy the close attentions of Lawes and Co. But Scots must keep the faith - he can get a back-line moving. 6

Getty Images

22/30 9-Greig Laidlaw

Raised the tempo when called for. The experienced No 9 is a vital presence in such a young back-line. 7

Getty Images

23/30 1-Alasdair Dickinson

Tends to fade in later part of the match but his lineout work is as good as at any time in his career. 5

Getty Images

24/30 2-Ross Ford

Tends to fade in later part of the match but his lineout work is as good as at any time in his career. 7

Getty Images

25/30 3-Euan Murray

Equalled Allan Jacobsen's caps record for a Scottish prop (65). The former Lion still has plenty to offer, in the set piece at least. 7

Getty Images

26/30 4-Jim Hamilton

Brought in by Vern Cotter for his physicality and strength in the maul and he didn't let his coach down. Is a more disciplined player these days. 7

Getty Images

27/30 5-Jonny Gray

Scotland's captain-in-waiting according to some. A menace in the lineout and shows maturity beyond his years – he was 21. 7

Getty Images

28/30 6-Robert Harley

Possibly shaded the battle of the blind-sides. Likes to annoy opponents and generally succeeds. 6

Getty Images

29/30 7-Blair Cowan

Earning an unwanted reputation for conceding penalties, but he remains a key cog in this side. One of the best turnover merchants around. 7

Getty Images

30/30 8-David Denton

Gave Scotland a good ball-carrying outlet and more bulk in the tight exchanges. Decent performance before giving way to Beattie. 6

Getty Images
And it should be a contest and a half, especially in Hartley's sphere of operations. "To win this Championship in front of the Twickenham crowd would be my best moment in an England shirt, no doubt about it," he says. "When we won the title in 2011 and were awarded the trophy after losing in Ireland, it felt flat: in fact, I don't feel as though I've ever won this title. So this is important. This year of all years, the team needs to win something."
And if it comes down to some smart decision-making at the last knockings, with points difference coming into play, will Hartley bring his 65 caps' worth of experience to bear on the tactical discussions? Not on your life. "Luckily," he explains, "I'm not very good at maths."

NatWest are proud to support Rugby. Current account customers can win exclusive rugby experiences. It's not who you know, it's who you bank with. Visit natwest.com/rugbyreward
Reuse content