The men from the dungeon of the scrum have always spoken in a rich, gruesome language of their own, full of blood and gore and laughter in the darkness. "You know, the thing I most despise about that chap Colin Meads," said the upper-crust England lock David Marques after an early meeting with the fabled All Black ogre from the hilly farmlands of King Country, "is the way the terminal traces of ones jockstrap hang from the corners of his mouth at the end of each game."
Spool forward half a century and we have Dave Attwood waxing lyrical in time-honoured style. The 18st 8lb second-rower from Bath was present at the birth of his first child – a daughter, Jessica – earlier this week and found himself energised by the experience. "Every facet of my life has an extra edge now," he said. "I don't just feel as though I could head for the gym and bench-press more weight than I've ever lifted before. I feel as though I could pull a tree out of the ground and batter someone over the head with it."
Now there is more than one way of winning an international rugby match – even when you're up against the barely beatable world champions from New Zealand – but while the laws of the game do not specifically prohibit it, smashing the opposition with half a ton of solid oak has never been regarded as a legitimate method. Were it otherwise, we can be sure the formidable Meads would have been the first to give it a go.
There again, only a hard-hearted cynic would quibble with Attwood's sense of elation, however unusually he might choose to describe it. When he says that "two of the biggest events in my life to date are happening in the same week", adding that Jessica's arrival has given today's match at Twickenham a significance way beyond anything he has previously encountered, he is completely believable. Right now, the 27-year-old West Countryman is in uncharted emotional waters.
"When the due date was first worked out, I did have an 'oh God' moment," he confessed. "The midwife said not to worry – that if things were 10 days late, they could induce. And I said, 'Actually, 10 days late wouldn't be great for me. Could we make this more about me, please?' So to be in this position, with everything coming together in the way it has... now's the time for me to stand up and be counted with England."
He already knows what it is to work his way into World Cup contention – and to crash back out of it in a split second. A year or so before the 2011 tournament in New Zealand, the smart money was on Attwood and Courtney Lawes combining in the engine room of the scrum. Then he picked up a nine-week ban for stamping, thereby putting himself off-limits at the worst possible moment.
That memory remains painful. "When I had my first involvements with the England set-up under Martin [Johnson], I was 90 per cent potential and 10 per cent player," he said, indulging his fondness for the telling one-liner. "They saw that I had some skills, that there was some distance I could go, but I robbed myself of the chance.
"Now it's come full circle. I have another opportunity to twist some arms. It's a matter of keeping ahead of the game, because there's some incredible talent floating around the second-row position.
"When I started with England, friends of mine joked that I'd been picked because the coaches were scraping the barrel. Just look at all the guys on the radar now. You want people breathing down your neck because it makes you a better player, but sometimes it would be nice if they weren't breathing quite so heavily."
All that is true enough. By the end of this year's Six Nations, the high-octane locking partnership between Lawes and Joe Launchbury looked well established. By the end of the summer tour of New Zealand, things were a whole lot worse for Attwood. Geoff Parling, the Lions Test forward, had surged back up the pecking order with some characteristically intelligent performances in adversity, and there had been a striking contribution from a second Leicester man in Ed Slater. Suddenly, Attwood was slumming it in fifth place and contemplating the possibility of more World Cup rejection.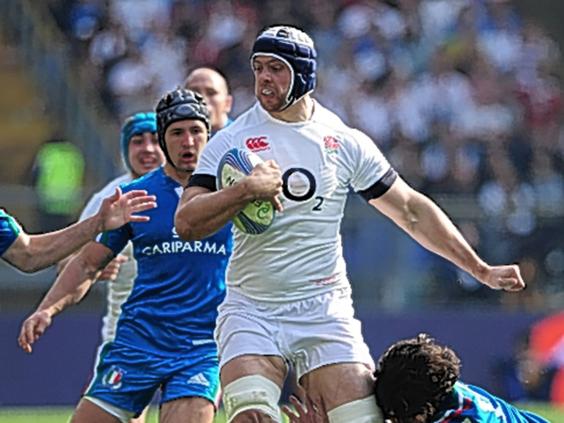 His response was outstanding. He shed some weight – pounds and pounds of it – and increased the range of his pitch coverage. He also improved his "transitioning" – coaching jargon for the speed at which a forward hauls himself off the floor following a tackle or a ruck clear-out, gets himself "round the corner" and does it all over again.
"When I came back from the England tour of Argentina in 2013, we decided to go down the power road: I would try to be as destructive as I possibly could in a five-metre grid, so that anyone coming into my area would finish up second best," he recalled. "The feedback I received this summer was that if I wanted to stake a real claim for England, to be something more than a substitute, I had to make a significant change.
"So I've lost eight and a half kilos and looked at being more efficient in my running technique. I've rediscovered some of my old excitement. I'm a better decision-maker than I used to be, but I'm also playing with a touch of the inner child. It's nice to be moving around the field a bit more."
In short, it is the kind of game All Black locks have been playing for years, stretching right back to the 1995 World Cup, where the champions' current exhilarating brand of attacking rugby had its genesis. The second-rowers in those days – Ian Jones, Robin Brooke – were hardly midgets, but they were not the biggest either. Today's locks, Sam Whitelock and Brodie Retallick, are cut from similar cloth. They stack up well enough physically, but size is not their point of difference. Instead of ploughing furrows up the middle of the pitch in age-old fashion, these people roam far and wide, wreaking havoc as they go.
Not that Attwood is in awe of them. "There's a whole psychology that surrounds playing the All Blacks," he said, "based around the fact that they do stuff on the field that no one else can do. Well, that's not true. I think we showed in the summer that it's not true. They make mistakes, the same way everybody else makes them if you apply pressure in the right way."
Reuse content