If England are sick and tired of losing to New Zealand – the novelty wore off long before the miserable surrender in Hamilton last June, a fourth consecutive defeat in the space of seven months – they are even more weary of the popular idea that the only people who can beat the All Blacks are the All Blacks themselves. Andy Farrell, as competitive a beast as exists in the current red-rose set-up, thinks this assumption borders on the sacrilegious.
"We respect the New Zealanders, of course," said the backs coach yesterday, "but I don't get any sense that there's an aura about them that can't be broken down. Good preparation and the right knowledge dispels fear, and there's a relaxed feel amongst our players because they know they've done the work. We're excited about this game. Super-excited." All of which amounted to fighting talk.
Farrell must be close to the best in the business when it comes to flexing the verbal muscles, so to speak. After Hamilton, when he was just about as angry as he has ever been in his current role, he fairly slaughtered his own charges with one withering line. "We now know what intensity looks like... and what it definitely doesn't look like," he said, pouring scorn on the team's defensive performance. Since then, intensity has been at the heart of England's work on the training field.
And who has emerged as strongly as anyone from these relentlessly physical, high-pressure sessions at the team base in Surrey? The answer is two Bath backs who have more to prove than most at Twickenham this afternoon. Few predicted that Kyle Eastmond, the centre heavily implicated in that first-half implosion five months ago, and Semesa Rokoduguni, the Fijian-born wing making his international debut up against the All Blacks' prolific Julian Savea, would be among the star turns in the England camp, yet both men have convinced Farrell of their capacity to thrive against the most lethal attacking unit in recent rugby memory.
"Rokoduguni may be new to this environment, but he backs himself," the coach said. "He's a wing who takes people on, who poses a threat in the air, who runs good lines and doesn't accept being tackled. I hope he brings his 'A game' to the contest because he's been very impressive in training. As for Kyle, he's a different kind of footballer – and you need a bit of 'different' in your blend. He's smart, he's feisty and he's confident: he's been leading things in attack and driving things in defence."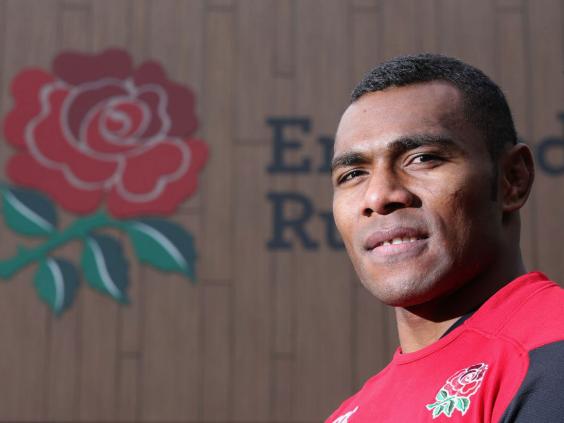 Much has been made of the fact that in the tale of the tape, Eastmond's direct opponent – the celebrated cross-code cabaret act known as Sonny Bill Williams – is the hands-down winner. A nine-inch difference in height, underpinned by a five-stone advantage in weight, is hardly insignificant, but again, Farrell was in shoulder-shrugging mood. "Size is irrelevant: Mike Tyson wasn't that big, but he could knock a few people out," he remarked. Being a genuine rugby league great, Farrell's assessment of Williams was intriguing. While he did not attempt to insult the intelligence by suggesting that the 29-year-old Aucklander was not up to much – "He'll have watched the All Blacks closely during his time in league and up-skilled himself, knowing he was coming back into union," he said – the coach emphasised the challenge of bridging the gap between the  two codes.
"Time and space is the thing," he continued. "When you're playing league and the opposition are 10 metres back and you have all the time in the world...that's different to being on the gain line in union. Having said that, when we do get hold of Sonny Bill we'll have to put him down pretty quickly."
The problem for England is that there is rather more to the All Blacks than SBW. Indeed, few would die of shock if Williams turned out to be the least of the hosts' problems. Israel Dagg, running back the ball from deep? Conrad Smith bringing his highly-developed rugby intellect to bear on midfield proceedings? Aaron Cruden's quicksilver wit? Kieran Read's off-loads? Riche McCaw's pickpocketing skills? Brodie Retallick's engine? Put it like that, and you can already hear the Twickenham faithful gulping for air.
As Farrell readily acknowledged, England will have to impose their will on the tourists, as well as their tough, resilient, ultra-disciplined style of rugby – and then produce something else, something entirely unexpected, if they are to take a step that would establish them as genuine contenders at next year's home World Cup.
Eastmond and Rokoduguni are the players charged with bringing those points of difference to the red-rose performance. It can be done. At the global gathering in 2003, the super-smart tacticians in the Wallaby camp believed they could win a semi-final against their nearest and dearest by not kicking the ball to them... and were proved right.
Four years later, the French came up with the extraordinary notion that they could win a quarter-final against New Zealand if they took broken-field rugby out of the equation by conceding possession. Again, they were proved right. But then, the Australians were blessed with a game manager as good as Stephen Larkham at outside-half, while Les Bleus had a tackler as ruthless as Thierry Dusautoir in the back row.
England do not have a Larkham, or anything like him: if Owen Farrell is going to win a Test match from the No 10 position, it is likely to be through the boot. And although Chris Robshaw has something of Dusautoir's relentlessness about him when it comes to chopping down opposition runners at the knees, he has yet to convince his critics that he can strip McCaw bare at the breakdown.
What the home team need this afternoon, then, is something more than heart and soul and passion, all of which are givens.
What they need is a touch of the unpredictable, the unforeseen. Without it, they are destined to finish second to these opponents for the fifth time in a calendar year – and the consequences of that could be severe.
Reuse content