Billy Vunipola is in line to return to the England side that will start Saturday's Six Nations Calcutta Cup clash against Scotland on Saturday after recovering from injury three weeks' ahead of schedule, and he has his brother, Mako, to thank.
Of course, being a world class player like Vunipola opens up the state-of-the-art medical treatment and rehabilitation that comes with England and Saracens, but there is more than meets the eye when it comes to the No 8's recovery from damaged knee ligaments sustained in the autumn international victory over Argentina last November.
Coincidentally, Vunipola saw his older brother, Mako, suffer a similar injury just a few weeks later. While that wasn't the best news for the Saracens, England or the Vunipola family, it did mean that Billy had something to target, given that his brother's injury was not as bad and immediately put him ahead in the race to return to fitness.
"I think it did, Mako Vunipola said when asked if being injured at the same time helped his brother. "We didn't rehab together because he had a bigger one that me and had an operation. He needed to be a bit more cautious than myself.
"For him seeing me getting injured a couple of weeks after and then getting back ahead of him probably pushed him on. I can't speak for him but it definitely seemed to me that he was getting a bit annoyed that I was running before he even started.
"We're very lucky in that sense I think. Part of it is also growing up that dad wouldn't accept that we were hurt in any game. If we went down with a dead leg or something he would say it wasn't a real injury. It's comes from our granddad who always said if we broke a leg he would just buy a new one, any one. That's kind of the mindset we have. If either of us go down the other one will come over and say 'get back up."
Mako isn't taking the credit just yet though. "It's all him really. Like I said, he's put in the hard graft with the staff and to be fair to him he's looking like he's running a lot better." That will be music to the ears of Eddie Jones. The England head coach goes into this weekend's Calcutta Cup encounter weighing up the prospect of restoring Billy to the starting XV in place of Nathan Hughes. While Wasps back-row Hughes has looked at home on the international stage since making his debut last November after qualifying for England on residency, he has not matched the levels set by Vunipola in 2016.
Hughes is averaging an impressive 52m in possession per game in the Six Nations, but he has made just one clean break across the three matches – something that Vunipola offers in an abundance given his sheer power in contact.
It's something that the England coach, Steve Borthwick, was keen to play down, but Vunipola's absence has been obvious this year given that England needed late tries against France and Wales to win and were trailing at half-time against Italy two weeks' ago.
England vs Italy player ratings
England vs Italy player ratings
1/15 England: Mike Brown – 5 out of 10

Left on his heels when Michele Campagnaro broke through the line, but started to show signs of his running best in the second half that he hasn't shown for quite some time.

Getty Images

2/15 Jonny May – 4 out of 10

Failed to take a Ben Te'o offload in the first half when through on the try line, and faded from that point on as England struggled to figure out how to get the ball out wide.

Getty Images

3/15 Ben Te'o – 7 out of 10

When he got the chance to run with the ball he was impressive, taking a crash ball through the line and bagging his second try as the game began to unravel. Showed some nice offloads and also effective in the tackle.

Getty Images

4/15 Owen Farrell – 4 out of 10

In what was supposed to be a celebration of his 50th cap, Farrell put in possibly his worst performance in an England shirt. Twice he committed the cardinal sin of missing touch from a penalty and kicking the ball dead, and he also struggled with the swirling wind inside Twickenham as he missed a penalty and three conversions. He also got away with a questionable hit on Edoardo Gori to put him out of the game.

Getty Images

5/15 Elliot Daly – 7 out of 10

Displayed his pace once again to bag his second try in as many matches and was unlikely not to double up after impressive defending from Carlo Canna saw the replacement fly-half kick the ball out from under Daly's hand. He also did his defensive work well, helping to force a knock-on in a maul on the England try line.

Getty Images

6/15 George Ford – 5 out of 10

He will rarely see less of the ball thanks to the Italian defenders. His kick down the line nearly produced a try for Daly, but he fell short defensively when Campagnaro ran over him on his way to scoring.

Getty Images

7/15 Danny Care – 6 out of 10

Sparked the England fightback into life with his quick tap and go to score in the corner after catching the Italian defence asleep. He was also the first to counter the Italian defence by running through the middle of the ruck.

Getty Images

8/15 Joe Marler – 6 out of 10

The English front-row struggled early on but that wasn't any of Marler's doing as he stood firm. Went through the motions a bit when it came to carrying, and was withdrawn in the 55th minute for the returning Mako Vunipola who made a notable impact in the scrum and the loose.

AFP/Getty Images

9/15 Dylan Hartley – 5 out of 10

Asking referee Romain Poite what England need to do to ruck wasn't a high point, but his lineout was exemplary. Questions about whether Jamie George should come into the side won't go away yet though.

Getty Images

10/15 Dan Cole – 5 out of 10

A game of mixed fortunes for the tighthead, and he conceded two penalties inside a minute in the first half before scoring England's opening try. He also struggled early in the scrum, with Lovotti managing to turn him in twice to win penalties.

Getty Images

11/15 Joe Launchbury – 7 out of 10

One of those who led Plan B in the second half as he took on the carrying duty from the base to try force Italy into retreat. Appears to be excelling with each game that goes by.

Getty Images

12/15 Courtney Lawes – 6 out of 10

Carried well once again and put in a big hit on Allan to shake up the fly-half, but as England struggled to find ways of securing clean ball, his impact faded.

Getty Images

13/15 Maro Itoje – 7 out of 10

Two steals in the lineout helped disrupt the Italian set-piece and he also imposed in defence, with one big hit on Venditti setting the tone early in the second half as England got back on the gas.

Getty Images

14/15 James Haskell – 6 out of 10

Given it's his first international start for eight months, it's hard to over-analyse the flanker. One knock-on wasn't his fault given it was a poor pass from Care, but his conversation about the laws of the game will not be one for the highlight reel.

Getty Images

15/15 Nathan Hughes – 7 out of 10

Another to endure a mixed game as he combined powerful running and tackling with conceding two penalties at the breakdown and also dropped the ball in an early counter attack.

Getty Images
"He looks in very good shape and has worked tremendously hard," Borthwich said. "In him and Nathan we have two fantastically powerful number eights who give us options in the position.
"We've seen different aspects of the attack work well at different times. The try we scored Wales, we attacked well from the kick return. We've seen players carry well – Nathan has done that, and Courtney Lawes has done really well in that regard as well."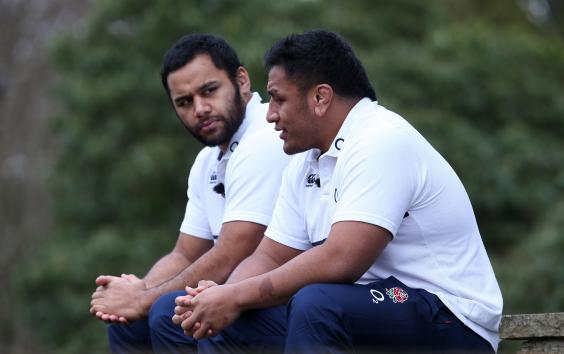 Scotland head into the penultimate weekend of the championship in the unusual position of being firmly in the title mix. Despite losing to France in their second match of the campaign, they can give themselves a genuine shot at the winning the Six Nations for the first time since the competition expanded from five teams to six, and one of the buzzwords being batted around once again in facing England has been the 'passion' that will be shown in trying to defeat the Auld Enemy.
But after facing similar arguments against France and Wales, England have proven that they can overcome the passion that the rest of the tournament seem to harbour just for them, and Mako Vunipola adds that the belief among the English players is sometimes overlooked.
"There's that history, being the oldest international," Vunipola adds. "I got told 1871 was the first one. I didn't have a clue about that. There's obviously that rivalry, England against Scotland…I have no idea about that either. But when you're on the field you can definitely feel they have a – I don't want to say hatred – passion to get one over on England. I think it's a bit different to the Welsh. When you go up to Scotland you can really feel a passion to get one over on the English.
"As a player I think if you don't have that passion at international level you're the wrong place. We've talked about it this week, just concentrating on ourselves and not really focusing on what they're going to bring; making sure we come in with the right attitude and mindset to start the game well. We've been playing well in parts of the game but not the full 80 minutes so we want to put a full 80 minutes of good performance. If we do that hopefully the result will take care of itself."
Reuse content