George Ford lives for being in the firing line and it helps explain why, at the age of 21, and with just six caps including two starts, his presence at fly-half for England in Friday night's combustible spectacular away to Wales feels natural and almost preordained.
And while England's actions and statements this past week may prove cleverly diversionary, on the face of it they need Ford's inner calm. Several of their other component parts are in disarray because of injury.
The best guess is England will be perming two centres from Luther Burrell, Jonathan Joseph, Billy Twelvetrees and maybe Brad Barritt. The Saracens fly-half Owen Farrell is out of the entire Six Nations with a knee injury, among a dozen English casualties.
England will need to find a way through or around or perhaps over Wales's hefty rush defence. "We're trying to come up with a gameplan and a strategy which is crystal clear," Ford said. "A set way we are going to play in attack, which will be pretty simple."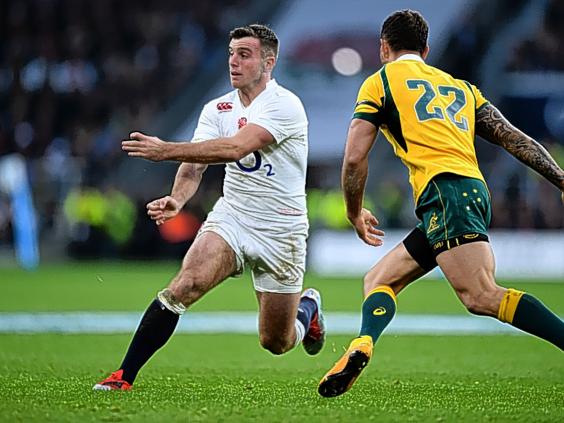 As for defence, Ford scoffs at the tactic employed by many of Danny Cipriani's coaches, of moving the fly-half into a wider channel when defending a set-piece. "Obviously some do that, for various reasons," said Ford, "but I have never been asked to, and I don't intend on doing it either. I don't think I'll ever be a guy who's going to smash people, but I would never want to be moved in defence to compromise the defensive system, because I like tackling and getting stuck in.
"As a 10 there's more to defence than people make out; you've got to be the energy, inspiring the team and helping to communicate, and organise in defence as well as attack."
Photographers invited to snap the last 15 minutes of England's training in Surrey on Tuesday were restricted to focusing on one man: Cipriani, in kicking practice with the skills coach, Mike Catt (ironic in itself, considering that Catt once laid into Cipriani's manners for the lack of a handshake after a club match).
Inside their new £3 million training centre, England have been practising the lessons of the 30-3 hammering on their last visit to Wales, in March 2013. Perturbed by the din in the Millennium Stadium, they are surrounding the players with deafening noise as they go through their moves. It was reckoned at the 2005 Carling Cup final that Liverpool fans created a maximum of 130.7 decibels inside the venue; most studies put the ears' pain threshold at about 125.
"They'll be getting speakers in there and putting it as loud as it can go," said Ford. "It's important, because communication is vital. If you can't hear each other, it could potentially have a big impact.
"The communication and relationship between the No 9s and 10s and full-backs and wingers is pretty important. We might have to go about things a different way – putting the hand out, for example, just to say we want the ball."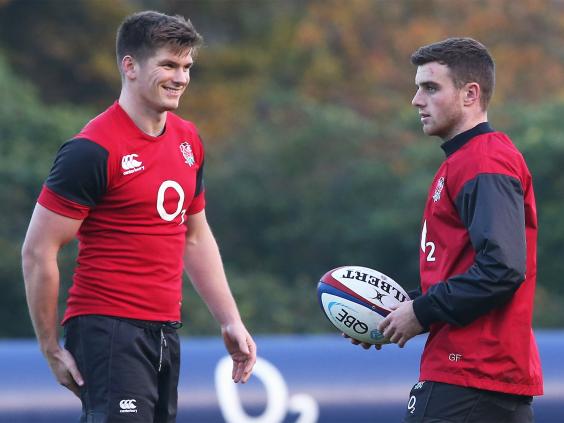 England won 29-18 at Twickenham last year, when Ford was used briefly as a substitute, and Wales failed to make several line-breaks count; but Cardiff 2013 cost England the Grand Slam, the Championship title (won by Wales) and a few players a Lions tour. Among some dozen Englishmen likely to be making a return visit on Friday will be the captain, Chris Robshaw, and the squad's most capped players, Dylan Hartley and James Haskell. The head coach, Stuart Lancaster, promised: "The players learnt from the sheer intensity of that game and the volume of noise. We will be better prepared. "
Wales's scrum lacks the retired prop Adam Jones this time. Elsewhere, there are many familiar pillars, including Sam Warburton, Alun Wyn Jones, Jonathan Davies and Leigh Halfpenny. And Ford is expecting to see a lot of Jamie Roberts, Wales's battering-ram centre. "I think they [Wales] are a momentum team," he said. "If we allow them to get gain-line from the first phase it's very hard to regain the initiative and to get the momentum back."
Jonny Wilkinson, the past master, fretted off-field to the nth degree. Cipriani, who retains an outside shot of some kind of involvement in Cardiff, used to stamp his feet and glare at team-mates when something went wrong; less so now, admittedly.
The imperturbability of Ford has been making an impression since he first played for England Under-18s. I can liken it only to my first encounter with Daniel Carter, the mighty All Black fly-half, immediately after his Test debut for New Zealand in 2003. And through all the intervening years, Carter has presented the same picture of placid invulnerability, whether winning magnificently or laid low by injury.
Asked what was the most intimidating atmosphere he had known, Ford said: "The noisiest I've played was at Twickenham in the autumn. The most intimidating… probably growing up as an amateur in rugby league. You get all the parents screaming at you on the sidelines."
SIX NATIONS FIXTURES
Friday: Wales v England (8.05)
Saturday: Italy v Ireland (2.30), France v Scotland (5.0)
14 Feb: England v Italy (2.30), Ireland v France (5.0)
15 Feb: Scotland v Wales (3.0)
28 Feb: Scotland v Italy (2.30), France v Wales (5.0)
1 March: Ireland v England (3.0)
14 March: Wales v Ireland (2.30), England v Scotland (5.0)
15 March: Italy v France (3.0)
21 March: Italy v Wales (12.30), Scotland v Ireland (2.30),  England v France (5.0)
All matches live on BBC TV
Reuse content