Brutal as it sounds, England and Wales are probably besides themselves with joy at the thought of Australian rugby tearing itself to shreds less than a year out from a World Cup at which one of the three nations is certain to fail. The sudden resignation of Ewen McKenzie as Wallaby coach amid a torrent of rumour and innuendo surrounding his private life – the direct result of a text message scandal involving one of his "problem players", the now suspended Kurtley Beale – would not, under normal circumstances, be a cause for celebration on the other side of the Equator, but given the situation...
Yet those who would like nothing more than to see the Wallabies bomb out in next autumn's "pool of death" and open up a route into the quarter-finals for their two principal rivals should be careful what they wish for. The two men most heavily linked to the green-and-gold succession, Michael Cheika and Jake White, are unquestionably coaches of star quality, blessed with the ability to push the national team another step or two up the mountainside.
This is an unnerving thought, for if the Wallabies perform any better than they played in their last-second 29-28 defeat by the All Blacks in Brisbane at the weekend, they will be close to unbeatable. It says something for the inspirational qualities of their remarkable young captain, the open-side flanker Michael Hooper, that he was able to harness the negative energy of a week of unprecedented upheaval and turn it into something positive.
White, the South African sage who coached the Springboks to a second world title in 2007, has recent experience in Australia, having worked with the Canberra-based Brumbies in the Super 15 tournament and led them to a famous victory over the 2013 British & Irish Lions.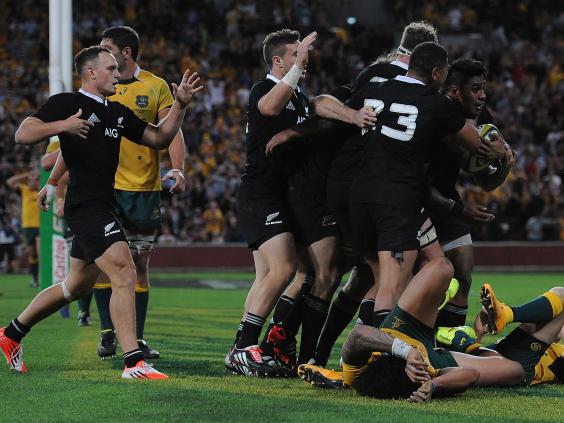 He left the job unexpectedly – recent history tells us that he rarely stays anywhere for long – and resurfaced in Durban with the Sharks, only to end his association with them a few weeks ago and take up the offer of a short-term technical consultancy with Tonga. Having made a public pitch for the Wallaby job as recently as 15 months ago, he is clearly a candidate.
But Cheika is the popular favourite. Highly intelligent, unusually articulate and just a little combustible, the Sydneysider performed outstandingly well during a five-year stint with Leinster, taking the Dubliners to a first Heineken Cup title in 2009. If his move to Stade Français was less successful, he has pressed all the right buttons since returning home to New South Wales and taking over the Waratahs, who won this year's Super 15 title.
All the best Wallaby teams have had a coach with a touch of chutzpah, a razor-sharp edge: Alan Jones, Bob Dwyer, Rod Macqueen, Eddie Jones... there weren't many shrinking violets among that lot. Cheika is cut from similar cloth – like them, he thinks differently about the game. For England and Wales, who must take on Australia next month as well as next year, these are dangerous times.
 
Reuse content