There were just nine minutes left on the clock at the Stade de France, the scores level at six-apiece, a sense of nervous expectation among both sets of fans, Wales facing the threat of a ninth consecutive defeat in their second game of last year's Six Nations.
A Dan Biggar drop goal seemed the likeliest option as Wales edged ever deeper into French territory, finally finding themselves cemented on the Gallic 22.
Whether Biggar had the three points off his boot in mind is unclear but a misjudged pass by the replacement scrum-half Lloyd Williams negated that option so Biggar, with France's tacklers fast approaching, deftly chipped ahead.
The ball bounced just once and popped up inch-perfectly into the hands of George North, who bulldozed François Trinh-Duc to sneak into the corner and help give Wales the win that turned the corner, the first of four en route to a successful Six Nations title defence.
North is a scorer of great tries, ask anyone from the Suncorp Stadium in Brisbane to Swansea, from a scintillating first Test try of last year's Lions tour to the 70-yard breakaway try earlier this month that gifted Northampton victory over the Ospreys.
His potent attacking threat will be one of many key assets as Warren Gatland's side look to defend their Six Nations title again and win a hat-trick of championships, emulating the great Wales side of the early Seventies that achieved the feat in 1971 with the likes of Gerald Davies, Barry John and Gareth Edwards.
For a player well-versed in the history of Welsh rugby, the 21-year-old slightly splutters at any comparison of the two line-ups more than four decades apart.
"Those guys weren't just good, they were awesome, they were legends," says North, cutting the comparison short immediately. "For us, it's another step towards the World Cup. As a side, we don't talk about records and titles, we just focus on what we're doing. We just work hard and keep our heads down."
It is a far cry from 12 months ago, when Wales were being vilified. Gatland was on sabbatical to prepare for the Lions tour Down Under and his side had undergone a barrage of defeats, including unlikely losses to Tonga and Argentina. And then in the opening 40 minutes of their Six Nations campaign they were torn asunder by a rampant Irish team, going into the interval 23-3 down.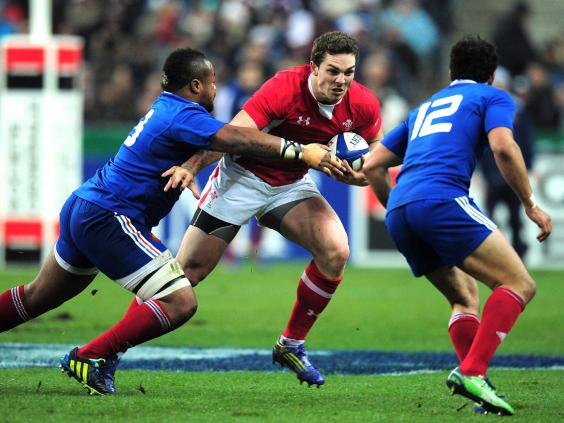 Casting his mind back, North recalls: "Ireland just came out with a hell of a tempo and we had no answer. We'd lost that first game by half-time, and everyone had written us off. Everyone then came together: staff, coaches and players, and said, 'everyone else is doubting us, let's get to work'. We felt from there that every session counted, that every day could make a huge difference."
The turnaround in attitude had the desired result but also a knock-on effect, the team's momentum sweeping into a Lions side rich with Wales players with the result a 2-1 series win on Australian soil.
North, though, insists he and his team-mates are not about to rest on their laurels. "We're pleased with what we've achieved but we always want more," he adds. "We always push ourselves forward, that will never change. That's our mentality. There's no end to it and that's hard."
Part of the hardship is the fitness requirements of Gatland. Mere mention of it brings a momentary sigh from the golden boy of Welsh rugby but, at the same time, he revels in that environment.
"Everything's set up perfectly from getting the right protein to wearing recovery tights to getting mentally right. It's hard but the results speak for themselves," he says.
Things are not about to get easier any time soon – at least not at international level – with Gatland having recently signed a contract extension until 2019.
The gargantuan Wales wing, who measures in at 6ft 4in and weighs 17 stone, talks with genuine affection for his coach. "He's got a great rapport with the players and great respect," he explains. "His brand of rugby is hard and fast and physical, we love that. It's hard to get yourself up for that as your body has to be in such good shape."
So what exactly is Gatland like as a coach? Is he a man prone to employing the hairdryer treatment? "He doesn't necessarily 'F' and blind like some coaches do," says North. "I've heard him shout a couple of times but he's normally very calm and clinical. He doesn't say much but, when he does, it's gold."
It was barely six months ago when the New Zealander was being castigated for his Lions selections, in particular for dropping Brian O'Driscoll for the series decider. Despite the criticism, his choices were proved right and Gatland has been sweeping up the coaching accolades ever since.
Looking back, North admits: "As a player, and a Welsh player at that, I felt for him having so much stick and abuse. When he pulled it off it was amazing really.
"I remember him coming out afterwards and saying it was the worst 72 hours of his life for the amount of abuse he took. It took an amazing set of cahoonas to do what he did, to drop Drico. It was a massive decision but it goes down in history now."
The strong and silent type is obviously the theme at the Welsh helm. Wales captain Sam Warburton is, according to his close friend, the same in his approach.
"Sam just does his talking out there," says North. "He's such a nice bloke but when you're playing with him you're like 'wow, he's a vicious man'. He's such a grafter, he puts his body on the line and you can't help but follow him."
For now, confidence is high in the Wales camp ahead of the visit of Italy on Saturday. North, though, is less sure of the future as the player exodus continues and key personnel leave in their droves to France or the English Premiership.
The former Scarlets flyer is among those to have already taken the plunge with a switch to Northampton last summer. It is a tricky issue and one that does not sit comfortably with North.
"It was a difficult decision but it was the best thing for me," he says. "It's difficult looking at mates going through the same thing I went through, looking for more security. There's no right answer and it's a shame as at the end of the day the quality of rugby will go down. Something needs to be done but I don't know what. How long have you got?"
North had a bit of a slow start at his new club but is now making his mark with his trademark tries of brilliance, finally achieving his goal, he says, of "imparting my Welsh ways on the boys".
It has seen him come into collision course with the Welsh public on at least one occasion, though. He can expect an infinitely less frosty reception when he takes to the field at the Millennium Stadium on Saturday than his last playing experience on home soil.
It was earlier this month for Saints against the Ospreys, during which he scored that 70-yard try, showing the sort of speed and muscularity that have defined his career to date. It effectively dashed the Ospreys' Heineken Cup ambitions.
"I got a bit of abuse," he says, laughing nervously at the recollection. "It was mixed. Some of it was light-hearted, like 'we're fine you doing this for Wales, not just against Welsh sides'."
When you see North play – whether it be for club or country – the frightening fact is that, despite already having 35 international caps to his name, he is a mere infant in rugby terms and is still some way off being the finished product, which takes some pondering for the world's best defences.
He also feels older than 21 – well, to some degree. "Every day's a learning day at the ripe old age of 21," he says before adding: "When I'm at work, I'm an old man but in life I'm a 21-year-old. I don't mean I'm immature, just that I'm a chilled-out 21-year-old."
Time away from rugby is predominantly spent with his girlfriend, the British cyclist Becky James, who next month has her own sporting ambitions at the World Track Cycling Championships in Cali, Colombia.
His move to Northampton has more than halved the journey time to Manchester where she is based but February is not a month they tend to see much, if anything, of each other.
James has been pestering North to have a go on the banked velodrome in Manchester. He has yet to take up the opportunity. While she will be pounding round in circles next month, North's focus will be elsewhere, pounding  Six Nations defences. It is a task he has already fulfilled to good effect.
George North is an ambassador for Maxinutrition, the sports nutrition product of choice for elite and amateur rugby players. For more information, visit: www.maxinutrition.com
Reuse content