Looking on the bright side of life – a little difficult, granted, for the last thing the red rose hierarchy needed three weeks before an important match with the All Blacks was the sight of Manu Tuilagi, their human bowling ball, rolling slowly towards the treatment room for another spell of orthopaedic correction – England have a lock forward in prime form. 
Stuart Lancaster and company may not need another second-rower in the way they need a high-class centre or a dependable try-scoring wing, but they should always be grateful for small mercies.
Not that there is anything small about Graham Kitchener, who, at 6ft 7in and the best part of 19st, falls squarely into the "what's not to like?" category.
According to Richard Cockerill, his boss at Leicester, he needs to be "more vocal" on the field – a serious point, given the overriding need for clear communication in top-level rugby.
But Cockerill also says: "You could put Graham in a Test match right now and he wouldn't let you down. The way he's playing, he must have a chance of making the squad for the autumn internationals, mustn't he?"
Kitchener was not included in Lancaster's 55-man party for the summer get-together at Loughborough University in August, but two of the five locks in that group – Geoff Parling and Ed Slater, both club-mates of Kitchener's – have since broken down. If one man's misfortune is another man's opportunity, the fact that England's engine-room contenders have hit the deck in duplicate must surely create space for a newcomer.
On the evidence of Saturday night's European Champions Cup opener at Welford Road – watched by a live audience shy of 20,000, which said all that needed saying about the profoundly unsympathetic kick-off time of 7.45pm – Kitchener has his size 14s planted firmly in the door.
Lancaster has mentioned more than once that the Northampton back-row forward Calum Clark might do a turn in the darkened recesses, but there has been precious little evidence to that effect. Certainly, it is difficult to imagine Clark wrecking a Test line-out in the way Kitchener wrecked Ulster's in helping Leicester to a 25-18 victory.
He was also in eye-catching mood around the field. He carried strongly, made tackles in far-flung parts of the paddock that second-rowers of yesteryear would have deemed a foreign country, and put the visitors under pressure in seeking to charge down clearance kicks every couple of minutes. He also bagged himself a poacher's try on receipt of an inside pass from Ben Youngs, who had intercepted Paul Marshall's ill-judged attempt to find Craig Gilroy with a floated delivery close to his own line.
"I'd be lying if I told you the England thing wasn't in the back of my mind," Kitchener said afterwards, looking ahead to Lancaster's latest national squad announcement on Wednesday. "But then, it's always there.
"My concentration has to be on playing well here and holding my place, because I haven't found it easy to get a run of games since arriving three years ago. I do feel I'm getting the benefit of regular first-team rugby, but as far as Test rugby is concerned, what will be will be."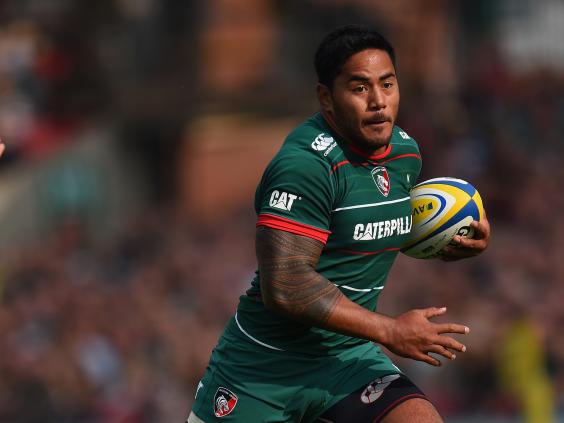 Tuilagi was off the field before Leicester had a point on the board, and he may not reappear much before the end of November, by which time the international business with the cream of the southern hemisphere will be done and dusted.
Freed by the impressive full-back Mathew Tait down the left in the 15th minute, he clattered into a couple of Ulster defenders, smashed them into the middle of next week... and stayed down, in obvious discomfort. "It's a recurrence of his groin injury and it doesn't look great," Cockerill reported, referring to the centre's recent three week lay-off with the same problem.
"I'm not a medic and I'm sure it's too early for anyone to know anything for sure, but it's clearly something he needs to get sorted. It's not great news for us – or for England, probably."
Lancaster will be hoping and praying that his most destructive back will take a leaf from Tait's book and recover in double-quick time. A couple of weeks ago, the full-back suffered what appeared to be a serious neck injury during a Premiership match at Gloucester, only to declare himself fit for the meeting with Harlequins six days later – a remarkable turn of events, given his reputation as a player who heals at glacial speed.
Talking of Tait, his performance against Ulster was another reminder of the breadth of England's options in the No 15 position.
He is playing better than the England incumbent, Mike Brown of Harlequins, and makes fewer errors than Ben Foden of Northampton; he is quicker than Alex Goode of Saracens, is playing more regularly at full-back than Anthony Watson of Bath and is operating at a higher level of rugby than Chris Pennell of Worcester. Just a thought.
He certainly enjoyed himself in the first half, as Leicester opened up a clear advantage over opponents who appeared to be caught cold by the intensity of the contest – a sign, perhaps, that Premiership rugby is still a touch more physical than the Celtic-Italian Pro 12 version.
Mind you, the best try of the night was scored by the British & Irish Lions wing Tommy Bowe, who handled twice in a sweeping raid down the right to launch a fiery Ulster response in the final quarter.
In the dog-eat-dog environment of this new European tournament, Leicester's failure to nail down an attacking bonus point, combined with Ulster's success in grabbing one of the losing variety, may ultimately prove decisive.
But given their issues over both form and fitness, the Midlanders were justified in feeling relieved at the outcome. If only Manu had stayed the course...
Reuse content