If Steffon Armitage succeeds in switching allegiance from England to represent France in next year's Rugby World Cup it will be due in part to his former country's failure to show the will to pick him again, according to the European player of the year's brother and Toulon team-mate, Delon. "Steff would love to put on that England shirt again, but he's pushing at a brick wall and doesn't know what to do," said Delon.
"A year ago when he was negotiating his next contract with Toulon, he spoke to a couple of [English] clubs but there was not much coming from England. If he'd had a push from England he would definitely have gone back, I'm sure he would have."
Instead Steffon negotiated a three-year contract extension, to stay at Toulon until 2017, and by the time England's head coach Stuart Lancaster visited the brothers in France last summer, they had won their second successive Heineken Cup and first Top 14 league title with their big-spending club. Steffon had also beaten world stars such as Jonny Wilkinson and Matt Giteau to be named Top 14 player of the year for the second time. Lancaster did little more than reiterate the Rugby Football Union policy of selecting players based abroad for England only in "exceptional circumstances".
So Steffon – who turned 29 yesterday and won the last of his five England caps in 2010 – applied for a French passport as he explores the route of qualifying for Les Bleus by taking part in Olympic Sevens events. And 30-year-old Delon, who feels more fulfilled after his 26 England caps at full-back including the 2011 World Cup, is backing his younger brother's bid.
"I'll keep going on at him: 'you need to get some international recognition'," said Delon. "He's probably the best flanker in Europe if not the world at the minute. As professionals, you want to reach your peak and see how far you can go. That's the competitive mindset. Steff wants to play against the Richie McCaws, to test himself against the best, to play a World Cup. I think of the word 'exceptional', and Steff falls into that bracket. But unless by some miracle Lancaster decides to take a risk, I don't see it happening with England. He's going to have to take the first thing that comes to him."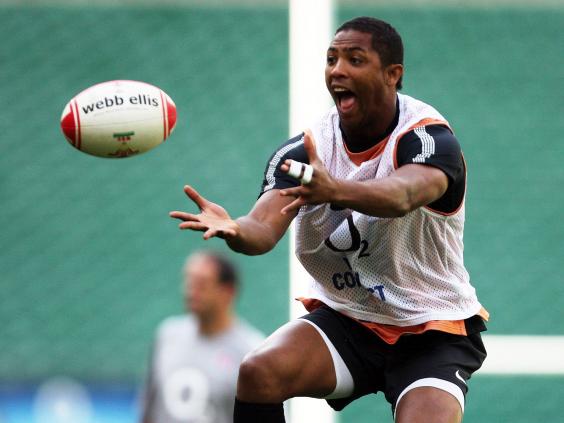 Delon believes the presence of Chris Robshaw as England captain in Steffon's openside position was another discouraging factor. Logic suggests there were also financial considerations involved in returning to the English Premiership, but Delon says an increase in the domestic salary cap is not necessarily the answer. "The reason I left [his and Steffon's previous club] London Irish was the coaches from England pretty much saying if you're not in the top four teams, you're not going to play for England again. I could have stayed at Irish and finished sixth or seventh and not played for England." The entire XV from England's most recent Test in New Zealand in June is based at last season's top five clubs: Saracens, Bath, Leicester, Northampton and Robshaw's Harlequins
Steffon, who is married to a Londoner, Katie, told The Independent on Sunday: "I'm just keeping my head down. People can say whatever they want about me, I'm just doing what's right for me and my family, that's it."   But sources close to him are hopeful Toulon's owner Mourad Boudjellal and Bernard Laporte, the head coach,  will support the switch in France's interests.  The Armitage brothers were born in Trinidad but lived in France at Roquefort-les-Pins near Nice for six years as youngsters, which gives Steffon nine years' residency overall. He would need to play for France in four Sevens events this season to qualify for their 15-a-side team as soon as possible, and that would impinge on the club's time.
However, Frédéric Pomarel, the France Sevens coach, told The Independent On Sunday that his squad for next month's Gold Coast Sevens would not include Armitage.
He could conceivably be available for the third round of the 2015 Six Nations Championship, and therefore face England at Twickenham in March, by playing Sevens in Dubai, South Africa, New Zealand and Las Vegas from December to February, missing Toulon's two European matches against Leicester. Alternatively there are four further Sevens tournaments from March to May, by which time the World Cup will be four months away.
"If [France's 15s coach] Philippe Saint-André wants this player to move, and everybody including the French Rugby Federation thinks it is a good option, I will help," Pomarel said. "Steffon is not fit to be a Sevens player now but if he works and trains with my team, he can do it."
Delon added: "In France, when you speak to the players, they'd love to have him. He's been international quality for the last two or three years and not getting recognised internationally is disgraceful."
The International Rugby Board's regulations chief Bob Latham – a lawyer who is chair of USA Rugby - is alert to abuse of the Olympic dispensation. But Armitage has experience of playing Sevens, including a match for England against France in 2011 and winning the Middlesex Sevens with London Irish. In the event of the IRB refusing his application, he can take his case to the Court of Arbitration for Sport. One question could be why a rugby player, first time round, is "captured" by a country as soon as he makes one international appearance, yet now Armitage is being asked to play four times in Sevens to meet a criterion awkwardly spanning the difference between rugby and Olympic regulations. The Olympic Charter allows a switch of country after a stand-down period, as long as the competitor holds a relevant passport.
Reuse content