Joe Schmidt has branded Ireland rising to third in the International Rugby Board rankings as "a distraction".
The Ireland head coach vowed his squad will not discuss overtaking England as the northern hemisphere's highest-ranked nation.
Ireland sunk as low as ninth in the global standings when Schmidt was confirmed as the new boss in April 2013.
The former Leinster boss did however admit the national side's steady rise has been "fantastic", following Sunday's routine 49-7 win over Georgia.
"I think it's a distraction. I don't think we can win anything by saying we're third in the world," said Schmidt.
"We just have to tidy up our scrum a bit, get our set-piece right and just try to get those practical things right.
"I think it's fantastic, and a feather in the cap of the lads who have rolled their sleeves up for the last 12 months, but I can't say it's something we'd be talking about or even aware of."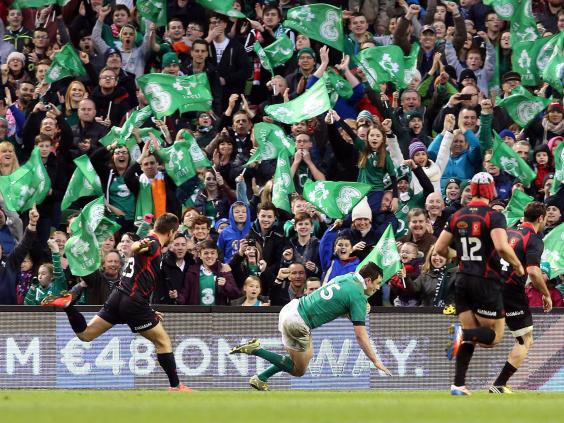 Ireland have lost just twice in Schmidt's tenure, to Australia last autumn and at Twickenham against England en route to claiming the 2014 Six Nations crown.
England's defeat to South Africa and Australia's loss against France in Paris allowed Ireland to move up to third for the first time since November 2006 and only the third time in the rankings' history.
Ireland earned no ranking points for their six-try rout of Georgia, given the visitors' status at number 15 in the world pecking order.
The rise of Schmidt's men owes as much to their 29-15 South Africa victory as their run of six consecutive victories - and also those weekend losses for England and the Wallabies.
Rather than toast the global league tables, Schmidt preferred to pinpoint Australia's "workaholic defence" as Ireland gear up to face the Wallabies in Dublin on Saturday.
Schmidt made 13 changes from the Springboks victory to face Georgia, and the majority can be expected to be reverted for the Wallabies battle.
Centre Jared Payne remains in the running for selection while he continues to fight his way back from a suspected foot sprain suffered against South Africa.
"If you don't shut the Wallabies down, they are very, very dangerous," said Schmidt.
"I think they've got a workaholic defence.
"Teddy Thomas beat about four players for a freakish try, but it's not often the Wallabies let that happen.
"Despite their loss the Wallabies could still have won by 10 or 12 points.
"Now there's always could-haves and what-ifs in a game of rugby, but the Wallabies will be very, very tough, without a doubt."
PA
Reuse content