Having emerged as one of many talented youngsters to come through the ranks at London Wasps, James Haskell didn't hang about in forging a career in the white jersey of England. When he replaced Tom Wood in last year's Six Nations decider against Wales, the back-row earned his 50th cap for his country. He has not been selected by Stuart Lancaster since.
"I certainly feel I've got a job to do for England," admits Haskell in a meeting at the West London Shooting School, a keen pastime of his when he's not prowling the field of Adams Park. "I feel that I'm playing probably the best rugby in about four years at the moment. You don't realise how debilitated you are in terms of wear and tear until you're actually able to perform again. I fell in love with rugby again."
The well-travelled loose-forward is sporting a nasty black eye along with a number of stitches on the right side of his face after an accidental collision with Saracens prop Matt Stevens in the 32-20 defeat at Wembley. "He's got a hard noggin, I'll give him that," Haskell muses upon his arrival as he is question on his latest injury, before matters turn back to his plans for the future.
Having been left out of the England squad since March 2013 and somewhat hampered by injury this season, some areas have claimed Haskell is heading towards the latter days of his career – a belief that clearly irks him.
"I'm only 29, you know the bizarre thing is that people have written me off, talking about the end of my career, talking about retirement," Haskell explains passionately.  "I've done it [rugby] for 10 years, and it's happened really quickly. I've been around for a long time and I'm still in the best shape. We did a fitness test the other day and I beat my record. I'm the fittest I've ever been and all that kind of stuff.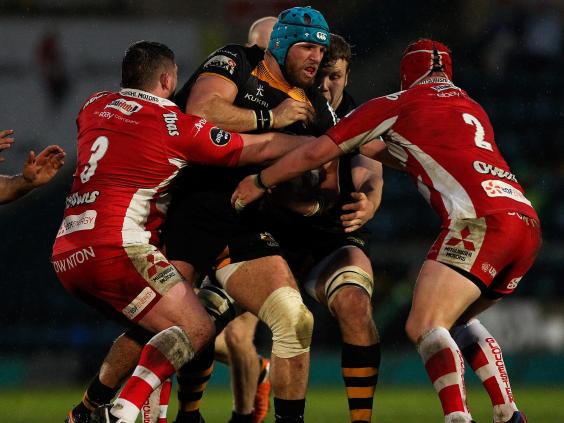 "I want to keep playing for England. It's very difficult once you are out to be back in and the back-row are playing very well. I think the team and what Stuart Lancaster and his coaching staff have created is a very good atmosphere and it's a place that everyone wants to be part of. It's super competitive so from my perspective I've got to keep doing what I can do. I have control of nothing, so in that respect all I can control is my own performance, my work ethic and my dedication and that is still right up there. I want to play for England again, I want my 51st cap, and I'll do anything I can to get that."
Away from all things rugby, Haskell is at his best when he is kept busy. Aside from our clay pigeon shooting experience – organised by outdoor clothing specialists Musto who Haskell works as an ambassador for – the 6ft 4in forward has built his own shooting business as well as a fitness-based company that he puts the majority of his time into away from his commitments to Wasps.
"I've always enjoyed doing stuff outside of rugby really, and there's a lot of things that I've been in to," he says. "I like my boxing and jiu jitsu and that kind of stuff and one thing I always enjoyed from an early age was shooting. My godfather got me into it. It started with airguns and shotguns and that kind of stuff.
"It's just a very safe hobby to do. I'm knackered today, but I could quite easily go and do shooting now and yes it's tiring, but not in the same way as rugby. There's no real danger, you know you're not going to hit or injure yourself and I really enjoy it.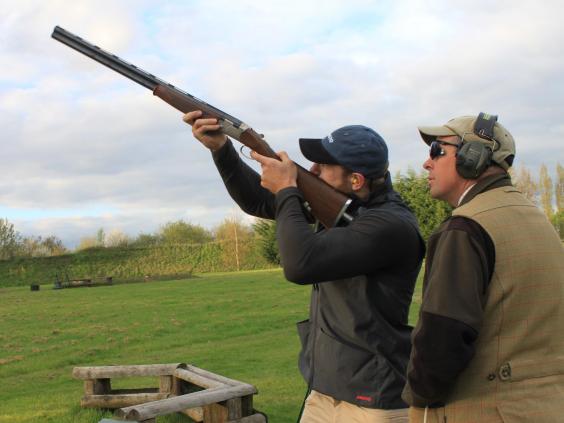 "I did some work [with Musto] a few years ago at an Artemis Challenge. Obviously they gave the sailing equipment and that's where they cut their teeth. They've got so much fantastic gear, I basically kept all the gear they had."
Does being a full-time professional rugby player allow you to get away shooting often?
"I don't get to go as much as I want to," Haskell admits. "I'd like to do more game days to be honest with you, getting dressed up in the full Musto gear, the tweeds on, the plus-fours and the socks, and go proper overboard because you don't normally do that because you can't stroll down the high street dressed like that. I mean the tweed jacket with a pair of jeans works really well but full ensemble is not something you would do.
"Shooting's not actually a bad place to take a girl on a date, unbelievably." The England international is immediately interrupted by cries of laughter and bemusement – primarily from a female point of view that don't appear too keen on heading to the range anytime soon on a first date. "You've got to like them first, you can't just take anyone on a date if you don't! But actually shooting for the day is actually really good."
Should he have any chance of shooting up Lancaster's pecking order, he'll have to displace one of a very settled back-row formation. Tom Wood, Chris Robshaw and Billy Vunipola looked a settled back-three in an England pack that performed exceptionally in the recent Six Nations, and it is the England captain that provides interest for Haskell, as he is another who falls under the question of 'is he a six or a seven' debate – the Stade Francais, Ricoh Black Rams and Highlanders star has also had extended spells at number eight.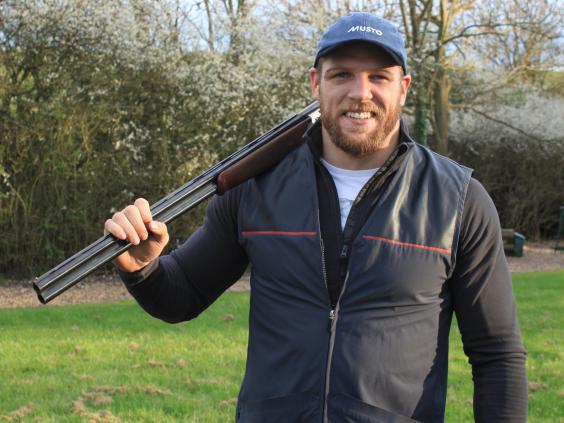 "I've got a bit of a bugbear with playing six or seven and all that kind of stuff because a lot of people now, they're banging on about Chris Robshaw and have been for such a long time. 'Is he an out-and-out seven' and it kind of irritates me that it's a lot of people who don't really know a lot about rugby that make those kind of comments," says Haskell, critical of those who ask the same question of himself and other utility back-row players that includes British and Irish Lions captain Sam Warburton in recent times.
"If you play an out-and-out seven for your team then you're off the line, at the back of the lineout, that's your role to just go and do that. You're very much focused on stealing the ball – that's fine. But the modern back-row player needs to be able to steal the ball, needs to be able to put pressure on the opposition, needs to carry, needs to be a threat at the lineout. The game's changed, there's no room for a tiny dude running around and just going for the ball because you don't get that many opportunities. You need your whole back-row on the money to do that."
And what about the future with Wasps? Having been close to liquidation not so long ago, the High Wycombe outfit have shown signs this season that they can return to their former glory, having dominated the domestic scene not so long ago that also saw considerable success in the soon to be revamped Heineken Cup.
On the face of things, Wasps' season can be deemed with a lot of unreached potential, having challenged for a top-four play-off spot only to fall away with a host of narrow defeats. But with the expected announcement that a play-off between the seventh-placed clubs in England and France for next year's revamped European competition, and an Amlin Challenge Cup semi-final to boot, there's still a lot on the table to play for.
"There's a lot of talk about this seventh place potential play-off," adds Haskell. "From our point of view, this season has been…" he pauses upon reflection. "It's been disappointing because we've been our own worst enemies. I think that's the real issue and I think we're all aware of that.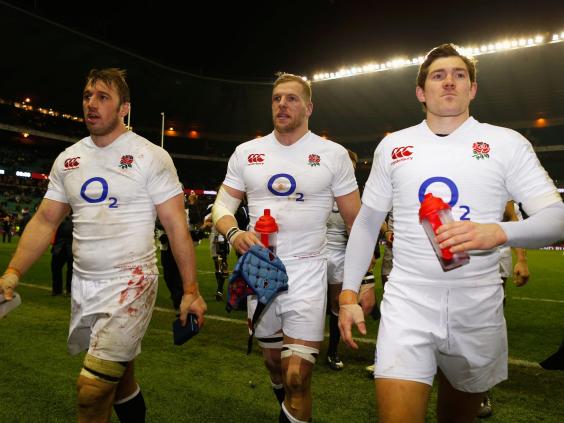 "If we were getting beaten by teams because they were a lot better than us, then you can kind of console that and I think in the couple of years previous, we were a team developing. We didn't have the resources to hand. We've got that now, we've got really good players in a really good atmosphere and a really good coaching staff and from our point of view at this point in the season, we do play to win everything.
"More to do ourselves justice because we've lost maybe eight or nine games this season by probably one score [16 times Waps have lost by seven points or less]and it's been massively frustrating. That's down to individual error. So we want to win, we want to show that  if we put a performance in that we can be proud of every week then we're going to get the wins, we're going to seal things off and we'll certainly put as much pressure as we can to get in those play-off spots.
The former England Sevens international also explains how the club are determined to get the old winning mentality back at Wasps. Haskell remains the only player  from the 2007 Heineken Cup winning squad left at the club, and he feels it's about time the club won a trophy in order to push on with their development.
"There's a lot of boys in that squad at Wasps that haven't won anything," the 29-year-old admits, "and if you don't win anything and you're not near winning anything, rugby becomes a bit of a job, something you do for a period of time. You only enjoy being a rugby player when you win stuff, you only ever bond with your team fully when you've won something and you've achieved that camaraderie and you've gone to that next level.
"For me, that is what the Amlin is about. If you get an opportunity to win any silverware you take it. It doesn't matter what it means or if it gets you in the Heineken Cup, it's winning something. Going to a final and winning is the best thing in life, and it makes rugby no longer a job. It makes it fun. And listen, doing something you love is always key, and it beats sitting in an office. Nothing against sitting in an office but if you've got the option to do something you love like winning in rugby is a pretty unique experience. People go through their whole careers without winning anything and I was very lucky, I was with Wasps when we won everything. I got to win that experience and I want to get that victory back."
Wasps go into this weekend's Premiership encounter with old foes Leicester Tigers, although Haskell explains there's no hatred towards any team – "I don't hate anyone" he remarks – and the desire remains to beat the best rather than beat a club who have held a strong rivalry with Wasps. But the message is clear, Haskell feels he is far from done, and the impressive showing in the Amlin quarter-final win over Gloucester showed he does indeed have something to offer the national set-up. Having been seen as an emerging talent for so long, Haskell appears to have developed a very experienced and mentally strong head on his enormously broad shoulders, and you wouldn't be surprised if a run of form and the inevitable injury or two to key players sees him in the red rose for that sought after 51st cap.
James Haskell is an ambassador for technical outdoor clothing brand MUSTO. For more information visit www.musto.com