The headline in The Independent on Sunday read "The Greatest Day" and a week later that still seems about right. Seven hours of spellbinding Six Nations rugby culminated in an extraordinary match between England and France, the like of which Twickenham had never seen before. By the end England had won 55-35, but fallen six points short of the margin of victory they needed to take the title. For those watching it was  unforgettable: a match for the ages. But what of those playing? Joe Marler, England's increasingly impressive young loose-head prop (he of the Dickensian look and broad Sussex burr), witnessed the whole event at close quarters. For him, too, it was unforgettable. This is his day.
The build-up: 'There was a try from Italy and we all cheered'
Marler woke up at the England team headquarters at Pennyhill Park Hotel in Bagshot, 20 miles from Twickenham. He had packed his bag the night before, including the gumshield bearing the initials "JLM" which were a tribute to his 12-month-old son, Jasper Louis.
"I went down for walk-throughs with the team," he begins. "We discussed the line-outs, bits of forward play, pretty relaxed, little bits of  detail. Then I had a bottle of water with salts in it, to help you hydrate. Then the pre-match meal – chicken sandwiches and some spag bol.
"My missus, Daisy, came to collect her tickets, I went back to my room and showered and changed into my tracksuit. Then it was down to the team room where the boys were watching the end of the Wales-Italy game. We were saying, 'Oh blimey, Wales have put a load of points on them'. Then there was a try from Italy, and we all cheered because [England's target] went from +23 to +16 points." And before he knew it, Marler was on the bus to Twickenham.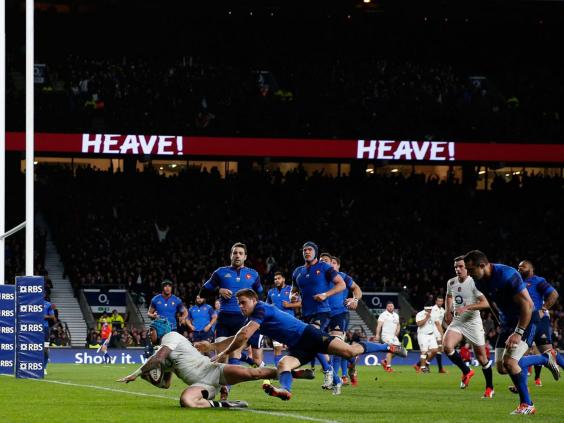 On the bus many have retreated into a cocoon, listening to music on headphones. Marler is much more relaxed, playing stick cricket on his phone. Is this when he starts psyching himself up for the match? "If I peak too early," he explains, "I have nothing left for the game."
Once at the stadium, the team walk through the gates and off to the changing room. "It was fantastic," Marler remembers. "Loads of 'Swing Low' and screaming, it's buzzing. I looked up at a screen and Chris Robshaw was conducting 'Swing Low' in a pre-recorded thing."
As the team warmed up on the pitch, the spectators have seen Ireland, who kicked off at 2.30pm in Scotland, replacing Wales at the top of the table with a 40-10 win. "At 4.25-4.30 we all got round in the changing rooms and were told the Ireland-Scotland score," Marler says. "A couple of boys had checked for  updates, but we weren't sure. Now we are thinking: 'It's a big ask'. Sixteen was do-able. But 26? There is  a doubt. We said: 'This is going to  be hard'." 
How did it affect England's gameplan? "It probably changed the decision-makers' mindset," Marler says. "Robbo [the captain, Robshaw], George Ford, Ben Youngs, Browny [full-back Mike Brown] – those four key guys who lead us in terms of the tactical decisions made on the field. It was up to them to dictate to us, and you buy into that. For the rest of us it was, let's just stick to our processes, get out there, see what we can do. And the next 80 minutes, what  unravelled, I don't think anyone expected."
The match: 'Ben Youngs had one of the games of his life'
The tone was immediately established by Luther Burrell's sprint from England's 22. Marler smiles at the memory, describes the wide-open play as "a front-five's worst nightmare… but for the neutral supporter, their best dream". He was "blowing all the way through" but he felt comfortable with a fast game, similar to the style played by his club Harlequins.
England led 7-0, then trailed 15-7 to a French team apparently freed from their own straitjacket and liking it. "I have no idea why the French turned up so well," says Marler. "Did they say anything? Not that I could understand. They scored some fantastic solo tries. For a couple of them you'd go 'wow'. A couple we could have stopped.  Because we were working so hard on the attacking side, defensively we were off a bit. Well, Courtney Lawes wasn't, but as a team we were.
"We were throwing caution to the wind. Ben Youngs [at scrum-half] had one of the games of his life, George Ford was orchestrating, it was brilliant to see. It's the way I think the game should be played, with ambition, a no-fear attitude of expressing ourselves, while tweaking it to be accurate. There was still plenty of kicking. And in fact our GPS man said the ball was in play more the last time we played France. But it didn't feel like that."
Six Nations 2015: Chris Hewett's team of the tournament
Six Nations 2015: Chris Hewett's team of the tournament
1/16 15. Stuart Hogg (Scotland)

Many players threw off the shackles on the final day. Hogg was a free spirit from the first minute.

Getty Images

2/16 14. Yoann Huget (France)

In a non-vintage year for wings, the Toulouse man was more powerful, spring-heeled and menacing than most.

Getty Images

3/16 13. Jonathan Joseph (England)

The tournament's best back. While others saw broken-field situations as a curse, he viewed them as a blessing.

4/16 12. Jamie Roberts (Wales)

Criminally underused against England, he made up for lost time with his shock-and-awe assaults on the gain line.

AP

5/16 11. Noa Nakaitaci (France)

A late arrival who quickly left defenders for dead in the grand Fijian tradition. Is he Joe Rokocoko in disguise?

6/16 10. Jonathan Sexton (Ireland)

Not perfect, but there were times when he seemed he might be. Challenged hard by George Ford of England.

Getty Images

7/16 9. Ben Youngs (England)

Murray, Laidlaw, Gori, Webb: the terriers were good across the board. Youngs' game-breaking wins the day.

8/16 1. Joe Marler (England)

The red-rose loose heads are the best around. If Marler is the best of the best, it's game over.

Getty Images

9/16 2. Guilhelm Guirado (France)

A serious operator in the tight, the Catalan's try-scoring passes against England gave him a point of difference.

10/16 3. Dan Cole (England)

His scrummaging would have secured him a place even without his high-value work in defence and at the breakdown.

Getty Images

11/16 4. Alun Wyn Jones (Wales)

The tight forward of the tournament. The Springboks would kill for him, which tells you all you need to know.

12/16 5. Paul O'Connell (Ireland)

Maximum respect. As the physical powers diminish, the desire burns ever more brightly. Most honest of players.

PA

13/16 6. Peter O'Mahony (Ireland)

If you must have a dog in the fight, find one like the Munsterman. Undiluted ferocity in a green shirt.

GETTY IMAGES

14/16 7. Sam Warburton (Wales)

The very model of the "big game player" whose iron will and durability mark him out as a man apart.

Getty Images

15/16 8. Billy Vunipola (England)

A remarkable series of displays from a remarkable player just beginning to grow into his physical frame. A scary thought.

16/16 COACH: Stuart Lancaster, England

He stumbled upon his formation by chance, but his side played with more adventure than all the other teams put together.

Getty Images
At half-time, England led 27-15. Backs and forwards went into separate huddles as usual, before everyone heard from head coach Stuart Lancaster, who talked mainly about attack. "The boys were confident," Marler recalls, "but there was an underlying tone of why aren't we defending properly?  We've got to stop conceding every time we score."
The last knockings: 'There's no name for that call'
The score was 48-35 to England with 15 minutes left; enough time for the two converted tries they needed. Marler was substituted and watched with his arms draped over an advertising hoarding, blood on his cheek. "You're just shouting 'come on lads' and slamming the board. The atmosphere was like nothing I've heard. I loved it."
After another Jack Nowell try converted by Ford, who kicked nine goals from 10 attempts, there was a scrum penalty to England: line-out, maul, everybody in, with the French goal-line and triumph in sight.
"There's no name for the call," says Marler, "but we did that maul against South Africa in the autumn. The backs get into it. We encourage them to do it – to do some hard graft for once! It's pulled down, the French do well to stop it. Illegally, I'd say."
Referee Nigel Owens disagreed. "That's life, that's part of the game," Marler says. England went over the top and conceded a penalty. France ran briefly, bizarrely, then kicked the ball out. That was it. Fini.
The aftermath: 'Hello, I'm Joe.' 'Hello, I'm Harry'
"How did I feel?" says Marler. "Gutted. We could have pipped it right up to that last maul. We do the lap round the pitch, thanking everyone for being there for us, for the three [Six Nations] home games. Back in the changing room, the boys are like 'what the hell just happened?', then 'we've missed out again'." England have finished second in the Six Nations for the fourth year in a row, having won in Wales but missed chances to improve their points difference against Italy and Scotland.
The RFU's chief executive Ian Ritchie will later describe it, somewhat controversially, as "not acceptable". Marler says: "We lost to Ireland away, and played appallingly. So we haven't actually won anything. This team, this group have been together three or four years now. Yet... there's that desperate need, or want, to lift a trophy. Lucky for us, we get a crack at it in a home World Cup and that's the next destination."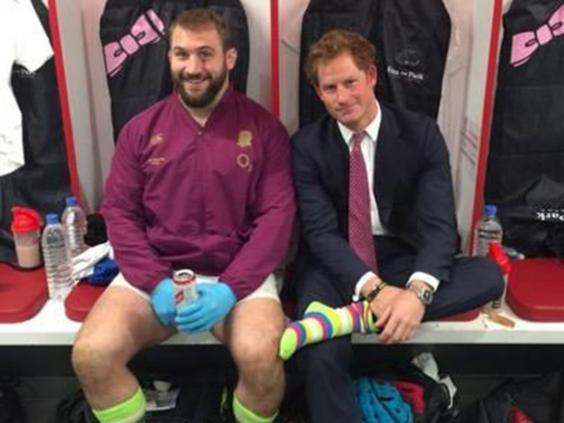 He cracked open a can of beer, and met Prince Harry, the RFU vice-patron and rugby buff who had visited England training during the week.
Everyone was pulling on multi-coloured socks for photos to publicise World Down's Syndrome Day (the eldest daughter of an England physio, Dan Lewindon, has the condition).
"It was the first time I was in real awe of someone," says Marler, "though I'd be in awe of Ray Winstone if I met him. It was. 'Hello, I'm Joe', 'Hello, I'm Harry, nice to meet you' and 'Nice to meet you too'. The socks looked fetching on him."
The wind-down continued: a dinner, in suits, upstairs at Twickenham with family and the French and union alickadoos, with songs from Dan Cole and Nick Easter to mark their 50th caps: "Singing in the Rain" and the theme from Only Fools and Horses. Little Jasper was at home in bed. A few drinks at the nearby Cabbage Patch pub, then back to Pennyhill Park for the night and a wrap-up squad meeting on the Sunday morning.
The actor Jonny Lee Miller has tweeted Marler, thanking him in jest for wearing the JLM "gummy". Also, Marler's impressive contribution  has seen him named in a newspaper's World XV. But what fans and pundits are left wondering are the implications of what they saw. If England had no need to win by 26, would they still play like that?
"No," says Marler. "If we just needed to win the game, there would have been a lot more tension and a focus on just winning." Then he puts a question: "Would you like international rugby to have the balls to do that again? Well, I'm not going to tell you, that because we put on 55 points, our best against France, that is now what's going to happen in international rugby. Though, from a personal point of view, I don't see why not. It was great to be a part of. France played brilliantly, we just played better. We were on fir
Reuse content