The artful hands that helped launch the Rainbow Nation into a bold, new epoch two decades ago lie withered in Joost van der Westhuizen's lap. The feet that propelled him into history as South Africa's leading try scorer are stilled. Locomotion is provided by a wheelchair now, and speech is all but beyond him, but there is no diminution of the light in green eyes that still burn with the desire of old.
The death sentence passed four years ago with the onset of motor neurone disease reconnected Van der Westhuizen, 43, with a purposeful life. He is living out the slogan that appears alongside the documentary of his unique journey "Joost – Glory Game", released this year to much acclaim in South Africa.
Who could fail to be moved by the story of a farm boy from Pretoria who ascended the ladder of impossible dreams, only to have his world shattered by a pitiless diagnosis?
There is no cure for a neurological condition that attacks the nerves in the brain and spinal cord controlling the muscles. The body is gradually stripped of vitality through a cruel wasting of its muscular structures. Bit by bit the capacity to walk, talk, eat and breathe is lost.
If MND has annihilated a physique that might have been bequeathed by Apollo, the heart is another matter. The fight is never over until the last breath has left his body. And what a battle Van der Westhuizen is waging – a one-man campaign to defy the rules of a lethal conflict, to raise awareness and build the first specialist unit in South Africa for sufferers of MND and related ALS (amyotrophic lateral sclerosis) conditions.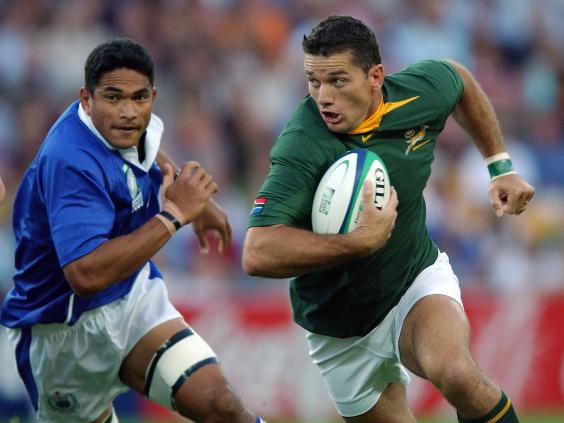 "Bull****" was the message he delivered to the medical experts who slapped a time limit on his days. It is the same sentiment of bloody defiance he offers to fellow sufferers learning to cope.
His presence at a neurological care centre in Peterborough four days before England renew rivalries with South Africa tomorrow might be considered his greatest victory, rendering that epic take-down of the rampaging Jonah Lomu in 1995 en route to the Webb Ellis trophy in Johannesburg the equivalent of swatting a fly.
"I was the lucky one," he said of that pivotal moment, grateful that fate invited him to neuter the All Black battering ram after Lomu had smashed the tackle of South Africa's captain Francois Pienaar. "He fell over me."
Van der Westhuizen was at the height of his magnificent powers then, a best-in-class warrior, creating a new template for the modern scrum-half in the professional age, a line breaker, fast and fearless, devastating in attack and defence. He racked up 38 tries in 89 matches – a record until Bryan Habana embroidered the ledger with his own brand of jet-heeled brilliance.
His second marriage to pop star Amor Vittone in 2002 elevated the pair to the station of Posh and Becks in South Africa. At the 2003 World Cup, England coach Sir Clive Woodward identified Van der Westhuizen as the player to stop. "He did," said Van der Westhuizen in response to a handwritten note from Woodward presented to him during his tour of the Peterborough centre that he hopes will provide the blueprint for a like facility in Jo'burg.
Van der Westhuizen communicates with the help of his older brother Pieter, a counsellor working with his J9 Foundation, the MND fundraising vehicle he founded. He has lost the capacity to shape words. If you listen closely enough it is possible to discern the odd word through the rising and falling pitch. By leaning in close Pieter unpicks his brother's strained attempts at speech.
It is thus via Pieter's agency that Joost spells out how he summons the strength to fight on, what motivates him and why this is the most important contest of his stellar life.

"I had a choice. Either I stay at home and die, or I live my life," he said. "I have a platform and now I use it to help others. Back home we have nothing. People are dying. There is no support or care and for me that is not good enough. That's why I'm here [Peterborough] to see that we have this [facility] back home."
As a result of Van der Westhuizen's unstinting efforts there is a small number of clinics within hospitals that offer some support to MND victims in South Africa, but not yet a specialist centre. The J9 foundation helps a total of 40 sufferers and Van der Westhuizen makes it his business to visit every one of them, a tour de force sweeping across the veld to stall nature's vicious attacks as long as he is able.
The message to his fellow victims is unmistakable. "They [doctors] are going to tell them [patients] they have two to five years to live. That's bull****," he said. "You live as long as you want, as long as you are positive. They told me I had 24 months and I am now at 50. My mind is 100 per cent. When I think about my ALS, I think of how I talk, that my mouth and my tongue do not work. You are a prisoner in your body. It was really hard at first. But you adapt. Either you adapt or you die."
Van der Westhuizen's appearance in the UK coincides with the annual round of fixtures that brings the southern hemisphere teams across the Equator. Through this communion of rugby souls he hopes to amplify the central message of this period of his life. "I've always said rugby is one big family," he said. "The support I get around the world is amazing."
He says there are no regrets over a career of singular intensity and persistent blows to the head that resulted in 16 fractures to his nose, probably ushering him towards his present fate. "I think that is possible, but what the trigger is I don't know," he said.
He lists playing for the Springboks, the win in 1995 and the three World Cups contested as the defining achievements of his career, but not of his life. He is, he says, a different person now and a better man. "When I played rugby I became arrogant and I worried about myself," he said. "Now I'm living my life the way I want to and that is to help others – and I'm having more fun."
About the celluloid story of his life's journey, Van der Westhuizen said: "For me it was all about awareness. When I see the influence it has on other people I believe it is a must-see." The importance of family – particularly his children Jordan, 10 and Kylie, eight – is central to the fight to carry on. "My children need a dad. I'm going to give them one, " he said.
In all this sadness and distress, there is laughter, too. As Pieter was revealing how his brother's condition impacted on him, Joost beckoned him closer. "He says I only give him cold showers but he lies. He does that with mum as well. I don't feed him, I don't bath him. She gets more cross than me," Pieter said.
At this a broad smile breaks out across Van der Westhuizen's arresting features and the eyes of Venus that once provoked expressions of love from Kieran Bracken as he looked across from the base of a scrum danced with devilment and pride.
This may be the last we in Blighty see of a man who has become a totem even more towering than he was as a player. Then again it is a brave savant that calls time on this No 9.