For such a menacing-looking figure on the turf, Ma'a Nonu is surprisingly softly spoken in conversation. The All Black's dulcet tones, however, cannot hide a steely determination, albeit one that has been tested down the years. Over pre-breakfast tea at his seaside Wellington local he explains that the effort and pain take a toll, but it is worth it with a World Cup looming.
"It's a challenge getting up every day, going to training, because the body may not be 100 per cent all the time," says Nonu, wearing a Brooklyn Nets beanie over his trademark dreadlocks. "Some days are good," he adds, "some days are hard, and you've just got to dig deep. Mentally, you've got to be prepared for almost everything. Put your body on the line. Some people get the rough bit of the media, some people get the positive side. It's what we do, what we love. We're living the dream. Paid to play rugby. We've gotta prove our worth. Gotta deliver."
Deliver he does, and regularly. In fact, Tana Umaga tweeted that Nonu is the greatest No 12 of all time, when Nonu became Super Rugby's most capped back this year. During the All Blacks' 41-13 thumping of Australia at Auckland's Eden Park on Saturday he proved the point, packing the midfield punch they had lacked in Sydney the previous weekend when he was on the bench, scoring two exciting tries and setting up a third for Conrad Smith.
The All Blacks, who are looking to become the first team to retain the World Cup, have won 89 per cent of the 96 Tests Nonu has played. He should soon become the All Blacks' sixth Test centurion and will be a critical part of their Webb Ellis Cup defence, with his trademark power and vision that shone on Saturday.
After the Test, the ashen-faced Wallabies captain, Stephen Moore, told me that Nonu had made "a lot" of difference from the game in Sydney. "He certainly straightened them up a fair bit. Carried the ball up hard. We saw him score that try. He's a class act. He had a really strong game," he said. Quade Cooper, the rattled Wallaby fly-half, agreed. "Nonu is  fantastic," he admitted.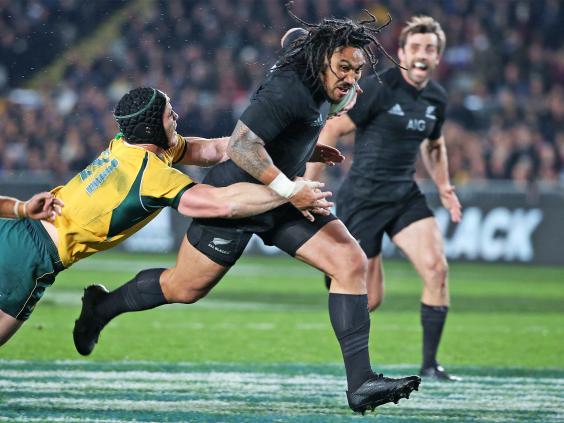 Dan Carter combined imposingly with his fellow midfielder. "I haven't played a lot with Ma'a the last couple of years through my injuries and that, but we've played pretty much our entire careers together, and know each other so well," Carter said. "So I'm really proud of my good mate Ma'a, the way he played tonight."
Nonu hated being on the sideline for the Sydney loss. "Sydney would have hurt him. For him to come back tonight and have a performance like that..." Carter added.
Nonu has not just come back from one match on the bench, though. He has also had to battle back from injury. Last September he shattered a forearm tackling the Springbok captain, Jean de Villiers. "Breaking my arm like that was surprising," he says, "I thought that would never happen. I couldn't play for the next six months. In that time I did get a lot of things done. I rethought and reshaped the way I'd play this year. I had a good break, but I was always still thinking about rugby at the same time."
Despite needing an immediate operation at Wellington Hospital for the broken arm, Nonu made sure De Villiers got his black jersey after the game. He enjoys being friends with the opposition after fierce battles. "It's the best thing about rugby, man. You gotta remember when the whistle blows, the game's finished."
Nonu's performance last weekend was startling but he does not want to listen to me enthuse about his long list of on-field feats, like the 2011 Rugby World Cup, or "Shoeless in Soweto", the All-Blacks' 2010 season-defining line-break that saw him bust through the Springbok captain, John Smit, sprint solid yards on a solitary boot, and set up the winning try. It's a team game, he emphasises.
"We have a great side and we have great players  all around the board, 1 to 23. The magic happens when everyone plays together  and has that commitment to each other."
Nonu is pleased Umaga, a mentor when he burst on to the scene in 2003, is complimentary about his progress. "Tana set the standards for the Hurricanes and the All Blacks." Now Nonu is an All Blacks' leader, dispensing advice to exciting youngsters like shimmying wing Nehe Milner-Skudder. "Oh man, I'm still young. C'mon, mate!" he joshes before getting serious. "Time flies. There's a lot of pressure being a young, up-and-coming player. You're young and fresh and people pump you up. But you still have to learn because you haven't really developed."
But can experience teach Nonu how to keep his mental edge under pressure? And there is no bigger pressure than that on an All Black heading into a World Cup. "You're in control of your own mind," he says, "you're in control of what you wanna think, and how you're thinking. They [the All Blacks' coaches and mental skills tutors] teach you good ways and strategies of how to handle pressure. But you're the only one that knows how to handle it. You're the one that has to get in the car and drive. Someone can't tell you: 'OK, when you're feeling this pressure, do this, do that,' because he's not in your mind."
Nonu is serious but he also likes a joke. As his fellow centre Conrad Smith says: "We All Blacks get asked who enjoys a laugh and he'd always be one of the first guys named." His taste in comedy reveals an English connection. "I try and stick to the borderline," he says. "You know what I mean, when there's humour and then you stretch it too far? British comedy's the funniest to me, the way they incorporate life in terms of taking the piss out of each other. I watch a lot of Live at the Apollo and Graham Norton. I always record his shows. He's so funny and the people on his couch are never boring. These people are superstars, movie stars and singers; there are moments when he gets them, and you're like 'Oh!' He must do a lot of research."
Nonu also likes connecting on social media – his Twitter handle is @maavellous – but he emphasises that it's not a priority. "Because I'm playing rugby and I want to be really good at rugby. I want to be performing. I like doing my talking on the field. Twitter can be good to connect with people, but it can also create bad habits. I don't want to be seen with a device in my hand."
There isn't a big story to his eye-catching tattoos, he says. "I got my tattoos at a time where tattoos were really in. It's like, 'Everyone's getting ink. Oh, OK I'm gonna get some too.' I don't have a magical story about my patterns, but I think tattoos remind you of where you were in life. I got them at a time where, I would say, setbacks happened."
For after the defence of New Zealand's Rugby World Cup, he has signed a very lucrative two-year contract with Toulon. "Nonu is a great centre with a good mouth on him and it's something we like at Toulon," said the Toulon president, Mourad Boudjellal, announcing the deal. Is Boudjellal referring to Nonu's humour? "I hope so!" Nonu says. "Those are some nice words there from the Toulon boss."
But first for the serious business of defending that World Cup.
Reuse content