There was always an unnerving whiff of impending doom in the air when England took on New Zealand at Carisbrook, the tumbledown stadium renowned across the rugby-playing landscape as the "house of pain".
 But Carisbrook is no more – Test matches in this far-flung outpost of the union game are now staged at a cutting-edge, all-seater venue where spectators bask under a greenhouse roof – and we will know by lunchtime today whether the All Blacks' aura of invincibility has also been bulldozed into oblivion.
Stuart Lancaster's tourists have a realistic shot at winning here and taking this series to a decider in Hamilton next weekend. If it is something less than a golden opportunity – such things are practically unheard of in these parts – it is something more than a puncher's chance.
That much was clear the moment the locals reacted to last Saturday's events at Eden Park in Auckland, where the world champions sneaked home with a try at the death, by vilifying England for their style of play.
Heaven knows, the New Zealand rugby public have had things to say about England before, but more often than not the overriding sentiment has been one of mockery. Only in 2003, when Clive Woodward's side somehow eked out a victory in Wellington after losing two key forwards to the sin bin simultaneously, did the tone betray a hint of silver-ferned inferiority. Those red-rose players were christened "white orcs on steroids" – the point being that they had won through force rather than footballing ability, through muscle rather than magic.
This week, England have been lambasted for playing a "slow" game cynically designed to prevent the All Blacks playing a 15-man form of the "beautiful game" with rhythm and tempo and panache – a similarly telling indication of home-town nervousness. Leaving aside the ridiculous notion that incoming sides should show proper respect by sitting back and watching while the world champions play the style of union that suits them best, unimpeded and uninterrupted by lesser mortals, the accusation is deeply questionable in fact. As Joe Marler, the England prop, mentioned during the week: "I didn't see too many All Blacks running past us to get to the scrums and line-outs."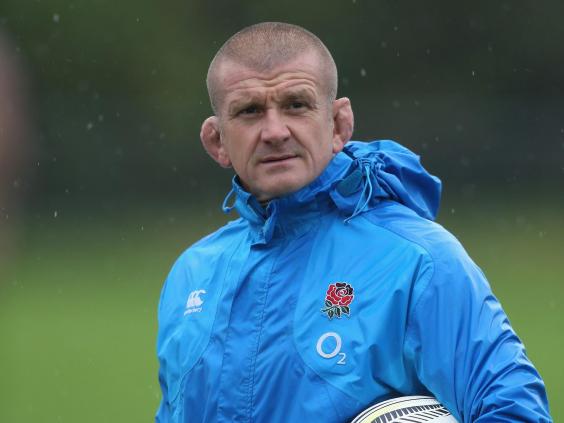 Graham Rowntree, who found himself on the wrong end of a comprehensive spanking in this city back in 1998, reinforced Marler's point yesterday. "I've been a little alarmed by this idea that we want to slow down the game," said the England forwards coach. "We have some real potential in the backs, a dynamic pack and we want to play quick rugby. There is a real desire in our squad to play a challenging game because we're a lot fitter than we've ever been."
England believe they are going through a development spurt – that since the first of the Twickenham internationals before Christmas, when they beat an Australian side much more potent than people imagined at the time, they have evolved faster than at any point since the early years of the last decade. If they could just find a way to win a really tight game against a southern hemisphere superpower, the team would take another great leap forward.
And who better to beat than an All Black side undefeated since their visit to Twickenham some 18 months ago?
It is far easier said than done, of course. New Zealand teams always respond positively to negativity, frequently attacking opponents in the areas they consider themselves strongest. Hence the threat to England's smooth-as-silk line-out operation, which did not miss so much as a single beat at Eden Park seven days ago, thanks to the intelligent management skills of the Leicester lock Geoff Parling and the excellent throwing of Rob Webber, the new hooker from Bath.
Back in 1993, when the British & Irish Lions toured this country, the All Blacks struggled for primary possession in the second Test in Wellington and lost heavily as a consequence. A week later, after hours of work on the training field – the New Zealand management asked that grisly old bruiser of a second-row forward, Andy Haden, to run some line-out tutorials – they came up with something much better in that crucial department and duly wrapped up the series.
Parling, back in the big time after operations on both shoulders, understands the danger a pumped-up All Black pack poses to him today, although he has dealt with worse problems. When he was asked about the dark times during his long injury lay-off, his response was entertaining.
"When I was in hospital I had both my arms in slings, I was wearing my little paper pants and when I needed a wee in the middle of the night, the nurse had to help me get up and take me to the toilet," he recalled. "Because I was woozy from the anaesthetic, I fell over. So there I was, lying in those pants, unable to pull the emergency cord, shouting 'Help' for 10 minutes…  and all the while thinking: 'Well, this is a bit different from playing with the Lions in Australia'."
Whisper it quietly, but generations of England rugby players have felt every bit as pathetically vulnerable during visits to this country. These tourists are different, it seems, but we will not know for sure unless they show the best of themselves today. It is a big, big moment.
Michael Paterson, the uncapped lock from Sale, joined the England squad yesterday as second-row cover for Ed Slater of Leicester and Dave Attwood of Bath ahead of Tuesday's game with the Crusaders in Christchurch – the city of his birth. The 29-year-old forward was one of the leading performers in last season's Premiership and qualifies for red-rose activity through his late English grandfather. He was in New Zealand for a family visit when he received the summons from Lancaster, the head coach.
It's a big game for...
Manu Tuilagi
One position out does not sound like a big deal. But England ask a lot of their wings, especially in defence, so the human bowling ball will have to be fully tuned in.
Ben Morgan
The No 8's performance at Eden Park last week was everything it could have been and a carbon copy today will allow him to reclaim senior status from Billy Vunipola, his chief rival.
Richie McCaw
Is the great All Black captain really on the downward slope? There are some in New Zealand who think so, but this much is certain: he will not go quietly.
Reuse content