A flying start against the Flying Fijians? That would be nice. England have developed a healthy habit of hitting their opponents hard and early in international matches at Twickenham – they were out of the blocks like a laxative-charged Usain Bolt in the Six Nations finale against France back in March and had decent starts in each of their recent World Cup warm-up matches on home soil – so in theory, they are perfectly placed to cut off the South Seas uprising at source when the serious stuff begins on Friday night.
Theory is not all it's cracked up to be, however. Ben Youngs, the Leicester scrum-half who had barely stopped singing the anthem when he slipped an opening try past Les Bleus in that bamboozling championship game six months ago, knows full well that the psychology surrounding this week's global curtain-raiser is radically different to anything he has previously encountered in an England shirt.
"You have to put teams to bed early if you can," he said following the umpteenth day of highly focused, precisely targeted preparation at the red-rose base in Surrey. "If we get three opportunities straight away against a team like Fiji, we have to take them. They're not the sort of side you want to see still in the game at half-time or after an hour, because they have this ability to score from anywhere. We have to make sure we don't feed their belief by keeping them in the match.
"But this is a game that will need managing, in both the rugby sense and the emotional one, especially in the first 20 minutes. If we're loose or scrappy and give them the ball, they'll be so dangerous. Let's use our set-piece game against them, because that's probably something they won't want to happen. If it means turning to our scrum and our maul and keeping it tight – if that's what it takes to get us over the line in a match we have to win – then we'll do it all game.

"When you play Fiji or Samoa, you sometimes fall into the trap of trying to do the same things as them. The problem? You don't do those things as well as they do them. We need to stick to the way we play. It's about making the right decisions."
On his good days – and there have been more good ones than bad in recent months – Youngs offers significantly more than any of his rivals for the No 9 shirt. He may not be as quick as Danny Care of Harlequins, or as punishingly accurate with his tactical kicking as Richard Wigglesworth of Saracens, but four years on from his first, unpleasantly sour taste of World Cup rugby in All Black country, he has shown sufficient improvements, attitudinal as well as technical, to establish himself as the senior hand.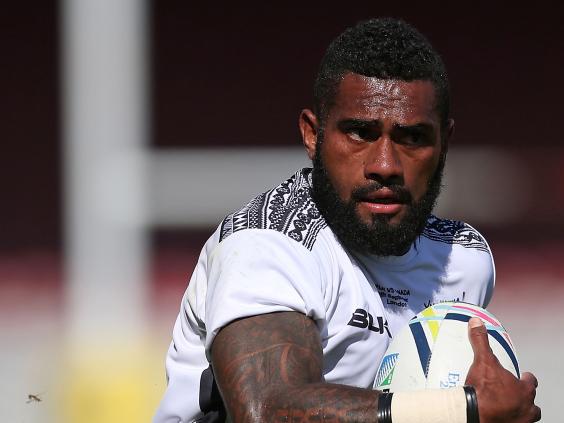 He will need every last drop of this game development to cope with the demands of the coming weeks. His direct opponent on Friday night is likely to be the Bath-bound Niko Matawalu – a maverick sort who brings such zest to the Fiji team that he could turn out to be one of the half-backs of the tournament. When Wales come to town, Youngs may well find himself renewing a tough British and Irish Lions rivalry with the pugilistic Mike Phillips. On Wallaby day, there could be another throwback to that Lions tour of Australia in 2013, in the shape of highly accomplished Will Genia.
Happily for those England followers who endured the abject misery of the 2011 tournament, or watched the national team attempt to pick a route through the 2007 competition with scrum-halves who were either past their best or never quite good enough in the first place, Youngs is looking towards the forthcoming challenges with a calmness bordering one the serene.
"There is an element of extra excitement amongst the squad now that we're close to the start of things," he said. "We've all known about this since the beginning of last season, but now that we've played our club rugby and had our break and gone through the long wait in camp, the feeling of 'it's upon us' is definitely there. We're all ready to get amongst it. But it's different to four years ago: I can really appreciate it this time round. Back in 2011, I was young and in the moment. Now, I understand what a privilege it is to be part of a World Cup."
That feeling of privilege will not survive the week if things go wrong against the men from the South Seas – a fact of which Youngs is all too aware. For this reason, among others, he does not feel there are any lessons to be drawn or reference points to be taken from the last Twickenham meeting between the two nations, a year or so after the World Cup shambles down Auckland way.
England scored seven tries that day in winning 54-12: Matawalu claimed one of the islanders' consolation touchdowns while Youngs was slumming it on the bench, having been beaten to the starting place by Care. "It was a lot different back then," he commented. "They'd been together just a week before they played us and in that time they had to cover off defence, attack, their kicking game. This time, they're coming off the back of the Pacific Nations Cup, they're better prepared and organised, they have structures in place.
"I play with Niki Goneva [the free-spirited centre-cum-wing from Lautoka who has made a considerable impact at Welford Road since his arrival three years ago] and I know from speaking to him how much it will mean to Fiji, playing at Twickenham on a special occasion like this. They don't want to make up the numbers. They want to cause problems and make everyone fight for everything. We've filtered that message into our group and we'll show them ultimate respect. Some of the best players in the world are Fijian."
Reuse content