The scrutiny of the rugby union world will be fixed obsessively on Sam Burgess this weekend, but the pressures on him will be nothing compared with some of the traumas he has already overcome.
For some going about their rugby business in Bradford, the main issue might not be how the Bulls fare against Halifax as they try to move a step closer to a return to Super League, but how one of their old boys acquits himself on his most demanding assignment yet in the 15-a-side code, when he starts against Wales at inside centre, a position he has hardly played in a game he hardly knows.
Most of the rugby union media seem to be waiting for him to fail. Be ready for a rousing chorus of "We Told You So" alongside "Swing Low".
The coach who first signed him and made him a professional rugby player, however, has no trace of a doubt that Burgess will survive and thrive under that spotlight. "The ra-ras have got their knives sharpened for him," says Brian Noble. "I think they're going to be very disappointed."
Noble, a former Great Britain as well as a former Bulls coach, claims little credit for identifying and signing Burgess. "It wasn't exactly rocket science," he says. "When you see someone of that size, at that age, with that ability, it's a bit of a no-brainer.
"We went to see him play for his junior club, Dewsbury Moor, and made him a very big offer. We had to; everyone else was after him, because he was so obviously outstanding."
There was another sense in which the teenage Burgess stood out.
His father, Mark, who had also been a professional league player – although not in Sam's class – was terminally ill. Much of the care he needed came from Sam, the second of four brothers.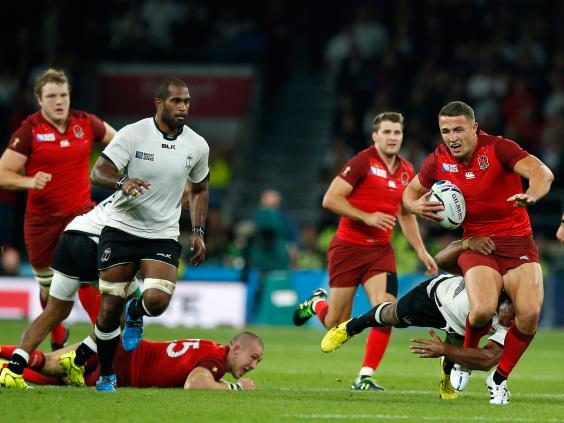 "I don't know whether it toughened him up, but it was certainly a life experience that most of us don't have," says Noble. "I don't think people quite realise just how much he had on his plate, with all that and starting out as an elite athlete. He had to grow up pretty quick, although I must say that he never lost his sense of fun."
What wasn't as much fun for opposing teams was trying to stop him.
"He had everything," Noble says. "Good hands, good feet, athleticism, size."
Still in his teens, Burgess was the best forward in Super League. He was also displaying the sort of adaptability that might be needed tonight, equally capable of playing down the middle as a prop or causing havoc out wide as a loose forward.
He is unique among modern forwards in that he can play a pure power game or mix it up with surprisingly delicate offloads. League opponents were never quite sure what to expect from him in attack. They knew what was coming when he defended, however – driving tackles into the body that made their teeth rattle; and he would willingly do it for the full 80 minutes, if required to do so.
All that brought him to the attention of the Australian club South Sydney Rabbitohs, where signing him was very much the personal project of the owner, Russell Crowe. Burgess himself got the film-star treatment in Australia, as the glitter rubbed off on him, without it appearing to go to his head.
His three brothers followed him into the Souths team and two of them, the twins Tom and George, into the England side. One of the iconic images of his time in Australia was his mum, Julie, watching the four of them playing together for the Bunnies for the first time. What Sam will never be forgotten for in Sydney, though, is leading the Rabbitohs to their first title since 1971, playing almost all of the Grand Final knowing he had fractured his cheekbone and eye socket. It was a stunning example of the almost reckless physical courage that inspires others around him.
There are other factors involved in both cases, but there is no dodging that both Bradford and Souths went into an observable decline after he left. Coincidence does not adequately explain it.
"He's still an absolute hero over there," says Noble of his stature in Australia – and he has no doubts about Burgess's ability to become a hero in another code.
"There'll be pressure, but he's never yet failed to cope with pressure. He's done well whenever he's come on.
"He's green, but he immediately gives England that physicality in midfield to match the likes of Jamie Roberts. I'm pretty confident it's not going to be a match won on technicalities."
Besides, it seems to some looking in from across the great rugby divide that a degree of freshness, bordering on naivety, might not be entirely a bad thing, if it frees him from the constraints under which others in that position, to rugby league eyes, seem to operate.
Put another way, Burgess, only 20-odd games into his union career with Bath, does not yet know that you are not supposed to be able to run right through people.
"I've heard people say that he needs more experience, but the World Cup only comes around every four years and you want your best players out there," says Noble, whose distinguished league CV also includes a significant amount of consultancy work with rugby union teams.
"It's a brave decision for Stuart Lancaster to pick Sam, but it's the right decision. It's a brave decision to pick Owen Farrell, but that's the right decision too. England need Sam Burgess."
The prevailing attitude towards Burgess among rugby league supporters is that he is "one of our own" on loan to the opposition, although there is continued perplexity over his profile now being so much higher than it was when he was expected to do so much more in the 80 minutes.
Rugby World Cup 2015 team of the weekend - round one
Rugby World Cup 2015 team of the weekend - round one
1/16 15. Ayumu Goromaru (Japan)

The unflappable full-back would have been delighted with a 24 point haul against South Africa alone, but to lead the Cherry Blossoms to a first ever victory over the Springboks in stunning circumstances will have been beyond his wildest expectations. Goromaru scored a try himself, added five penalties and two conversions and looked a constant danger with the ball on a historical day for rugby union.

Getty Images

2/16 14. Noa Nakaitaci (France)

Nakaitaci may not have got himself on the scoresheet – dropping the ball in the act of grounding it – but he was a thorn in the Italian's side all night at Twickenham. It was his break down the left wing, with the ball in one hand, that set-up Rabor Slimani's try and he also made strong gains in the first half.

Getty Images

3/16 13. Cory Allen (Wales)

Uruguay may have fallen apart after a strong start, but that should not take any gloss off Allen's rapid-fire hat-trick in the first half at the Millennium stadium gave the Welsh fans plenty to cheer. With the No 13 shirt far from secure under Scott Williams, Allen did himself a world of good to force his way into the starting XV for the bigger games with Australia and England, but that will also depend on the severity of the injury he picked up that forced him off during the second half.

Getty Images

4/16 12. Harumichi Tatekawa (Japan)

Tatekawa may not have been as prevalent as Goromaru and scrum-half Fumiani Tanaka, but the inside centre made the second most metres of anyone on his side and did his fair share of the work. His carrying helped the Japanese's cause supremely as he constantly passed the gainline, and he also chipped in defensively in a bid to stop the Springboks' captain jean de Villiers.

Getty Images

5/16 11. Nemani Nadolo (Fiji)

Fiji may have come off the Twickenham pitch second best in Friday's curtain-raiser, but Nadolo lived up to his billing as the Pacific Islander's most potent weapon. The Crusaders wing announced his arrival at the World Cup by leaping above Anthony Watson to score their one and only try, and added the rest of their points with his giant boot.

Getty Images

6/16 10. Frederik Michalak (France)

The veteran fly-half was on the money throughout the 32-10 victory over Italy, with his passing bordering on the sublime and his kicking from hand limited to when it was truly needed as the French looked to play running rugby. He landed all of his penalty efforts bar two that couldn't have been closer – they both hit the upright – but it was with the ball in hand that he excelled.

Getty Images

7/16 9. Fumiaki Tanaka (Japan)

It had to take a huge effort from any player to beat Goromaru to the man-of-the-match award, but Tanaka fully deserved it. The scrum-half was simply brilliant in linking the pack with the back line, and he was always on hand to move the ball on when Japan were under pressure.

Getty Images

8/16 1. Marcos Ayerza (Argentina)

Very unlucky to be on the losing side after such a strong performance. Rarely in this day and age does a front-row play the full 80 minutes, and it's even rarer that it comes against the All Blacks. Ayerza was so dominant in the scrum though that he saw off the challenge of Tony Woodcock inside 46 minutes, and his replacement Wyatt Crockett didn't far too much better. Out on his feet come the full-time whistle, the loosehead deserves a well earned break.

Getty Images

9/16 2. Ole Avei (Samoa)

Samoa's victory over the United States was based around a dominant set-piece that saw a 100 per cent record in both the scrum and the lineout. Avei will come up against tougher opposition in the weeks to come, but such an astute performance stands him in good stead to take them on.

Getty Images

10/16 3. Rabor Slimani (France)

Slimani made mincemeat of Italian prop Matias Aguero in the scrum and he was a formidable force in the loose too. When France were beginning to grow in frustration at failing to cross the whitewash, it was Slimani who was in position to gather Michalak's chip through and crash over and he received a rapturous send-off when he was replaced late on.

Getty Images

11/16 4. Iain Henderson (Ireland)

The Irish prop was never a guarantee to start in Ireland's strongest side, but he looks to be a shoe-in following the weekend trouncing of Canada. The lock scored a try himself and was supreme in the air, unmatchable in defence and contributed immensely with the ball in hand. He led the way with 19 tackles, two turnovers, four offloads didn't lose a lineout. The star of the weekend.

Getty Images

12/16 5. Brodie Retallick (New Zealand)

When New Zealand struggled, Retallick stepped up as he has done so time and time again. The lock ran hard in the first half and while he met a stubborn Argentine defence, it took a huge toll on the Pumas that eventually led to their weakening in the second half when the All Blacks could push on. He also demonstrated his lovely passing ability rarely seen for such a giant forward.

Getty Images

13/16 6. Tom Wood (England)

Few stood out for England in their opening victory over Fiji, but along with Mike Brown, Wood was one of those that deserves recognition. The flanker gave England an extra option in the air and was on the shoulder of replacement Sam Burgess to take one of his offloads and surge behind the Fijian line. He was also a huge presence in the England defence – even if that did result in him conceding a penalty for tossing an opponent to the floor by the neck.

Getty Images

14/16 7. Michael Leitch (Japan)

The Japanese captain led from the front with an unrivalled 17 tackles against the Springboks, and he also did the hard work with the ball in hand with 12 carries for success. Japan coach Eddie Jones promised that Japan meant business at the World Cup, but in Leitch he has a skipper that is ready to deliver on those words.

Getty Images

15/16 8. Mamuka Gorgodze (Georgia)

The Georgian giant led from the front to give his nation the first of what they hope will be two victories at a World Cup for the very first time. Gorgodze scored the first try for Georgia and made an astonishing 24 tackles – more than any other player in the first eight matches of the World Cup.

Getty Images

16/16 Best replacement: Sonny Bill Williams (New Zealand)

Cross-coder Williams came on to give the All Blacks some penetration as he repeatedly broke the gainline before pulling off one of his trademark offloads. Williams put Nehe Milner-Skudder in for a try, only to see the wing butcher it, and he must in the frame to start their next match against the unfancied Namibians.
Rumours have been rife that he will be back at South Sydney after the World Cup. Those rumours have been vehemently denied, just as they were when he left Bradford, Souths... and probably Dewsbury Moor as well. That is the nature of the business these days.
Noble will be watching his former charge tonight from his sofa in Bradford, but he does not believe for a moment that he has seen the last of him in a league jersey.
"I think he'll go back to South Sydney. In fact, it wouldn't surprise me if he switched to league and switched back again," he says.
"If he has a role model, it would be Sonny Bill Williams, who has already shown that you can build a career like that, picking and choosing what you want to do."
For that cherry-picking strategy – which is rumoured also to include the sevens at the next Olympics – to work, Burgess needs to be in demand from both codes and both sides of the world.
If anyone can achieve that, his old mentor Noble believes, Sam can.
Reuse content