Billy Vunipola's close-range touchdown against Fiji a week ago – the last act of the game, deep in overtime – could make the world of difference to the host nation's World Cup hopes and dreams. Not that he realised it at the time. England's outhouse-sized No 8 was blissfully unaware of the four-try bonus-point system in operation at this tournament, which may or may not indicate that he falls asleep during team talks.
"I probably shouldn't have mentioned that," he said yesterday. "I just thought we needed to score as many points as we could, so when someone said there was a bonus, I said: 'Oh really?' That's all it was, but now people are writing that I didn't know what was going on." Which he didn't, on his own admission.
The question arising from all this is: who cares? Vunipola's grasp of regulatory detail is nowhere near as important as his form, for if England are to go close to winning this thing, they need their biggest, most rumbustious force of nature to be at the peak of his powers.
The last time he started a Test match, against France in Paris last month, his work was nowhere near at the optimum level. A week ago, when he came off the bench against the South Sea islanders, he played the kind of rugby people cross continents to watch.
All of which sets up tomorrow's long-awaited meeting with Wales rather nicely, for Vunipola's opposite number will be another No 8 of Tongan ancestry: Toby Faletau, his cousin.
The two of them grew up together in Wales, where Fe'ao and Kuli, their respective fathers, were turning out for various first-class clubs. Needless to say, the second Vunipola in the England squad, Billy's elder brother Mako, was an equally enthusiastic participant in the back garden rough-and-tumbles that formed part of the youngsters' rugby education.
"It was always Toby and Mako against me and Toby's brother Josh," he recalled. "It would always break into a fight, which Toby would usually win. He always used to beat me up – it wasn't the other way round. We always used to win the rugby, though."
Assuming there will be a resumption of familial hostilities at Twickenham, will it automatically turn out the same way? Vunipola wasn't playing ball, so to speak. "There won't be much in it as far as the opposite number thing is concerned," he said. "The flow of the game means you don't get to target an individual opponent. Toby is a good player, though, in the style of Kieran Read [the All Black forward]. He's very quick, great over the ball, good in the line-out and with ball in hand. Me? I'm more of a fourth front-rower."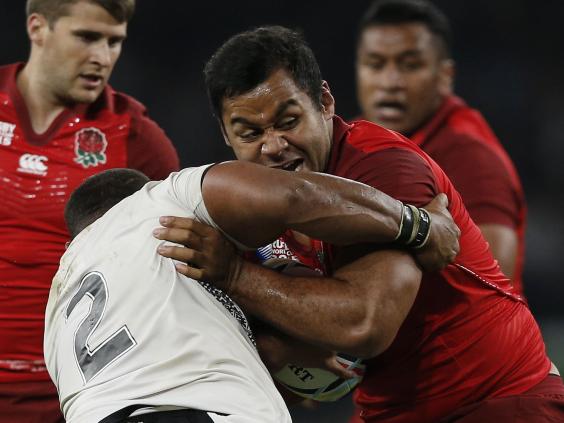 He was being too modest by half, even though there must be dozens of set-piece coaches who would give their eye teeth to see someone constructed on Vunipola's scale – 6ft 2in, the best part of 21 stone – anchoring their scrums at tight head. As far as the England head coach, Stuart Lancaster, is concerned, the Saracens player is a man for the open prairies rather than the darkened recesses.
Just so long as he doesn't try too hard. When things are going wrong for England, as they did in Paris, his desperation to put the world to rights through his own efforts can backfire spectacularly.
"I've haven't been told to rein things in, exactly – just to stick to the system," he said. "There have been times when I've tried to take it on myself to help the team and it's had the opposite effect. It's a fine balance, but I'm learning."
Reuse content