The Australians have arrived in London with an agenda longer than Israel Folau's stride and enough points of potential conflict to make strong men go weak at the knees. Gender politics, the tyranny of social media, the handling of dressing-room miscreants, the breaking-in of a new coaching team hastily thrown together amid the sulphurous stench of scandal, the perennial challenge of picking the best team when many of the best players are performing offshore... with all this going on, the small matter of next year's World Cup comes under "any other business".
Kurtley Beale, the wayward back-line virtuoso at the heart of a tawdry affair that left the former team business manager Di Patston sufficiently distraught to contemplate suicide and brought Ewen McKenzie's tour of duty as head coach to a premature end, is back home in Sydney, figuring out the best way to pay a A$45,000 fine while attempting to recapture some of the physical fitness lost over the course of these last few weeks of internal upheaval.
No stranger to Australian rugby's disciplinary machinery, he was punished after texting Patston a picture of a naked, obese woman labelled "Di", having mistaken her phone number for that of a team-mate. Those investigating the matter failed to establish that he was the source of a second offensive message – further enquiries are being made – but the fallout has already been bad enough, with rumours flying in all directions. Before he quit, McKenzie found himself having to deny suggestions that he and Patston were romantically involved.
"If it was one image, or two, or 20, what does it matter?" Patston said in Australia on Monday. "They were both of very obese women and very derogatory. I am overweight... I have an ongoing illness and I'm on medication. There's a whole story behind it. I actually sat at a table and cried for an eternity because... I'm so embarrassed by this. Is this what people think of me? I'm not good. Life is probably the worst it has ever been. I'm alive, but there have been times I haven't wanted to be here."
In Beale's absence, his Wallaby colleagues think the best way forward is not to look back. But that is the way of it in Australian rugby right now: while it is difficult to imagine some of the alpha-male Wallabies of old wrestling with the deep philosophical question of a woman's place in their sport – or, indeed, a deep philosophical question of any description – their successors are in a different place. Ask the scrum-half Nick Phipps, who faced hostile questioning when he appeared in public on Monday.
"I'd be lying if I said this hasn't been a distraction," said the 25-year-old Sydneysider, whose performances have been sufficiently accomplished to make Will Genia's return to the starting line-up a good way short of a formality. "With something new popping up on Twitter every day... look, I can't find the words to sum it all up, so let's just say it's been interesting.
"We'd all like to think it's behind us: we've just had a red-hot crack at the All Blacks and lost to the last kick of the game, yet everyone talks about Kurtley. I know there are a lot of supporters out there who are pretty unhappy at what's gone on, but time heals. Kurtley would be the first to say he made a mistake, that what happened wasn't right in any way. But we're all about second chances, aren't we? I'd like to see Kurtley back – it would be good for the group and good for him – and as he's had a fair hearing as part of a fair process, I hope it happens."
At which point, Phipps was asked about his own attitude towards women in the workplace. "It surprises me when gender is brought up in this way because it's not an issue as far as I'm concerned," he said. "My mum and my sister would kick me in the rear end if they thought I saw it any differently. If a person is good enough to do the job, I'm more than happy for whoever it is to be there." On this evidence, he will not put a foot wrong if he starts against England at the back end of next month.
That fascinating game between two sides drawn in the same World Cup pool will mark the Wallabies' second visit to Twickenham on this trip, the first being a handy shakedown against the Barbarians this coming weekend. Michael Cheika, appointed last week as McKenzie's successor, has the kind of highly developed rugby intellect to maximise the team's challenge for a third global title, but time is not his friend. Under these unprecedented circumstances, nobody should be surprised at his decision to stick with what he knows by installing an existing ally, Nathan Grey, as assistant coach.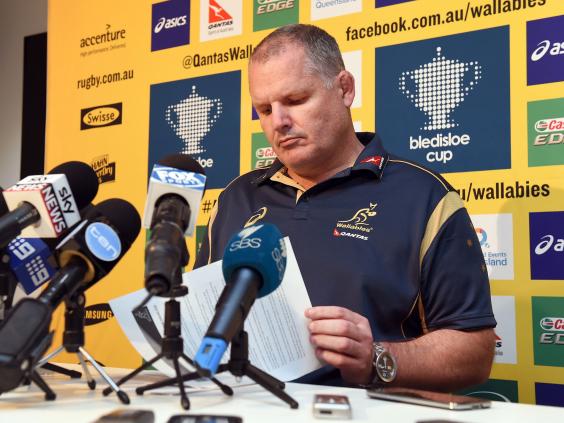 Grey has history up here in the northern hemisphere, largely because of something that happened in the southern hemisphere in 2001, when the British & Irish Lions were fighting out a classic Test series in Australia. A mean-eyed gunslinger of a Wallaby midfielder always in search of the telling shot, he put the England flanker Richard Hill out of the tour with what amounted to a heat-seeking elbow – an incident many good judges considered to be the turning point of the entire adventure.
It was amusing, therefore, to hear the poor petal confess to being "a little nervous" when Cheika offered him this latest role, even though the two had been working together with the Super 15-winning New South Wales Waratahs. But then, his boss does have a reputation for what might be called non-sufferance on the fool front.
"You know what you get with Michael – you know where you stand," Grey said. "If you want him to change his opinion, you have to come up with a pretty good argument. I admire his honesty and his integrity, and I know that he doesn't worry about reputation. What he worries about is preparation, about providing the environment and the strategy that enables him to extract the best from his players, that allows them to express their talents. We'll be changing a few things, but we'll also maintain the positive aspects of what the team has been doing over the last 18 months – and there's been a lot of that. I see it as our job to polish the rock."
Judging by their performance against the All Blacks in Brisbane 10 days ago, the Wallabies have the pace, dynamism and footballing ability to hurt England this autumn – and again when it really matters, next September. They could hurt them even more if the likes of Matt Giteau, James O'Connor, Sitaleki Timani and Ben Mowen become available to them, but as things stand, these highly gifted individuals will not be picked while under contract to clubs in France. Will the policy change? "That's a conversation for Michael and Bill Pulver [the Australian Rugby Union chief executive]," Grey commented, cagily.
For the time being, Wallaby rugby must dust itself down without the aid of the foreign legion. Only a fool would bet against them completing the process successfully, however challenging it may prove. "It's been a tough time," Phipps said, "but we'll stay tight to the goal and I think this tour is the perfect opportunity for us to lock things down as a group. It already feels a bit lighter with Michael here: we've just had our first meeting with him and he cracked a few funnies."
Laughter in the darkness it may be, but a smile is generally better than the alternative – especially when you have been to hell and back.
Reuse content