Not so long ago, the most emotionally charged fixture in Six Nations rugby was widely characterised as a contest between the Welsh backs, with all their skills and instincts, and the English forwards, with all their poundage and power. Now, it's a case of Welsh men against English boys.
Warren Gatland, the coach who has played such a blinder in restoring Red Dragon fortunes to something like the level of the 1970s, made this point in the run-up to tomorrow's set-to at Twickenham, and just for once he was not being entirely mischievous.
Gatland has a dozen Test Lions in his starting line-up, and 11 players with 30 caps or more – many, many more in a number of cases. By comparison with the international greybeards from the far side of the Severn, England are mere babes in swaddling clothes.
Owen Farrell, the splendidly belligerent outside-half, is the only man-child among them who knows what it is to play in a Lions game that really matters, while just three players – the scrum-half Danny Care, the hooker Dylan Hartley and the prop David Wilson – have hit 30 appearances. And 24 of Wilson's contributions have been made off the bench, most of them short and sweet.
Does it matter a jot, this oft-told tale of the statistical tape? Let's put it this way: Gatland's opposite number, Stuart Lancaster, has never been heard to dismiss the value of experience and while he spent much of his time yesterday trying to strip this game of its baggage, numerical and otherwise  – "the best team on the day will win on the day," he insisted more than once – he is far too smart a cookie to sucker himself into dismissing the facts on the ground.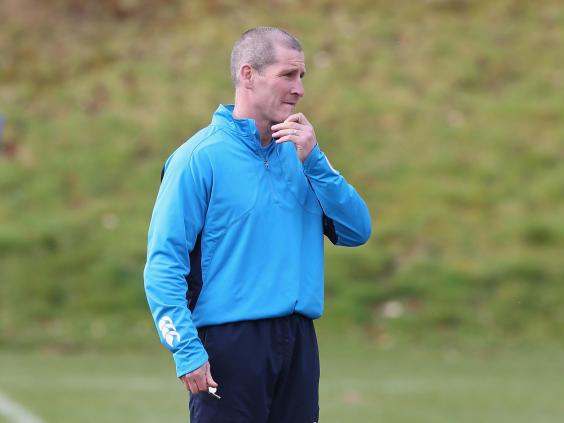 Tomorrow's game has a "rite of passage" feel to it, just as the 2012 Tests in Paris and Johannesburg did, together with last year's championship game in Dublin… and, of course, the subsequent one in Cardiff, the only one that ended in calamity. Wales understand, better than any side in Europe, what it takes to prevail on the big occasion.
Victory for England will earn them a first Triple Crown since their year of years in 2003 and a decent shot at the Six Nations title, together with a welcome advantage in the one-upmanship stakes ahead of the World Cup meeting between the two nations at the same venue 18 months from now. For those involved in last season's car crash of a game at the Millennium Stadium, which ended in a record defeat that shook Lancaster and everyone associated with this England set-set-up – players, coaches, back-up staff, committee men, the Rugby Football Union tea lady – to the very core of their beings, it would also right the most serious of wrongs.
Lancaster was as keen to play down talk of revenge as he was to deflect talk of the visitors' huge advantage in the "been there and done it" department. "Emotions of all kinds play a big part in rugby," he said. "Controlled emotion, especially. Commitment, intensity… they're as important as the game plan. But if you have emotion running out of control, it's not healthy."
In other words, if the England players are serious about leaving last year behind, they should put the "R" word to the backs of their minds – or, preferably, erase it from their minds completely.
You can see his point, for there are quite enough significant challenges specific to this game without complicating matters with talk of payback for the last one. Most pressingly, England need to convince themselves they can prise open a Welsh defence that has not provided them with so much as a chink of light since the World Cup warm-up fixture at Twickenham in the summer of 2011. There have been three whole matches since then.
Back in the day, Wales were the attack-minded team on the side of the angels, pitting their wits – their fancy footwork, their highly-developed passing skills, their understanding of space – against England's mastery of the darker arts, and Welsh rugby folk still routinely dismiss the English as inflexibly process-driven in their approach. Even an observer as acute as Alun Carter, who spent a dozen years working as the Red Dragons' head analyst, has written that "the English mentality probably responds better to a more rigid sense of structure".
This conveniently forgets the great flowering of English attacking rugby in the early Noughties, when they averaged almost 40 points a game against Wales across seven matches. It is equally pertinent to state that under Gatland's stewardship, Wales have become as structured as any international side around, dependent on size and strength rather than quicksilver flashes of inspiration and invention. Alex Cuthbert, George North, Jonathan Davies, Jamie Roberts… these are backs who would not look out of place in a Springbok three-quarter line – or, indeed, a Springbok pack.
As Lancaster chewed the fat over England's prospects after naming a starting line-up showing only one enforced change to the side that did for Ireland a fortnight ago – Ben Morgan in at No 8 for the injured Billy Vunipola – he put forward a strong argument in favour of his own back division. Asked whether Billy Twelvetrees and Luther Burrell had the wherewithal, both physically and mentally, to cope with the Lions combination of Davies and Roberts, reunited for this game after a four-month break, the coach sounded confident enough.
"The Welsh centres are physical, they run good lines, they're abrasive, they're excellent defenders and they make sound decisions," he acknowledged. "We think Billy and Luther offer something similar." Did he expect Twelvetrees to build on his impressively forthright display against the Irish pairing of Gordon D'Arcy and Brian O'Driscoll, who, after all, were hardly a pair of mugs? Despite the criticism that continues to flow in the direction of the Gloucester playmaker from those who would prefer to see someone else – almost anyone else – in the No 12 shirt? "He's not had much criticism from us," replied the coach, sharply.
Whatever happens in midfield, something will have to give. England have played Wales on 124 occasions since the 1881 meeting on Richardson's Field in Blackheath, and the win tally stands at 56 apiece. Geographically speaking, the two nations live together cheek by jowl; rugby-wise, they are all but inseparable. This closeness explains the depth of the rivalry and the frequent occasions when players and coaches have struggled to rise above the bitterness of it. It will be no great surprise if there is nothing to choose between the teams tomorrow. What price the draw?
Key confrontations: Where the match will be won and lost
Chris Robshaw v  Sam Warburton
This breakaway battle between the captains carries enough baggage to sink an ocean-going liner. To lay last year's many and varied disappointments to rest, Robshaw must prevail at the tackle area.
Jack Nowell v  George North
Nowell has taken many steps since breaking into the England side against expectations, but this is a giant leap, as Neil Armstrong might have put it. North presents a mighty physical challenge.
Joe Marler v  Adam Jones
Marler, playing the best rugby of his life, renews acquaintances with a scrummaging master, who has played enough high-level rugby to last a lifetime. A changing of  the guard?
Chris Hewett
Reuse content