England open their Six Nations campaign this evening a few hundred yards away from the Cathedral Basilica of Saint-Denis, which happens to be the royal necropolis of France.
If Stuart Lancaster's men are to avoid being buried six feet under by Wesley Fofana, Maxime Médard and company – a fate that would seriously undermine their title ambitions, if not wreck them completely – two things need to happen: a profoundly immature back division must grow up pretty damned quickly, and Dan Cole will have to stay on the field for as long as humanly possible.
Much has been said and written about the boldness of Lancaster's approach to selection outside the scrum, and rightly so: it is not every day that a side with England's resources go into a game as significant as this with one uncapped player on the right wing, another at outside centre and a left wing with nothing more than a single international appearance behind him. France have a callow look to them too – their half-backs, Jean-Marc Doussain and Jules Plisson, will be operating together for the first time – but their unfamiliar faces are spread across the line-up, not pressure-packed into one area of the team.
Fofana is one of the two or three finest inside centres in the sport and should anything untoward happen to the Parisian-born maestro from Clermont Auvergne, they can replace him with Gaël Fickou of Toulouse, who has the potential to be… you guessed it, one of the two or three finest inside centres in the sport. Outside Fofana will be Mathieu Bastareaud, whose very presence in Les Bleus' 2010 vintage forced England into one of their most far-reachingly stupid selection decisions in living memory.
With the wildly imaginative Médard on one wing, the powerful Yoann Huget on the other and a broken-field runner as potent as Brice Dulin ready to trip the light fantastic from full-back, only a fool or a blind man would question the attacking potential of this French side.
"They've still got it, that's for sure." So said Mike Catt, the England attacking skills coach, who, over the course of a long playing career in the red-rose midfield, ran slap, bang, wallop into more than his fair share of half-decent Tricolore back lines.
"The French have changed in some ways," he added, "they're more professional than they were, they understand the realities of the modern game better than they once did – and the game has changed too, with its massive emphasis on defence and physicality. But they can still do things differently to anyone else. They're an exceptionally dangerous side, a world-class side."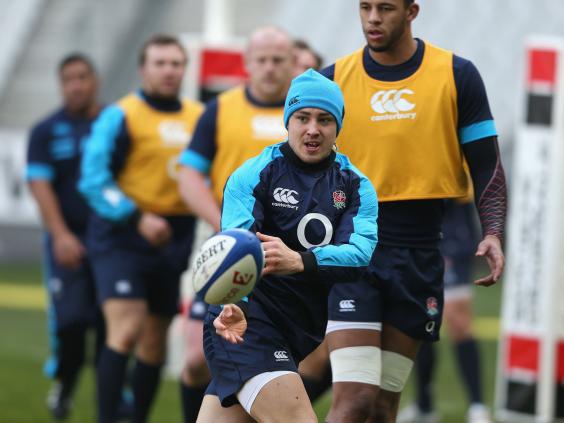 Catt sounded as confident as Lancaster had the previous day in lauding the newcomers in the England side: the Exeter wing Jack Nowell, the Gloucester wing Jonny May and the Northampton centre Luther Burrell, who, he believes, will cope perfectly well with the switch from the No 12 role he performs at club level to the No 13 role he must master this evening. "We've got to know them as characters over the time we've been together in camp and we feel they're all ready for this," he said. "We certainly don't see it as taking a gamble. I'm excited about the prospects. Twenty games out from a home World Cup, it's good for these blokes to have an opportunity."
None of the coaching team would admit it for a second, but they cannot be remotely excited at the thought of another fresh face – Henry Thomas of Sale – spending more than a few minutes on the field. Quite the opposite. Thomas, the replacement tight-head prop in the absence of the injured Bath forward David Wilson, has a range of talents. Unfortunately, scrummaging is not foremost amongst them. Should Cole, far and away the leading tight head in England, break down early, the French forwards will immediately pick up the scent of a kill.
For all their perceived advantages in the second row, where Joe Launchbury and Courtney Lawes are performing as well as any partnership in the international game, and their strength in the loose forward department, where Billy Vunipola's introduction at No 8 has raised the bar to heights unconquered since the days of Richard Hill, Neil Back and Lawrence Dallaglio, there will be only one outcome if the front row fails to function. Cole is crucial to England's wellbeing today.
The last time England lost to France in this city, in 2010, neither Cole nor his hooking partner, Dylan Hartley, went the distance. They were substituted at half-time, because the England loose-head prop that day, Tim Payne, failed to hold the powerful Catalan scrummager Nicolas Mas at the set-piece. Overhead camera shots showed Mas driving directly into Hartley and leaving Cole to shoulder the entire burden alone. It was a gruesome sight.
Joe Marler has the raw strength, not to mention the naked aggression, to keep Mas honest this time, and Cole knows what it is to scrummage his direct opponent, the awkwardly squat Clermont Auvergne prop Thomas Domingo, off the park. But while England can absorb injuries to Marler and Hartley – their understudies, Mako Vunipola and Tom Youngs, are not Test Lions for nothing – there is no adequate replacement for the Leicester man. As we speak, Thomas cannot even get himself a start in club rugby.
If the bookmakers have Philippe Saint-André's men as favourites, you can see their point. But the Stade de France venue does not always work for the Tricolores the way it should and provided England avoid serious calamities up front, they have the close-quarter firepower to dictate the terms of the contest. The French line-out will be heavily dependent on the contribution of Alexandre Flanquart, the inexperienced Stade Français lock, and with no Thierry Dusautoir to make dozens of tackles and force turnovers by the cartload with his hugely effective brand of back-row banditry, there is no reason why the England loose trio should not negotiate themselves a profitable return.
It seems neither head coach is completely confident about the way things will pan out. Saint-André indicated earlier this week that he wanted his side to play with both "audacity and combativity", but with the emphasis on the latter. The selection of six forwards on his eight-man bench drove the point home. Lancaster, meanwhile, has taken to using the phrase "we'll see on Saturday" in answer to inquiries about the readiness of Nowell, Burrell and May. If desperation is the key factor, France should win: if Lancaster does not want to finish second, Saint-André cannot afford to do so. But if it comes down to iron will and discipline, England might just about shade it.  
Key confrontations: Where France v England match can be won and lost By Chris Hewett
Thomas Domingo v Dan Cole
These two have some history: Cole first announced himself as an international prop in the making by laying into Domingo in a Heineken Cup match at Welford Road, while the Frenchman saw his rival beat a humiliating retreat from a Six Nations fixture a few months later. One for the scrummaging purist.
Louis Picamoles v Billy Vunipola
Full metal jacket time. Picamoles is freakishly strong on the carry while Vunipola is simply a physical freak. The ability of the No 8s to give their colleagues targets to hit will depend at least partially on events at the set piece, but it will also be worth watching them running from restart kicks.
Wesley Fofana v Billy Twelvetrees
Fofana is a rich talent in the grand tradition of French midfielders – and there is no grander tradition in the sport. Twelvetrees? He brings the vision thing to England's attacking game. If they cancel each other out this afternoon, the Gloucester man will consider it a triumph.