England have not always treated this fixture with the respect it deserves. There have been too many tempting diversions – a visit to Michelangelo's basilica may not feature on every rugger-bugger's to-do list, but a glass of something decent at the foot of the Spanish Steps most certainly does  – and too many airy dismissals of Italy as a major Test-playing nation. If the visitors make the same mistakes this time, their dream of winning a first Six Nations title under the stewardship of Stuart Lancaster will come to nothing.
Happily, accusations of arrogance cannot be thrown at this particular red rose vintage. "I'd be very surprised if we were guilty of a lack of focus," said Andy Farrell, the assistant coach and official stoker of the competitive fires, yesterday. "Games can take their own course through the bounce of the ball and the performance of the opposition, but I'd be shocked if we weren't up for this one every bit as much as we've been up for every other game in this tournament."
Somehow, you just knew he was calling it right. It is not beyond the realms of possibility that England will find it hard-going at Stadio Olimpico this afternoon – "It's their last game as well as ours, it's a sell-out, and everyone wants to end the competition on a high note, so why wouldn't the Italians see this as their biggest game for a long time?" asked Farrell rhetorically – but it is devilishly difficult to imagine them struggling as a result of complacency.
They have many things going for them at the moment, the principal one being a shared sense of application. Together with Lancaster and the rest of the coaching team, Farrell has spent the week emphasising the importance of this game's psychological landscape.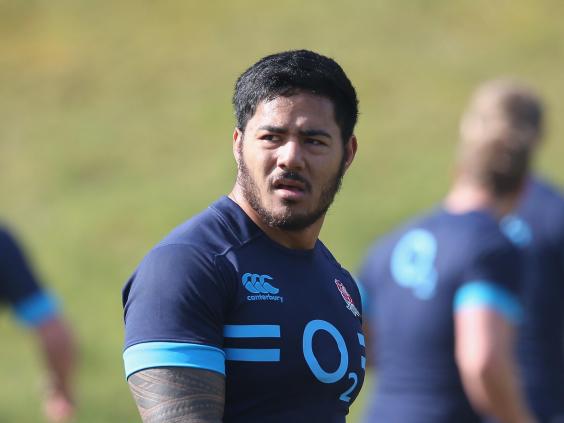 "It's different," he said. "The build-ups to the games against Ireland and Wales were dominated by the question 'Can England do it?', which gave us an advantage in emotional terms. The emotional challenge against Italy is something else entirely, especially after a short turnaround of six days.
"Physically, the players are in as good a place as they've ever been at the end of a tournament," he added. "What we've been working on most is the mental side."
So little has separated England from the Azzurri in recent games here, it seems laughable to suggest that the visitors can win the title without plenty of help from the French – not obviously the people most likely to do them a favour, if the history of cross-Channel rugby rivalry is taken at face value.
Ireland, who play in Paris this evening, are miles ahead on the points differential chart, to the extent that even the narrowest of Irish victories over Les Bleus will leave England needing to beat Italy by a clear half-century. Realistically, only an Irish defeat will suit.
"I think we have a good chance," argued Farrell, optimistically. "The French are at their best when their backs are against the wall – we all know that – and with questions being asked of them this week and people walking out of press conferences as a result…Paris is a dangerous place to play in such circumstances.
"As far as we're concerned, I think we're a far better side than we were 12 months ago, even though we were going for a Grand Slam at that stage. Everyone wants to win some silverware on the way through their careers, but whatever happens in this round of matches, I think that we've laid some very sound foundations."
Over recent campaigns, the Azzurri have shown themselves able to match England up front, scrum for scrum and tackle for tackle. The fact that Martin Castrogiovanni, the most formidable of their tight forwards, will miss today's game through injury has been offset by the return of the wondrous Sergio Parisse at  No 8, and if the Australian-born lock-turned-flanker Josh Furno has anything like the game he had against the Scots last month, they will be a handful up front.
"They're an emotional bunch," Farrell said. "They'll have looked at our performances over the last four or five matches and come to see us as energetic, full-of-beans opponents who like to impose their game. And they'll seek to confront that head-on. What we have to do is break their spirit first and foremost, and then play accordingly."
Part of "playing accordingly" will, it is widely assumed, involve introducing Manu Tuilagi off the bench. The Leicester centre may appear in midfield; more intriguingly, he may be given a run on the wing.
You can understand the coaches' motives in this regard: a threequarter line containing such substantial physical specimens as Billy Twelvetrees, Luther Burrell and the human bowling ball would be quite something, even in this age of the rugby-playing gigantosaurus.
Might Tuilagi be found out in one of the wide positions, though? Might not the defensive complications of coping with an accurate opposition kicking game prove too much for him? Farrell rejected that argument hands down.
"Judging by the way he's trained – and he's in tremendous condition, by the way – Manu is confident on either wing," Farrell insisted. "He has certainly made us feel confident that he knows his stuff, knows how to make the impact that we want to see from him.
"If you're asking whether he's quick enough, I can tell you that over 10 metres he's the fastest in the squad by miles. How many chances does a wing get to run in a try from 100 metres? Not many. He has more chances to prove himself unstoppable from 15 or 20 metres."
The smart money must be on a red-rose victory today – probably a convincing one, forged at least in part in Italy's new-found determination to actually use some of the ball they win at close quarters. The more the Azzurri move it wide, the more England will fancy their chances of turning them over and hitting them on the break.
Will it win them the title? Not on its own. For that, they will need France to come to the party.
Key confrontations: Where the match will be won and lost
Sergio Parisse v Ben Morgan
Neither the All Blacks nor the Springboks would leave Parisse out of their starting line-up, which says everything about the richness of the Azzurri captain's talent. Morgan has his work cut out.
Luke McLean v Mike Brown
These two are not dissimilar in style, although McLean, an exiled Queenslander, is nowhere near as angry a soul as Brown. The broken-field contest should be one to savour.
Leonardo Ghiraldini v Dylan Hartley
Ghiraldini is the most consistent of Italy's tight forwards and often looks like the real deal. Hartley, surely the best hooker in the northern hemisphere, will know he's been in a game.
Chris Hewett
Reuse content