England are a better team than Scotland. Fact. They have more firepower up front and more pace behind the scrum. Fact. They have more stability in their coaching set-up, they can bring more tactical and strategic variety to bear on events and they are blessed with a greater sense of ambition. Fact. Unfortunately for Stuart Lancaster's men, these will not be the only facts of the matter at Murrayfield on Saturday night as they seek to retain the Calcutta Cup with victory on soil that may officially be classed as foreign by the end of the year but has never been anything less in pure rugby terms.
Pretty much anything could happen in this latest episode of the longest-running series in international union – if there is one fixture in which logic takes a day off, this is it – and according to Andy Farrell, the England backs coach, the visitors are expecting the whole range of possibilities. Given the history of the game, why wouldn't they? For example, the visitors know what it is to drive into the stadium aboard their luxury bus and then spend the next God-knows-how-long crawling behind a band of bagpipers hell bent on delaying their arrival at the dressing  room door until just before kick-off.
"I think there's a circus around every game at Test level: there's the goat on the pitch at the Millennium Stadium in Wales; there's the bagpipe band up here," Farrell said. "If you let it wind you up, it becomes a distraction. We have to remember that it's not about the warm-up and it's not about anything happening after the match. What it's about is the 80 minutes – about us being in the right emotional place, just the right side of the edge, and putting together a performance."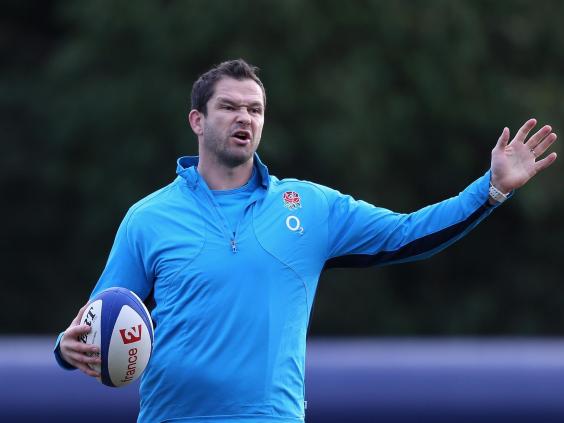 Just about the last thing England needed on the eve of this contest was a distraction of the Sam Burgess variety, but given that their knickers are now in such an unholy twist on the subject of the Sydney-based rugby league player who may or may not switch codes at some indeterminate point in the future, it was bound to happen. Attempts to distance themselves from any suggestion of a move to ease Burgess' path into the 15-man game backfired on the Twickenham hierarchy when it transpired that virtually everyone in red rose authority knew more about the issue than they were initially willing to let on. Hence the inevitable flurry of questions aimed at Farrell, himself a rugby league maestro in a previous life.
He began his response with a flat denial: he was not, he insisted, the man at the heart of the Burgess story. "I can categorically say that I have never been in contact with Sam, any of his representatives or anyone who knows him," he commented with an air of finality. He was,  however, prepared to argue that Burgess could conceivably cut it as a union midfielder. "Sam can make an impact – he's an impact type of guy," he said. "That's what he brings: attitude."
But could he hope to mount any sort of realistic challenge for a place in the red rose squad for next year's home World Cup? "That," Farrell replied, "would be tough. Union is a different mentality, as I found myself, and it takes some time to get used to it."
Back in the here and now, as opposed to the possibly-maybe, Farrell gave full voice to his shock at Scotland's decision to drop their captain, Kelly Brown – a back-row forward with whom he worked at Saracens before taking up his current post. "I have to say first of all that I'm gutted for Kelly," he said. "I know him well, I know what he brings and I'm surprised. I know how he makes a group of players feel – he's a special, special bloke in that regard – and if the Scots are talking about this game turning into trench warfare, Kelly's a man you want with you because he puts his head where it hurts."
There is likely to be a good deal of hurting going on, for the Scots are never more physical than when they catch sight of a white shirt. Dylan Hartley, the England hooker, suggested earlier this week that Jim Hamilton, the biggest member of the home pack by a distance, has a touch of something lively about him, which may have been a little rich coming from a player as combustible as Hartley, but had a strong whiff of truth about it. In the same way, few will die of shock if Brown's successor in the breakaway position, Chris Fusaro, and a second Glasgow flanker in Ryan Wilson make it their business to ruffle the feathers of the younger Farrell in the red rose set-up, Andy's son Owen.
Farrell Jnr is in many ways the key figure. When England lose at Murrayfield, a fate that has befallen them more often than they care to remember, it is generally because they allow themselves to be caught up in the claustrophobia of the occasion. If Farrell can keep a clear head – something of which he is patently capable, despite the competitive fire that burns in his veins – the visitors should be able to play a strong hand territorially and apply sufficient pressure to win.
But the fear for Lancaster – and it is a real fear, given the consequences of defeat in this city for two of his predecessors, Andy Robinson and Brian Ashton – must be that an England side with a back division as inexperienced as this one cannot yet summon the authority necessary to keep the Scottish scavengers in their box. It is most unlikely that the home side will run in tries from all parts, especially on a pitch that does not so much require a long stud as a pair of stilts. But they could find a way to prevail through the boot of the excellent Greig Laidlaw, their new skipper.
Needless to say, Farrell Snr was not thinking along those lines. "Last week in Paris, the team showed real balls in fighting back from that bad start," he said. "What pleased me as much is that the match was played at a heck of a pace, and that we were the aggressors in that – we were the ones pushing the tempo. I want us to produce something that is consistent with the performance of last weekend. If we get that, the game will take care of itself."
Key confrontations: Where today's Scotland v England match can be won and lost By Chris Hewett
Greig Laidlaw v Danny Care
Laidlaw was head cook and bottlewasher for this Scotland team even before he was lumbered with the captaincy: scrum-half, principal playmaker, goal-kicker, conscience, heartbeat. If Care, so impressive in generating tempo in Paris last weekend, can deflect the Edinburgh man from his purpose, England will surely win.
Ross Ford v Dylan Hartley
Ford can call himself a British & Irish Lion. Hartley can't, largely because he opened his mouth to the wrong person in last year's Premiership final. The England hooker says he has moved on from that miserable incident but it gives him an extra reason to lord it over his rival.
Chris Fusaro v Chris Robshaw
Fusaro, making his international debut, has been picked for a specific reason: his fiery competitiveness on the floor. Those who continue to argue that Robshaw is a fish out of water on the open-side flank will have their eyes peeled at ruck time. Will the England captain be cleaned out?
Reuse content