It is Stuart Lancaster's job to reassure the newcomers he has picked in a heavily revamped England back division for the Six Nations opener in Paris, not scare them out of their wits, so he stopped short of issuing a "now or never" message in confirming his line-up. But the head coach could find no way of disguising the truth. By pitching two fresh wings and an uncapped centre into the fires of Stade de France, he is holding their feet to the flames.
"There are no warm-up games in international rugby – no friendly matches," Lancaster said as he set about explaining the decision to give the Exeter wing Jack Nowell and the Northampton midfielder Luther Burrell their first taste of Test action, and to take Jonny May of Gloucester out of the "one-cap wonder" bracket by giving him a second run in a red-rose shirt. "If you want to give opportunities to these people – and we do, because they're ready to play at this level – there is no easy time to do it."
Suddenly, the full-back Mike Brown and the outside-half Owen Farrell look like seasoned internationals with lifetimes of big-league rugby behind them, rather than developing players still in the foothills of their England careers. As for Danny Care of Harlequins, recalled at scrum-half for the slightly unfortunate Lee Dickson, he is a positive greybeard in a back line that in collective terms has barely started shaving.
Lancaster is backing his instincts in doing away with Chris Ashton – as expected, there is no place for the troubled Saracens wing in the travelling squad, let alone the starting line-up – and holding relatively experienced Test performers like Brad Barritt and Alex Goode on the bench. He will not have solid information about Nowell's ability to acclimatise to rugby at this most rarified of levels, or know for certain whether Burrell has it in him to learn the tricks of the outside-centre's trade at breakneck speed (he plays all his club rugby in the inside-centre position), until he sees them perform against Les Bleus.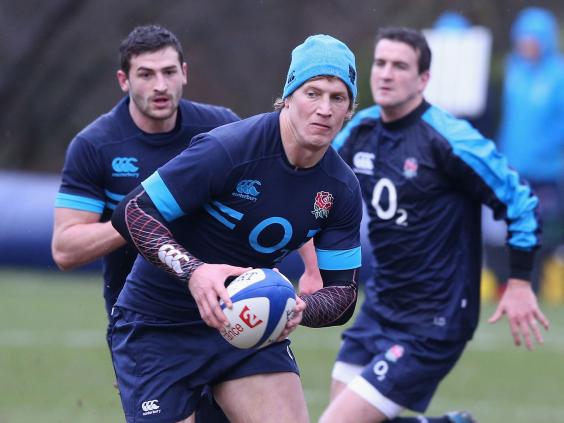 Come to think of it, he does not know a fat lot about some of the players picked by his opposite number, Philippe Saint-André, for this most eagerly awaited of cross-Channel contests. The scrum-half Jean-Marc Doussain, the outside-half Jules Plisson, the lock Alexandre Flanquart and the South African-born flanker Bernard le Roux… these are not known quantities like Morgan Parra or François Trinh-Duc or Thierry Dusautoir. "I've seen bits and pieces, that's all," the coach said. "But then, it's my role to spend time getting our own selection right."
It seems Lancaster based his bolder decisions, at least in part, on the discussions he had with the various contenders when they arrived in camp at the start of last week. At that stage Anthony Watson of Bath was seen as the coming man on the right wing, but in his discussion with the coach the teenager came across as exactly that – a youngster, albeit an exceptionally gifted one.
Nowell, meanwhile, emerged as a tougher, more hard-bitten competitor altogether. The coach had seen something of the trawlerman's son from Cornwall during his early age-group career and been impressed, but it was his recent Heineken Cup performance against the celebrated Springbok wing Bryan Habana and a strong recommendation from the Exeter rugby director, Rob Baxter, that struck home. "I trust Rob's opinion," Lancaster said, solemnly.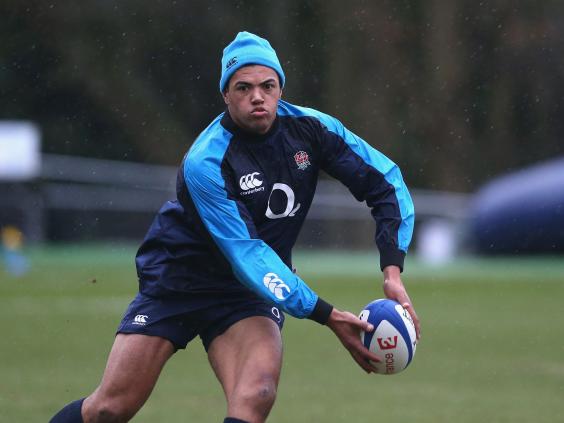 He goes back further with Burrell, having known him since he was 15. Burrell, whose father is Jamaican, owes much to his English mother, Joyce, who hails from Bradford. "I wasn't picked for the Leeds academy and was pretty disappointed," he recalled, "so my mum said 'I'm not having this' and sent an email to Stuart, who was in charge at the club then. He got me down for a trial a couple of weeks later and I haven't looked back since."
Although Lancaster insists England's supporters should be "excited" at the prospect of a new-look unit mixing it with the attacking spirits as bold as Maxime Médard and Wesley Fofana – not to mention that wrecking ball in human form, Mathieu Bastareaud – there are reasons to be fearful.
Much will depend on the red-rose pack's ability to deliver at the set-pieces and win the gain-line conflict. Even more significant will be the ability of the 10-12 playmaking hinge to put shape on the game. Farrell has already had his moments against the French. Billy Twelvetrees, the inside centre, has much to prove.
"We've seen a change in Billy," the coach said. "I think it's been good for him to have captained Gloucester at times this season, occasionally in difficult circumstances. But the real change was between the Australia and Argentina games back in November. Things didn't go quite the way he wanted them to go against the Wallabies and after that, I put it on him a little bit. I told him: 'I'm picking you, but I need you to be a bigger voice out there. You can't leave all the talking to Owen.' We thought he had those leadership qualities in him and he's much more confident in that area now."
There has been much talk from the French about the importance of re-establishing their authority on home territory – earlier this week, the loose-head prop Yannick Forestier said Tricolore territory should be viewed as "sacred" – so there is every chance of a hot moment between the packs… or, if the aggressive Farrell has anything to do with it, between everyone on the field. But Lancaster believes there is no chance of a return to the good old, bad old days of "off at all meetings" rugby.
"With a referee of the calibre of Nigel Owens [the highly respected Welsh official] in charge, I'll be amazed if lack of discipline becomes a serious issue," the coach said. "Physicality will be a big part of it, certainly, but you can't afford to give away points, because they cost you games." All the same, it will be just a little on the lively side.