If patriotism is the last refuge of the scoundrel, as Johnson suggested – Samuel Johnson, that is, not Martin – the England team preparing to take on an unbeaten and highly dangerous Ireland at Twickenham on Saturday contains some seriously dodgy characters.
Step forward Tom Wood, the flanker from Northampton, who played the nationalist card for all he was worth by saying that he wanted "people to look at us and see what it means to be proud of being English". Make no mistake, this was fighting talk.
According to Wood, he and his colleagues are making it their business to reconnect with the idea of having pride in the shirt – an idea that in his view had been "allowed to slip out of focus", had become "a little lost". Hence the new-fangled idea of walking into the stadium through hordes of supporters rather than driving into it in vehicular isolation. "We want to optimise the Twickenham factor," he said. "I'd describe our crowd as passionate but polite. They don't have the hatred for the opposition that we feel when we play away from home." His message was clear. More hostility, please.
Whether this manifests itself on Saturday remains to be seen. Twickenham has been one of the more reserved venues in world rugby for as long as anyone cares to remember – until very recently, it was at its most raucous when the game featured someone other than England – and while the pre-match entertainment has taken on a distinctly jingoistic flavour of late, with members of the armed forces congregating on the pitch to the strains of "Rule Britannia", it will never match the Millennium Stadium in Cardiff or Loftus Versfeld in Pretoria on the Richter Scale of crowd intimidation.
Not even Wood was convinced that the planned hike through the West car park would send extra energy surging through the veins of the starting XV. "I'd run to the ground from here if necessary," he said, from his comfortable chair at the team base in Bagshot, "but when we're walking in at the weekend… I'll be indifferent to it because I'll be in the zone by then. If you're not ready by that stage…"
The blind-side specialist from the Midlands was more taken with the notion that the England pack can now go eyeball to eyeball with the most formidable units in the international game. "I think that to a large degree we've maintained the intensity we showed when we beat the All Blacks in 2012," he said. "It's difficult to hit those peaks every time, but we believe we've kept our balance – the right energy levels, the right body language, our speed at getting off the floor and back into the line. When we do that, we play with less wastage and more dynamism.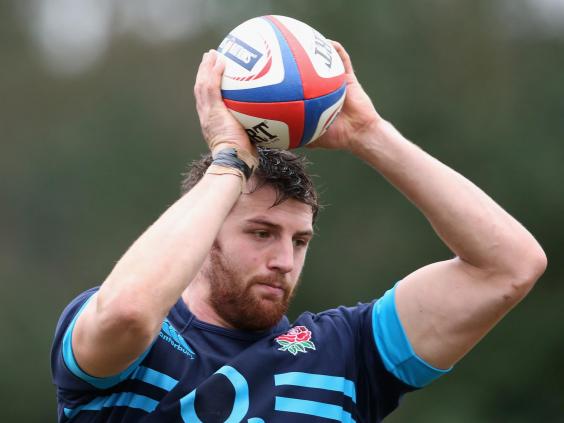 "I have every faith in this pack: we have continuity in selection, we're forging a real bond, and that togetherness and understanding is invaluable. But a good win over Ireland won't make us the England pack of Martin Johnson and Lawrence Dallaglio. They were legendary figures in the game and that doesn't come overnight. You achieve that when you're targeted by the other nations and can still sustain it week after week."
There was an awful lot of continuity flying around. As expected, the England head coach Stuart Lancaster made just the one, injury-enforced change to his starting combination, throwing the under-cooked Bath prop David Wilson straight back into the front row for Dan Cole of Leicester, who will not play again this season because of neck problems. Ireland, meanwhile, decided to stick with the players who made such a mess of Wales in Dublin 13 days ago.
With Lancaster rising above any temptation to tinker for tinkering's sake, much of the attention was focused on the replacements' roster, which featured another Bath player, the 20-year-old outside-half George Ford for the first time. Ford may be "the oldest 20-year-old in the world", to borrow a phrase from the lock Dave Attwood, one of his fellow substitutes, but if he finds himself on the pitch inside the first five minutes, staring at the likes of Jonny Sexton and Brian O'Driscoll on the far side of the halfway line, he might suddenly feel his age.
That being said, he appears on the face of it to be the coolest of customers. "This is a great feeling, a special feeling," he said, "but it's my job to have everything boxed off in my head right from the start in case I'm needed straight away. It's helped massively being in camp over the last few weeks and learning the systems, and I'm feeling confident, even though there's no more experienced combination at 10, 12 and 13 than Sexton, Gordon D'Arcy and O'Driscoll. They have a lot of nous about them. When you look at the rugby they produce for Leinster and Ireland, you have to say they're clever at what they do."
Ford has had an "access all areas" upbringing in the game, courtesy of his father Mike, a professional rugby league player who coached Ireland's defence before hooking up with England in a similar role and working with the national side at two World Cups. "I first became aware of O'Driscoll when dad was in Ireland and we went over there to watch the games," he said. "And when the England job came up, I had some kicking sessions with Jonny Wilkinson."
As privileged as he may have been, Ford shows all the signs of making the most of his good fortune. Lancaster is by no means certain to use him against Ireland – "If the opportunity is there I'll give it to him; if it's not, I have to do what's best for the team," the coach said – but either way, the youngster will be well and truly capped by the end of this Six Nations. And if he turns out to be as good as his supporters believe him to be, continuity of selection will suddenly be more difficult.
Tom Wood says that pride in the England shirt has slipped out of focus and become 'a little lost'
Reuse content