It was the day the circus came to town – to three of the union game's great cathedral cities simultaneously, in actual fact – and at Twickenham, there was the added attraction of a hall of mirrors, which distorted the final match of the Six Nations into all manner of weird and wonderful shapes. The message? Don't believe what you see until these teams are stripped bare and exposed in their true dimensions by the clear light of reality.
This will happen at the World Cup in the autumn, where the chances of England and France engaging in a 12-try runaround – or, indeed, England and anyone else half-decent – are likely to be found hovering somewhere just above the zero mark.
The meetings between the serious contenders in the global tournament will be infinitely tighter and more bitterly contested than anything we saw during Saturday's outpouring of sporting liberation, the conditions for which were created by a handful of television executives and their staggered kick-off schedule.
Lest we forget, it used to take England the best part of a decade to find seven ways of crossing the Gallic whitewash in championship rugby: on Saturday, it took them a little over 70 minutes. And they would have claimed an eighth – and the title with it – had Nigel Owens, the Welsh referee, not decided that the last red-rose driving maul had slipped marginally beyond the ill-defined bounds of legality. So it was that Stuart Lancaster's side finished 55-35 to the good: winners by 20 points…and losers by half a dozen.
For every three members of the paying public who made their way home from Twickenham under the impression they had witnessed a long-awaited flowering of European rugby, there was at least one who suspected he had just been conned into watching the union equivalent of a Harlem Globetrotters gala spectacular, complete with Meadowlark Lemon and his box of tricks. It is possible  to see both sides of the  argument.
Record-busting tallies – 27 tries and 221 points across three matches – are all well and good once in a blue moon, but if top-level union offered such instantly accessible gratification on a weekly basis, we would be talking about rugby porn rather than rugby heaven before the month was out.
The England scrum-half Ben Youngs may have run the French ragged for well over an hour, but could he even begin to imagine a similarly easy ride from Les Bleus in a World Cup knockout tie? Of course not.
Six Nations 2015: Chris Hewett's team of the tournament
Six Nations 2015: Chris Hewett's team of the tournament
1/16 15. Stuart Hogg (Scotland)

Many players threw off the shackles on the final day. Hogg was a free spirit from the first minute.

Getty Images

2/16 14. Yoann Huget (France)

In a non-vintage year for wings, the Toulouse man was more powerful, spring-heeled and menacing than most.

Getty Images

3/16 13. Jonathan Joseph (England)

The tournament's best back. While others saw broken-field situations as a curse, he viewed them as a blessing.

4/16 12. Jamie Roberts (Wales)

Criminally underused against England, he made up for lost time with his shock-and-awe assaults on the gain line.

AP

5/16 11. Noa Nakaitaci (France)

A late arrival who quickly left defenders for dead in the grand Fijian tradition. Is he Joe Rokocoko in disguise?

6/16 10. Jonathan Sexton (Ireland)

Not perfect, but there were times when he seemed he might be. Challenged hard by George Ford of England.

Getty Images

7/16 9. Ben Youngs (England)

Murray, Laidlaw, Gori, Webb: the terriers were good across the board. Youngs' game-breaking wins the day.

8/16 1. Joe Marler (England)

The red-rose loose heads are the best around. If Marler is the best of the best, it's game over.

Getty Images

9/16 2. Guilhelm Guirado (France)

A serious operator in the tight, the Catalan's try-scoring passes against England gave him a point of difference.

10/16 3. Dan Cole (England)

His scrummaging would have secured him a place even without his high-value work in defence and at the breakdown.

Getty Images

11/16 4. Alun Wyn Jones (Wales)

The tight forward of the tournament. The Springboks would kill for him, which tells you all you need to know.

12/16 5. Paul O'Connell (Ireland)

Maximum respect. As the physical powers diminish, the desire burns ever more brightly. Most honest of players.

PA

13/16 6. Peter O'Mahony (Ireland)

If you must have a dog in the fight, find one like the Munsterman. Undiluted ferocity in a green shirt.

GETTY IMAGES

14/16 7. Sam Warburton (Wales)

The very model of the "big game player" whose iron will and durability mark him out as a man apart.

Getty Images

15/16 8. Billy Vunipola (England)

A remarkable series of displays from a remarkable player just beginning to grow into his physical frame. A scary thought.

16/16 COACH: Stuart Lancaster, England

He stumbled upon his formation by chance, but his side played with more adventure than all the other teams put together.

Getty Images
Yet only a cantankerous old curmudgeon of Albert Steptoe proportions could have been left unmoved by the attacking sweep of England and France – not to mention the Welsh, whose second-half performance in Rome set the template for the wild abandon at Twickenham. Not since Jeremy Guscott's debut championship campaign a quarter of a century ago has a red-rose outside centre thrilled the multitudes as Jonathan Joseph did here, against opponents once supreme in the midfield arts. As for the new French wing Noa Nakaitaci… crikey, what a talent.
Lancaster, the England head coach, acknowledged afterwards that he was struggling to "contextualise what I've just seen". He was not the only one.
Thanks in large part to Youngs' rediscovery of the best of himself, Joseph's distinctly un-English appreciation of the possibilities open to a No 13 willing to do more than run smack-bang into contact, and George Ford's startling mix of mastery and maturity at outside-half, the red-rose attack was twice as good – statistically, and in every other way – as anything offered by their rivals for much of the tournament. They now feel they have a clear view of the road ahead.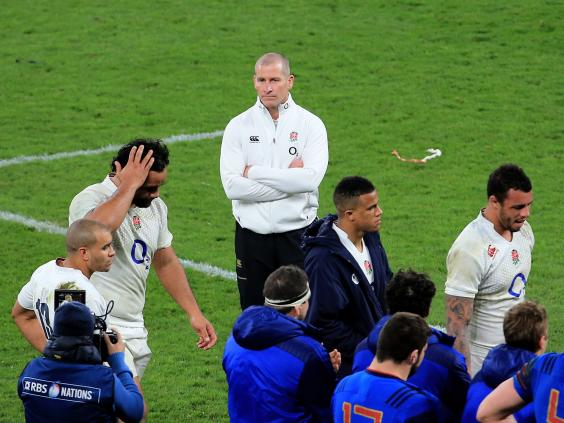 But where does the road lead? If, come the World Cup, they defend as loosely against Australia as they did against the French – and their generosity was largely a consequence of the devil-may-care approach they took with ball in hand – the Wallabies might run them clean out of their own tournament.
If they fumble as much ball against the Welsh in the other must-win game, they will  find themselves on the painful end of a thousand triumphant renditions of "Cwm Rhondda".
While Lancaster is far too clever a coach to be distracted or misled by the peculiar goings-on at Twickenham – "I don't think that signalled any cultural upheaval in our rugby; having to beat a quality team like France by 26 points put us in a unique situation and while I'm deeply proud of the way we chased the target and delighted at how we've developed in certain areas, it's also obvious where we need to tighten up," he said – he still faces a delicate balancing act. Indeed, he now finds himself on the high wire.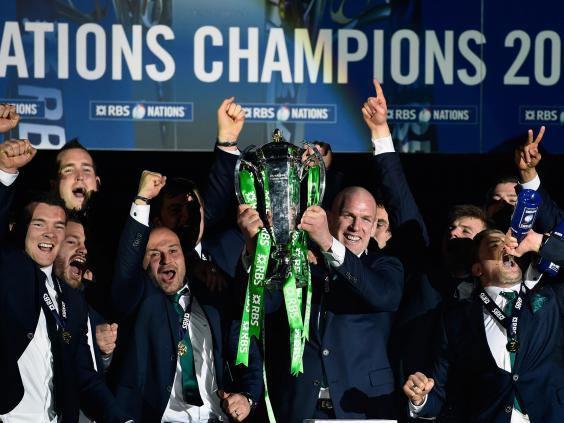 Does he continue to license his more creative souls to play it as they see it, in the spirit of Brian Ashton, his predecessor but one in the England job? Or does he go all Martin Johnson on us by reverting to the route-one, rib-rearranging power game as personified by the Brad Barritts and Manu Tuilagis of the red-rose parish?
In public, the coach is talking about adventure underpinned by accuracy. In private, he must decide if it is really possible to out-All Black the All Blacks, or whether such a notion is for the birds.
As for the players, only time will heal the wound of a fourth consecutive runners-up finish. Several of them – Youngs, the lock Courtney Lawes, the full-back Mike Brown – could not hide their exasperation at the abject surrenders of Italy and Scotland to Wales and Ireland respectively. "Bloody typical," muttered Lawes. "Scotland really fronted up at our place a week ago, so I'm pretty surprised at the discrepancy in the score at Murrayfield."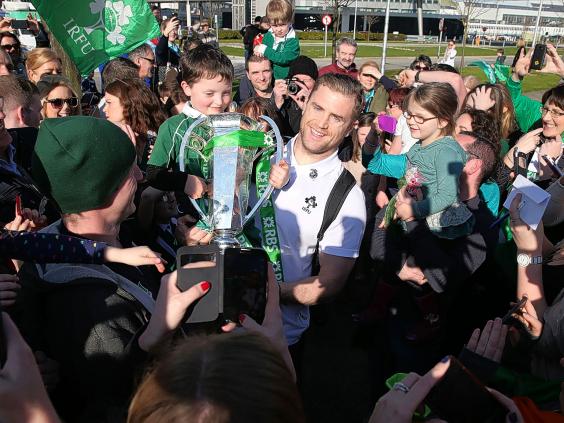 But by conceding soft tries to Italy in round two and blowing a cornucopia of opportunities against the Scots in round four, England were the architects of their own downfall.
Anything could have happened in the last game and most of it did. Sadly for England, they were never fully in control of events.

NatWest are proud to support Rugby. Current account customers can win exclusive rugby experiences. It's not who you know, it's who you bank with. Visit natwest.com/rugbyreward
Reuse content