England have been here before. Six years ago, they were left to lift the Six Nations trophy after failing to win the Grand Slam in defeat by Ireland. As Dylan Hartley hoisted the trophy into the air on Saturday night, the sense of déjà vu was obvious, and yet the faces of those on the podium did not reflect a team disconsolate with themselves.
They made a point to enjoy their success, praise the fact that it took a phenomenal Irish performance to end the 18-match unbeaten streak and try to put on a brave face. It worked, to a degree, but some were able to hide it better than others.
Take Danny Care, the scrum-half who was spraying champagne on his teammates, or even Hartley himself, who was wearing a proud smile and determined to enjoy himself up there. But there was one person who couldn't hide the disappointment, the ultra-competitive James Haskell, who couldn't get past the Grand Slam failure after losing by just four points in Dublin.
"It's a difficult one. Everyone asks you: how you feel?" Haskell said after the 13-9 loss. "Personally I am a very competitive person, I hate losing ,I don't like celebrating any loss.
"Bbut at the end of the day, this team has come a long, long way, we worked so hard, eight weeks of unbelievable training, we still won the Six Nations back to back, we fell short today but everyone has sweated, bled to get to this point.
"You've got to take the positives. It tell you: look back at 2011, we won a Six Nations, we were all upset about it afterwards, but when I hang by boots up, I'm still going to count it as a win because we won. That's what ultimately matters."
The fact that the loss, the first of the Eddie Jones era, came after a record 18 consecutive victories to tie New Zealand's benchmark, made the defeat that little bit easier to deal with. There is also the rapidly approaching Rugby World Cup, which almost reduced the importance of the Grand Slam in the eyes of Jones and his squad. With the draw for the tournament in May, Jones stressed after the match that this first loss has come 14 months into his four-year plan to win the World Cup, and the players echoed his belief that this setback can be an important lesson in the development of this England side.
"You can't win everything in rugby, you can't win forever," Haskell added. "No side in the world has done that, not even all the All Blacks. You have days like this. If you've got a long-term project, which Eddie and his coaching staff do for 2019, on days like this you learn. You can always look back at it and say 'do you know what, we were in turmoil, we had this situation, we had the pressure, what can we do to turn it?'
Ireland vs England player ratings
Ireland vs England player ratings
1/29 Jared Payne – 7 out of 10

One brilliant break in the second half that put England in retreat, taking a double tackle from Brown and Watson to stop him. Dind't have too much beyond the high ball to deal with defensively.

AFP/Getty Images

2/29 Keith Earls – 6 out of 10

Should have had a try, only to knock on after a last-ditch double tackle from Brown and Youngs. Outshone by Daly and replaced by debutant Andrew Conway late on.

AFP/Getty Images

3/29 Garry Ringrose – 8 out of 10

Left his impression on England as he repeatedly broke out of tackles to put his side on the front foot. Took a brilliant catch from a restart to capitalise on England sloppiness, and unlucky to miss out on the man of the match award.

Getty Images

4/29 Robbie Henshaw – 7 out of 10

A defensive rock, just ask Ben Te'o once he's recovered from the head knock he picked up within minutes of coming on. Carried strongly, but it was his work without the ball that really stood out.

Getty Images

5/29 Simon Zebo – 6 out of 10

Given little chance in the first half as he and Watson negated each other's impact. Weather conditions meant that it just wasn't a day for the wings.

Getty Images

6/29 Jonathan Sexton – 8 out of 10

Had to wear big hits early from Haskell and Itoje, but he answered any questions about his durability with flying colours. 100 per cent record with the boot and once again displayed his brilliant passing talent. A Lions shoe-in if fit.

Getty Images

7/29 Kieran Marmion – 7 out of 10

Coped well in his first Six Nations start, with his box-kicking by-and-by on target. You wouldn't know his inexperience by his performance, and it meant that Ireland didn't really miss Conor Murray.

Getty Images

8/29 Jack McGrath – 7 out of 10

Strong work in the scrum and looked to have the edge on Cole early on. He faded in the second half and was quickly replaced, but that's no surprise given his extensive carrying in the loose.

Getty Images

9/29 Rory Best – 8 out of 10

An early HIA didn't impact his game as he was very impressive in the lineout. One memorable break in the first half stabbed through the English defence, and he won the battle against Hartley.

Getty Images

10/29 Tadhg Furlong – 7 out of 10

Saw off Joe Marler by half-time but Mako Vunipola proved a much more troublesome opponent in the scrum. Still, he's put himself in position for a Lions starting spot, should WP Nel fail to recover.

Getty Images

11/29 Donnacha Ryan – 7 out of 10

Took a bucket-load of work with the ball as Ireland tried to batter the England wall down. Taken off in the second half as Devin Toner was introduced.

Getty Images

12/29 Iain Henderson – 8 out of 10

Rampaged through the defensive line to score, his long limbs helping him out to dot the ball down and give Ireland the lead. Disrupted the England lineout that ruined their platform to play off, and was part of a dominant Irish set-piece that paved the way for victory.

Getty Images

13/29 Sean O'Brien – 7 out of 10

Brutal in defence as he led the Irish choke tackle, which proved a wealthy option for the home side that England couldn't negotiate. Electric off the line to disrupt the Ford-Farrell axis.

Getty Images

14/29 CJ Stander – 7 out of 10

Despite doing more carrying due to the positional switch, he was less prominent as O'mahony took the plaudits. Won the battle against Billy Vunipola though.

Getty

15/29 Mike Brown – 6 out of 10

Very reliable under the high ball, given he was tested twice inside the first 80 seconds. Two knock-ons defined England's game though, as the early won robbed England of their best chance and the last one ended England's Grand Slam hopes as the full-time whistle went.

AFP/Getty Images

16/29 Anthony Watson – 5 out of 10

Looked like a man who had made just two appearance in two months. Off the pace and certainly wasn't any faster than when he got injured, as has been claimed. Looked a threat in the air, but nothing came of it.

Getty Images

17/29 Jonathan Joseph – 5 out of 10

Poor passing to both Brown and Watson, and his attacking threat of last week was snaffled out due to the starvation of possession for the away side.

Getty Images

18/29 Owen Farrell – 6 out of 10

Reliable as always with the boot as he made all his kicks, the most impressive being a long-range effort in excess of 40m. Struggled with the rush defence though.

Getty Images

19/29 Elliot Daly – 7 out of 10

Had England's best moment in the first half as he caught Farrell's chip over the defence for a solid gain. Defensively, he was very good beyond one mis-timed interception that came off a loose ball, which is not really his fault.

AFP/Getty Images

20/29 George Ford – 6 out of 10

Overkicked a clearance to put England under pressure right before half-time as he put it straight into touch. His up-and-unders were average at best, but he did show nice footwork to evade three tackles in one move in the second half. Came back on after being replaced for the injured Te'o.

Getty Images

21/29 Ben Youngs – 6

Had more defensive work to do than attacking, but did well when required against Earls and Zebo. Will not have seen as little of the ball as he did today for quite some time.

Getty Images

22/29 Joe Marler – 6 out of 10

Possibly his worse performance of the tournament, but that says more about how he's upped his game than what he did today. Held his own in the scrum, but departed at half-time.

Getty Images

23/29 Dylan Hartley – 6 out of 10

Struggled in the lineout and bar one penetrating run, did little of note in the loose. Had to do plenty of tackling to stop the crash ball.

Getty Images

24/29 Dan Cole – 6 out of 10

Coped well against McGrath and enjoyed success against his replacement, Cian Healy. Unlucky to be penalised for a ball steal in the first half.

Getty Images

25/29 Joe Launchbury – 6 out of 10

His brilliant tournament came crashing to a halt as he struggled to get through as much carrying as he's been doing in recent weeks.

Getty Images

26/29 Courtney Lawes – 6 out of 10

Guilty of getting caught in the breakdown to concede a penalty which gave Sexton three points.Like Launchbury, his carrying was not as prominent as in the other four matches.

Getty Images

27/29 Maro Itoje – 5 out of 10

Something went wrong massively in the English lineout and, for that, he has questions to answers as the leader of the set-piece. Perhaps lucky not to see yellow when he steamrolled Marmion seconds after leaving a late one on Sexton. Led the English physicality, though that did border on the illegal at times.

Getty Images

28/29 James Haskell – 6 out of 10

Was quick off the line as he tried to keep Ireland's width narrow. Tackled well, but being bashed by O'Mahony and Stander all game took its toll.

AFP/Getty Images

29/29 Billy Vunipola – 6 out of 10

Impact was largely neutralised in the first half as Sexton kicked away from him when deep and his runs from the scrum were limited. Rarely did he see clean ball to attack with.

AFP/Getty Images
"All the messages on the field were great, the tactics were great, everyone was saying the right thing. But we'd go a couple of good positives and then indiscipline, penalty and you're back in your own half. That's the problem when you play against a team like Ireland."
The Wasps flanker looked like a man trying to take the positives out of a heartbreaking negative, and it led him to a rather interesting acknowledgement that the next time England play, the summer tour of Argentina, it may not be him in the seven shirt anymore. Whether that's through a British and Irish Lions call-up, a plan from Jones to rotate and test other options or something a lot more surprising, only Haskell currently knows.
"We threw everything at Ireland and to a man everyone put the effort in, but we came off second best. That's what can happen in international rugby. We equalled the record and we fell short. Whoever takes the shirt on from now will want to leave it in a better place," he admitted.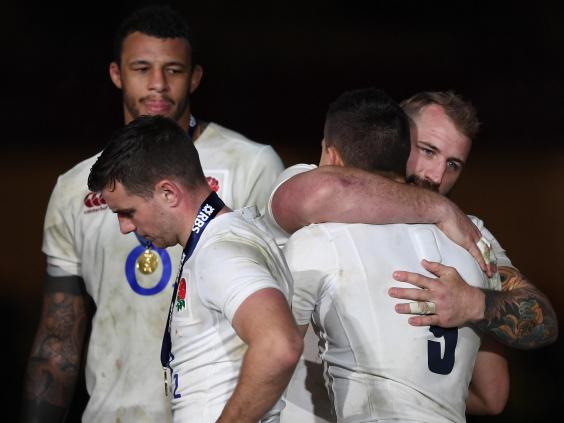 Haskell's probably going to miss out on the flight to New Zealand unless he can rekindle his form of 2016 in the final two months of the season, the injury that robbed him of the first seven months of the campaign doing his chances no good at all. But he has a revenge issue to deal with first. The 31-year-old will return to the Aviva Stadium in just two weeks' time to face Leinster in the European Champions Cup quarter-finals, an enticing clash between the leaders of the Premiership and Pro12, that will see him come up against a number of the players who plotted the downfall of England.
The game moves on quickly, and that's why England are right to treat the loss as a lesson rather than a setback – as long as they learn.
Reuse content