The game for all shapes and sizes is also the sport of specialisation. New Zealand is the land of the ruthlessly efficient open-side flanker; France the country of the midfield maestro.
No country has a grander tradition in the front row than South Africa. Australia is the envy of the world when it comes to wondrous scrum-halves. Wales? There is a No 10 factory somewhere in the valleys, even now. And then there is England, which has an unparalleled record of producing… referees and committee men.
Actually, that's not quite fair. Traditionally, the red-rose nation has also been ahead of the rest in the boilerhouse of the scrum. Truly outstanding England teams – and there have not been many in the post-war era – have invariably been underpinned by truly outstanding second-row partnerships.
The Grand Slam-winning side of the late 1950s had David Marques and John Currie, two well-mannered Oxbridge types who rarely allowed a fine education to deflect them from their purpose, while the all-conquering 1980 vintage had Bill Beaumont and Maurice Colclough, without question the strongest European partnership of the age. The Slammers of '91 were blessed with Paul Ackford and Wade Dooley, far and away the best for a brief but memorable period. As for the rampant side of the early 2000s… let's put it this way: would you want to argue the toss with as gruesome a twosome as Martin Johnson and Danny Grewcock?
When England face Ireland at Twickenham today, another member of the engine-room pantheon will be on view. Not that he will be wearing a white shirt.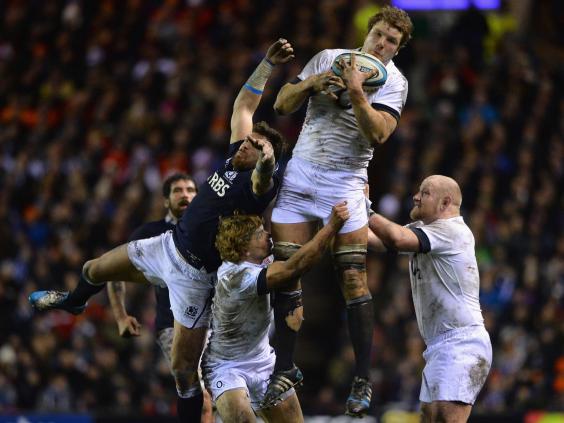 Paul O'Connell, the three-tour Lion from Limerick, may be in the autumn of his career, but he has been full of the joys of spring since his last visit to this corner of the capital a little under a year ago. Playing for Munster in the quarter-final of the Heineken Cup, he beat Harlequins on his own with a performance that almost beggared belief. Anything like a repeat showing today will take the visitors a significant step closer to the Six Nations title.
Yet it is perfectly possible that O'Connell and his partner Devon Toner will meet their match in Joe Launchbury and Courtney Lawes.
More than that, it is just conceivable that England have struck upon a combination that will prove the equal of those that drove red-rose teams towards the glittering prizes of yesteryear: Five Nations titles, Six Nations titles, Triple Crowns, Grand Slams, a World Cup, the works.
If they still have much to prove, having been together on a full-time basis for a mere three and a half months, it is just as pertinent to note that they have God's amount of time in which to prove it. Launchbury is 22, Lawes will be 25 tomorrow. In second-row terms, they are babes in arms as well as brothers in arms.
Between them they have 43 caps, which is no great tally when you think that O'Connell has 89 of the things all to himself – 96 when his Lions honours are added. But in and around the coaching fraternity, their partnership is increasingly being spoken of as the key component of England's campaign at next year's home World Cup.
Both Dean Ryan of Worcester, one of the sharpest analysts in the game, and Brian Smith of London Irish, who has both played and coached at Test level and brings a southern hemisphere perspective to the debate, have waxed lyrical about the two locks in recent months, highlighting a degree of athleticism that sets them apart from the vast majority of their peers.
Their reputation inside the England camp is every bit as high as it is on the outside. Listen to Tom Wood, the blind-side flanker. "The make-up of the modern second-rower has changed slightly," he says. "In the past, you generally had your line-out forward – an athletic, lightweight runner and ball-handler – and your big enforcer, who, well, enforced. But in the modern game, you can't be a one-trick pony. You have to be an all-court player.
"What we have in Joe and Courtney are two very athletic, intelligent ball-handlers who very definitely aren't short of physicality. They both put in the hits."
While both men offer an unusually broad range of skills – each of them played a good deal of rugby in Wood's position on the blind-side flank before throwing themselves body and soul into their current roles – it is not quite the case that they do all the same things with equal facility. Every pack needs a "tight" lock, a close-quarter grafter of Trojan-like qualities who frees up his partner to operate in the wider channels. Not even John Eales of Australia, the greatest second-row forward of the modern age, would have been as effective playing alongside another John Eales. He needed a foil, a straight man.
Launchbury is this straight man in the England context, and Stuart Lancaster, the head coach, is building the pack around him, having asked him to bulk up in the physical sense and narrow his focus in the strategic one.
This does not mean Lawes, the more mobile of the two if not by much, is absolved of all responsibility in the grunt-and-groan department. He too hits rucks by the score and makes tackles by the gross, as well as calling the shots at line-out time. But Launchbury's growing mastery of the tight game gives his partner a licence to roam.
If the Wasps player has barely missed a beat in his England career to date, Lawes knows what it is to see his international form go flat on him. First capped in 2009, he was a nailed-on certainty to feature strongly at the World Cup two years later. As it turned out, he featured weakly: suspended during the pool stage, he lost out to Louis Deacon and Tom Palmer at the quarter-final stage and returned home in a dark mood.
When, after the inevitable public recriminations, humiliations and sackings, Lancaster took control of a broken team and set about piecing it back together, Lawes found himself on the outside looking in – through loss of fitness rather than loss of form, but no less frustrating for that.
He made just one appearance in the 2012 Six Nations, gifting Wales a match-winning try at Twickenham when he had the ball ripped from his grasp by Scott Williams, a mere centre. He did not win another cap until the momentous victory over the All Blacks nine months later, in which he played a 13-minute cameo with the game already won.
With Geoff Parling of Leicester holding down the middle-jumping position – if anyone had suggested back in '09 that Parling rather than Lawes would be the man winning Test honours with the 2013 Lions in Australia, they would have been led gently by the arm to a waiting ambulance – the road back looked well and truly blocked. Yet by the start of last autumn Lancaster had pretty much persuaded himself that a Launchbury-Lawes pairing was the way forward.
Parling broke down with injury around that time, but even had he stayed fit he would have found himself on the bench.
It has taken him a while, but Lawes is now fully tuned into Lancaster's way of doing things. "He's a very different character to the previous coaches," he said this week. "He likes things to be done in a very serious manner – you know, there's no joking before a Test. I like to be relaxed about the whole situation, to treat it like any other match and not blow it up out of perspective, but with Stuart, everyone has to have his game head on. We concentrate a lot on clarity, on doing our homework and making sure we all know the calls before we go out and play."
Might there have been a little too much cool-headed clarity and not enough fire in the belly in some recent games – notably the defeats by New Zealand and France either side of Christmas, when England conceded big points in the opening minutes?
"That's a difficult one," Lawes replied. "I'm the sort of player who tries to feel the vibe of the team before kick-off, who tries to figure out if we're going to have a great start or if something's not clicking. But often, you can't work it out at all. You can feel amazing going into the game and then see it go completely away from you with a couple of bounces of the ball."
That certainly happened in Paris earlier this month, but judging by the way the two locks are growing into their roles, dynamism will trump misfortune more often than not and leave England in a very good place indeed.
Double trouble: England's toughest second-row rivals
Bakkies Botha and Victor Matfield (South Africa)
This combination had it all: scrummaging strength, sublime line-out skill and a high level of pitch coverage, shot through with intimidatory power.
Robin Brooke and Ian Jones (New Zealand)
The finest footballing combination in recent memory: unusually mobile and blessed with an instinctive understanding of a complex game.
David Giffin and John Eales (Australia)
Eales was so ridiculously good, he barely needed a partner. Yet Giffin added something to complete the great man's game at the back end of his career.
Reuse content