Eddie Jones is calling it a "small step" – a choice of phrase sufficiently dismissive to make the Six Nations hierarchy wonder whether their championship is quite as important as they think it is – but when he finally winds down over a glass or three of half-decent pinot noir, the diminutive England head coach will understand that he has taken a tall man's stride up the rugby mountainside. It is no mean feat to win a Grand Slam, especially at the first attempt.
Ask Sir Clive Woodward, who waited six years to land the biggest prize in the European game. Ask Andy Robinson or Brian Ashton or Martin Johnson or Stuart Lancaster, who were still waiting when their red-rose coaching careers came crashing around their ears. Jones has had his share of good fortune – his key players have stayed fit and healthy, while all five rival teams spent large parts of the tournament on life support – but much of the luck has been of his own creation. The Australian knows a thing or two about this tough old game, that's for sure.
How else to explain the transformation from World Cup lowlifes to Grand Slam high-rollers? Jones did not perform major surgery in selection: apart from restoring Dylan Hartley to respectability through responsibility – a modern take on the old school bully-prefect trick – and fast-tracking the spellbinding Maro Itoje into the guts of the pack, he merely asked the wings to switch flanks and the flankers to swap shirts. That being the case, the magic must have been worked beneath the surface, among the abstractions and indefinables of the union game.
A collective CAT scan of the players who beat France 31-21 on Saturday night would reveal qualities that were not in evidence during the global gathering six months ago. Clear-sightedness has replaced uncertainty; there is a sense of togetherness where the stench of fragmentation once lingered; the attacking game has some snap and crackle about it, as opposed to the sludge served up before Christmas. Perhaps most importantly, the new physicality has blown the passivity of old clean out of the red-rose system.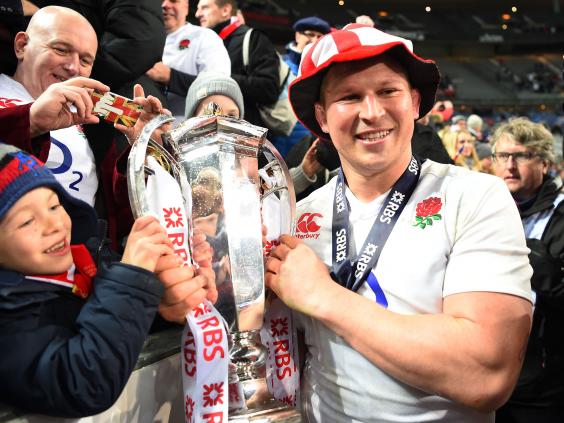 There were dark moments in the northern reaches of the City of Light when the visitors seemed in danger of regressing – of falling back into the bad habits of the 2015ers. Jones, acutely aware of the peril, reached for the big stick and wielded it during the interval. 
Such was the effect, England were able to dominate second-half proceedings despite the growing threat of Maxime Machenaud's exceptional goal-kicking and the untimely loss of Hartley, who was knocked cold attempting a rugrat tackle on the 24st prop Uini Atonio.
"It was probably the most forceful I've been during the Six Nations," Jones said of his half-time rollicking. "I felt we were playing within ourselves while France were performing without fear. We were pretty ordinary in the first 40 minutes: we were more worried about the result than we were about playing some rugby. It was the least physical we'd been all tournament, so I told the players I wanted to see more courage from them."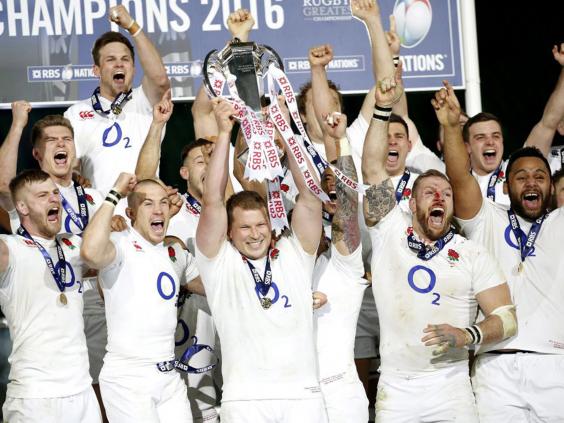 During the grimmer moments under Lancaster – the horrible defeat on Grand Slam night in Wales three years ago being a prime and relevant example – England were always able to turn to Chris Robshaw, their captain of choice at the time. One of Jones' first acts as coach was to strip Robshaw of the captaincy, but when the heat came on here, the players turned to him again. Not for a second did he look like shirking it.
"Did you see him at the end?" Jones asked his audience in a tone of complete admiration. "He was busted, absolutely busted, but on that last kick-chase to the corner, Owen Farrell made the tackle and Chris was the second man in, even though he could barely pick up his feet. That's the desire of a guy who still wants to be a better player."
Jones was almost as lavish in his praise of the other back-rowers: the No 8 Billy Vunipola, who carried the ball miles once again, and the open-side flanker James Haskell, who might easily have missed the game after suffering a back spasm in training, yet dragged his beaten-up body through the full 80 minutes. Together with Robshaw, they tackled the eye-wateringly powerful French forwards to a standstill.
"Billy is a kid who plays backyard rugby at international level – he just loves it," the coach commented. "He's in the dressing room now, dancing around with his protein shake while all the others are sitting down with their beers. Haskell? He was outstanding in putting his body on the line. If you look at his career over 67 Tests, you can say he's put together his best run for England in the last five."
France 21 England 31 player ratings
France 21 England 31 player ratings
1/30 France: Scott Spedding - 7 out of 10

Linked up well with Vakatawa twice in the first half to put England in danger. Looked a big threat with ball in hand and his long-range touch kicking meant he could punish England when other they fell on the wrong side of the law.

2016 Getty Images

2/30 Wesley Fofana - 6 out of 10

The centre, shifted out to the wing, saw significantly less of the ball than he's used to, and at times he looked disinterested.

2016 Getty Images

3/30 Gael Fickou - 7 out of 10

Targeted from the kick-off by Farrell but coped well to force England into going long. Tried to make a physical impression on opposite number Joseph, and was somewhat underused by the French.

2016 Getty Images

4/30 Maxime Mermoz - 6 out of 10

Brilliant turnover of Watson relieved his side of mounting pressure late in the first half, but he could have taken on more responsibility with the ball in hand to give France options.

2016 Getty Images

5/30 Virimi Vakatawa - 8 out of 10

France's most threatening player – if only he could pass to an opponent or remain in touch. Looked to struggle with the reduction in space compared to his sevens experience, but gave Nowell a mountain of problems in the first half. Nearly broke to score immediately after the break, was it not for an incredible tackle by Nowell. Only fault is not taking his chances.

2016 Getty Images

6/30 Francois Trinh-Duc - 6 out of 10

Suffered a nasty looking ankle injury early on that cruelly forced him out of the match without having any chance to make an impact. Replaced by Jules Plisson

2016 Getty Images

7/30 Maxime Machenaud - 8 out of 10

Precise with the boot to keep France in touch with seven faultless penalties and a 100 per cent record, but not even he can overhaul three England tries.

2016 Getty Images

8/30 Jefferson Poirot - 6 out of 10

Kept the England scrum at bay very well and posed problems for Cole. Quiet in the loose and could have offered more of the hard yards.

2016 Getty Images

9/30 Guilhem Guirado – 6 out of 10

Could not hit a blue shirt in the line-out for life nor money, such were France's troubles against the likes of Kruis and Itoje. Coped better in the scrum though and just about edged Hartley.

2016 Getty Images

10/30 Raboh Slimani – 7 out of 10

A wonderful scrummager that saw off Mako Vunipola by half-time though the introduction of Joe Marler stopped his domination on the front-row. Gave away a needless penalty in his own half, but tackled well and didn't put a foot wrong otherwise.

2016 Getty Images

11/30 Alexandre Flanquart - 5 out of 10

Taught a lesson in the line-out by his opposition and was taken off by Guy Noves with France chasing the game.

2016 Getty Images

12/30 Yoann Maestri – 5 out of 10

Struggled just as much as Flanquart as Kruis dominated him in the air. Guilty of conceding a penalty late on that allowed Farrell to put the game beyond the French.

2016 Getty Images

13/30 Damien Chouly -6 out of 10

Switched from No 8 to the blindside, resulting in a reduction of his ball carrying impact and prominence in the loose. Hit his tackle and looked to support the wide men whenever possible though.

2016 Getty Images

14/30 Bernard Le Roux – 7 out of 10

Fantastic in defence as he snaffled a number of turnovers, usually by isolating one of the England wide men. Rarely fell on the wrong side of Nigel Owens' whistle, which is no easy feat.

2016 Getty Images

15/30 Loann Goujon – 6 out of 10

Brought into the back-row and struggled to match his opposite number. His carrying was nowhere near the level that Louis Picamoles has set in recent years, and he was half-a-yard behind when it came to the breakdown.

2016 Getty Images

16/30 England: Mike Brown – 5 out of 10

Not his best game as he made a couple of poor decisions, ignoring Watson on his outside when the try-line beckoned and being charged down when electing to kick despite having an overlap to his left.

2016 Getty Images

17/30 Anthony Watson - 8 out of 10

Struggled to find clean ball in the first half, though danced his way out of trouble when on his own line. Brilliant finish after collecting Youngs' grubber kick saw him score in the corner and take the game away from France at a crucial moment.

2016 Getty Images

18/30 Jonathan Joseph – 6 out of 10

Shackled by the aggressive Fickou and more often than not was double-teamed. Should have offered more help for Nowell in marking the dangerous Vakatawa, but in the end the French wing failed to trouble the English line.

2016 Getty Images

19/30 Owen Farrell – 8 out of 10

Composed with the boot to put the game beyond doubt, and kept his emotions in check throughout despite his natural hot-head approach. Offered Ford a second option when under pressure and threw some delightful passes to the wide-men.

2016 Getty Images

20/30 Jack Nowell – 7 out of 10

Coped as well as he could in marking Vakatawa which included an unbelievable try-saving tackle. Ran with drive and determination that saw him carry much, much bigger men than him backwards.

2016 Getty Images

21/30 George Ford – 6 out of 10

His form since the start of the World Cup has deserted him, and while this was not his worst performance of the Six Nations, he is still yet to convince as a suitable fly-half. Missed two shots at a drop-goal, though he can't be blamed for the first after a poor pass from Youngs.

2016 Getty Images

22/30 Danny Care - 7 out of 10

Brilliant awareness saw the recalled scrum-half burst through a gap and score the opening try. Didn't do a lot wrong and his delivery to Ford was precise, yet replaced by Ben Youngs three minutes after the break.

2016 Getty Images

23/30 Mako Vunipola - 5 out of 10

Couldn't get the better of the impressive Slimani in the scrum and his carrying lacked the desired impact, and he was replaced at half-time by Joe Marler with Eddie Jones clearly unimpressed.

2016 Getty Images

24/30 Dylan Hartley - 7 out of 10

Deadly accurate in the line-out and carried well. Suffered a bad head injury 13 minutes from time and was carried off on a stretcher, having been replaced by Luke Cowan-Dickie. Thankfully he was given the OK to join his team-mates for the celebrations.

2016 Getty Images

25/30 Dan Cole – 7 out of 10

Looked as surprised as a tighthead prop can be when he barrelled over to score England's second try, and he got the better of Poirot in the scrum – just. Turned over twice, but that says more about the support play than his efforts.

2016 Getty Images

26/30 Maro Itoje – 8 out of 10

Another composed and impressive display from the emerging talent, who has taken to international Test rugby like a duck to water. Posed the French line=out so many problems that they almost had to abandon the set-piece late on, and always made progress with the ball in hand.

2016 Getty Images

27/30 George Kruis – 9 out of 10

England's new line-out guru has gone from World Cup contender to forward lynchpin in the space of a year, and he tore the French line-out to shreds all evening. Unlucky to miss out on the man of the match award, and not afraid to do the dirty work when needed.

2016 Getty Images

28/30 Chris Robshaw – 7 out of 10

Less prominent in his new role at six and was guilty of holding on twice to concede frustrating penalties.

2016 Getty Images

29/30 James Haskell – 7 out of 10

Does a lot of the work that no-one wants to in carrying around the fringes, with his sheer size usually taking him forward. Much cleaner in the breakdown and still a force come the end of the match, such is his match fitness.

2016 Getty Images

30/30 Billy Vunipola – 9 out of 10

Another commanding performance from the No 8 who is rapidly emerging into a candidate for play of the year. He starred with the ball in hand to keep the momentum with those in white, and was much better in defence as he held on in the tackle.

Getty
It is not always the case that the French consider the English to be worthy winners of these annual cross-Channel conflagrations, but Guy Novès, the Tricolore coach, confessed after this one that, while he believed his side to be well capable of beating any of the Celtic nations, the gap separating Les Bleus from the new champions was wider than the much-travelled stretch of water. For this reason, he did not feel the slightest urge to bemoan the second of the three red-rose tries, scored by Dan Cole with a little obstructive help from his fellow prop Mako Vunipola.
The other tries – a soft-shoe scamper round the edge of a ruck by the scrum-half Danny Care; a characteristically decisive finish in the corner by Anthony Watson following a delicate diagonal kick from Ben Youngs – had no whiff of injustice about them. England were good value for both.
Yet there was far more to their performance in tough surroundings than a couple of moments of individual inspiration. Itoje and George Kruis ransacked the French line-out at important moments – "They crushed our solutions," Novès said, evocatively – while George Ford kicked beautifully from hand, repeatedly forcing his opponents into areas of the field far from the ones they were seeking to occupy. It added up to a sound tactical approach, executed with ever-increasing precision under pressure.
That was the hallmark of the finest English Grand Slammers in the modern era: Bill Beaumont's 1980 team, Will Carling's 1992 side and Martin Johnson's all-conquering 2003 vintage. This side is not of similar stature. Not yet. But in the future? Maybe. As Jones said as he headed for the celebratory banquet: "This achievement ranks nowhere because it's going to get better for England. We'll work harder, work smarter and pick better players."
Reuse content